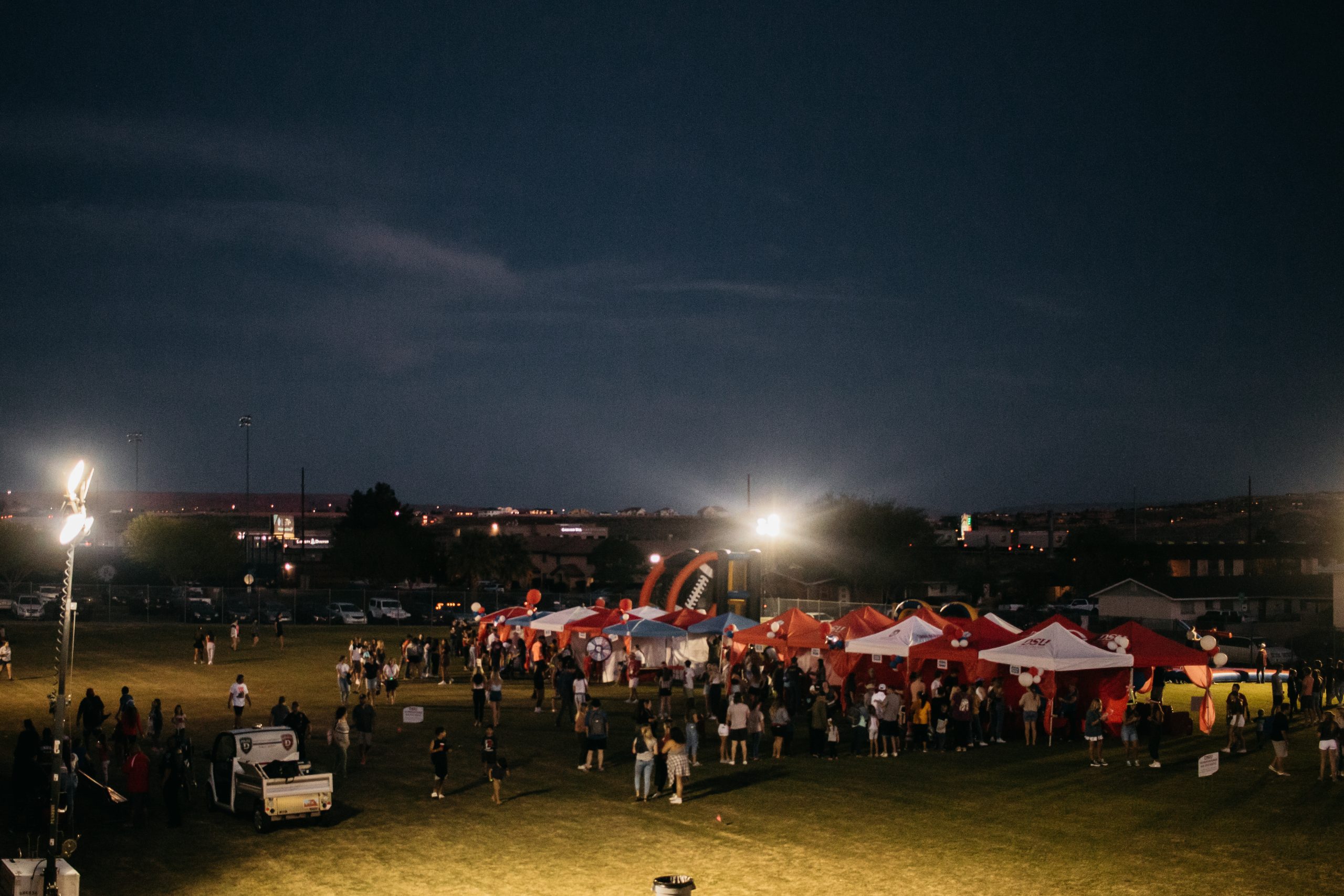 Dixie State University students, faculty, staff and community members join together for a carnival night April 9. Students have several things to look forward to about the fall semester as things return to normal. Photo by Bailey Chamberlain.
---

As the 2020-21 school year comes to an end, DSU is seeing more and more on-campus events, and you can expect even more in the fall. With an end in sight for the COVID-19 pandemic, students can finally expect to have a somewhat normal school year.
Sporting events, more funding for Dixie State University, student activities, and an increase in student enrollment are all things students can look forward to in the fall 2021 semester.
The roaring stampede of thousands of DSU students was put to a halt because of the pandemic, but students will have opportunities to show off their DSU spirit at sporting events in the upcoming school year.
Steve Johnson, associate athletic director of media relations, said the football schedule for the 2021-22 school year has been posted.
Each of DSU's student event teams and organizations have just begun prepping for next school year, which includes planning events, deciding what will be allowed, and what students will be able to expect next year.
"Looking forward to the fall 2021 semester, we are planning on offering fully face-to-face instruction and in-person campus activities," Pubilc Relations Coordinator Stacy Schmidt said.
Be on the lookout for a potential survey asking what events you would like to see in the 2021-22 school year, as there is more information to come.
"The new student life team just got appointed and we will be creating our 2021-2022 events schedule in a few weeks," Student Life Coordinator Sarah Ramaker said. "They are looking to push out a survey soon asking students what type of events they would like to see from us next year."
DSU News stated, "The Utah State Legislature allocated $15 million toward a campus expansion project."
This funding will be used toward bettering the DSU campus because of its commitment to student success and the increase in enrollment. DSU was able to purchase 183 acres at the Desert Color property.
Darlene Dilley, associate provost for enrollment management, said DSU is projecting an increase in student enrollment, not only with incoming freshmen, but in terms of an overall increase as well.
"For new, incoming freshman students, our goal is 2,650 enrolled, a 4% increase over fall 2020. For overall campus enrollment, we are expecting to see a 5-10% increase over the 12,044 students enrolled for fall 2020," Dilley said.
With student enrollment at DSU increasing, on-campus events and activities making a comeback, and funding for an improved DSU campus, the fall 2021 semester is slated to feel like things are back to normal.