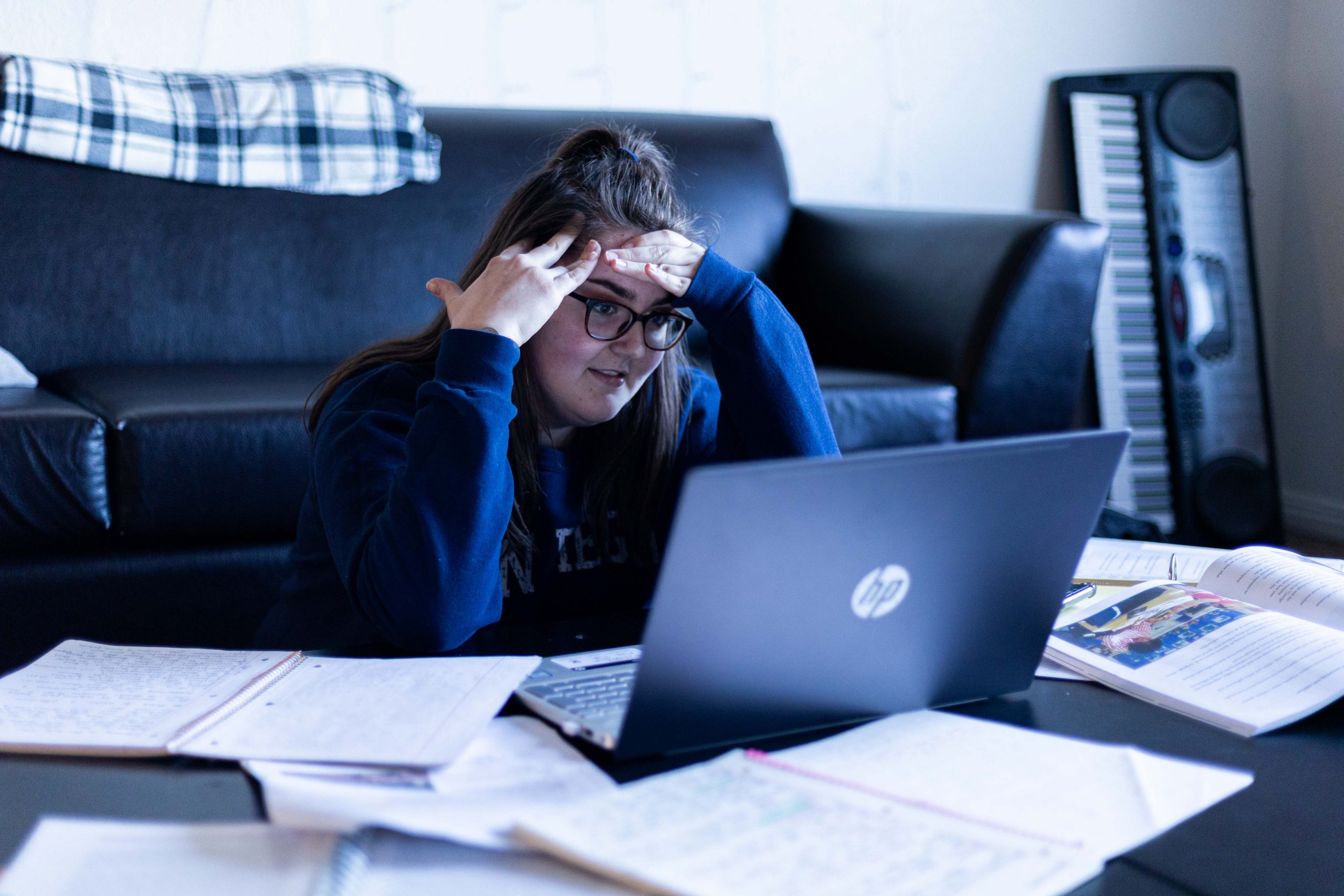 Adrianna Steadman, a sophomore psychology major from Lewiston, Idaho, is overwhelmed with the amount of school work she has for the remainder of the semester. She wonders how she can help remedy the stress. Photo by Breanna Biorato.
---
Finals are coming up and you may be starting to get stressed out about them. You're probably also getting burnt out from school, and worried since the year is suddenly coming to an end and finals are creeping up. Don't worry, here are some tips from three faculty members to ease your mind.
Jamy Dahle, mental health counselor and outreach coordinator at the Booth Wellness Center, said there are a couple of reasons why students get stressed out about finals.
"One of the reasons is there is such an internal and external pressure on grades, whether that be a certain letter grade or a certain GPA," Dahle said. "There is also a fear of not achieving."
Kathie Ott, part-time lecturer and sciences adviser, said another thing that may cause students to stress about finals is the build-up of procrastination.
"The No. 1 thing is that they procrastinate," Ott said. "I think we all can understand that; we just put it off to the last minute, especially when it's hard."
Contrary to some students' beliefs, there are ways to help yourself not be too stressed out about finals that are actually pretty simple.
Schedule time and review beforehand
Jonathan Morrel, director of student support success, said you should look at finals like a game. He said it's like baseball in many ways because the results of those tests come down to how much practice and preparation you have.
"If you're practiced and are ready to go, you're excited to go play ball, and that's the same with taking a test," Morrell said. "If you're ready to play ball, then it's actually kind of fun because you're ready to win."
Morrel said a good way to make sure you're well-practiced is setting up a scheduled time for studying and for when finals are.
Finals are sometimes different from the time that you attend class, so you need to make sure that you have the correct day and time, Morrel said. The review sheet and syllabus are two of the best places to look when you are preparing for finals, he said.
Go through and write down a physical schedule and task list for each day that you have time to prepare for each class' final, Morrel said. It's important to know when and what you have to study for on that test.
"Do exactly what the instructor asks and you'll be in great shape," Morrel said. "Don't try and shotgun it and talk around it, just answer exactly what they ask for and nothing more."
Eat and rest
Ott said students are better off if they don't procrastinate and don't cram the night before the test. She said trying to learn all the information instead of taking care of your body really isn't going to help you on finals.
"When I was in college, I stayed up all night, and the next night I only got two hours of sleep, so the next morning when I had to go take a final, I couldn't stay awake," Ott said. "The thing is, if you don't get enough sleep, you can't think as clearly."
Ott said students need to get enough sleep to help deal with stress and test better. She said it's also vital for students to eat healthy food before finals. This doesn't mean drinking a ton of coffee or energy drinks, it means eating nutritious food that can help your mind function during finals, she said.
Be positive and use coping mechanisms
Dahle said along with being proactive throughout the semester, you need to think about everything positively. Having a positive mind space will help you have a clear mind and believe in yourself more when you are taking a test, she said.
"It's really important to give yourself credit," Dahle said. "You've worked hard all semester and you put a lot of effort into your assignments. … So end the semester and give yourself credit with positive self-talk."
Dahle said there are coping mechanisms to help you when you are stressing out. One example is performing positive self-talk, such as making sure to think you are going to do a good job and remaining confident in your abilities, even if you don't completely believe it, she said.
Dahle said she recommends taking slow, deep breaths to help refocus, which can also help you calm down.
Dahle said another example is grounding techniques, which are when you focus on an item in the present moment. She said these coping mechanisms usually have to do with the senses and focusing on what you can do and what is happening now.
Ways to destress after finals
After the tests are done, the stress is still there, so one way to destress after finals is to reward yourself with something you enjoy, Dahle said.
"It's different for everybody; it could be going on a hike, hanging out with friends, watching that Netflix show you've been wanting to watch," Dahle said. "Do something you like to do, just do something fun."
Dahle said the Booth Wellness Center is hosting a Decompress and Stress Less event that students can attend to help unwind on April 21 from 10 a.m. to 3 p.m. outside the Jeffrey R. Holland Centennial Commons.
Dahle said this event is full of activities that can help you learn how to destress, such as doing yoga, painting, DIY stress balls, and meditation. There will be snow cones and cotton candy, along with some giveaways from Campus Recreation, she said.
Stress is OK, and everyone gets it, but learning how to cope and prepare are important to help you succeed during stressful times. Even if you do fail a final, you have learned something about yourself and how to prepare better, and you can still meet your goal, Ott said.
"Those terrible things you are thinking of normally aren't going to happen," Ott said. "The thing is, usually there is a way. Even if you fail a test, your education might take a different direction, but you've learned something in the process."