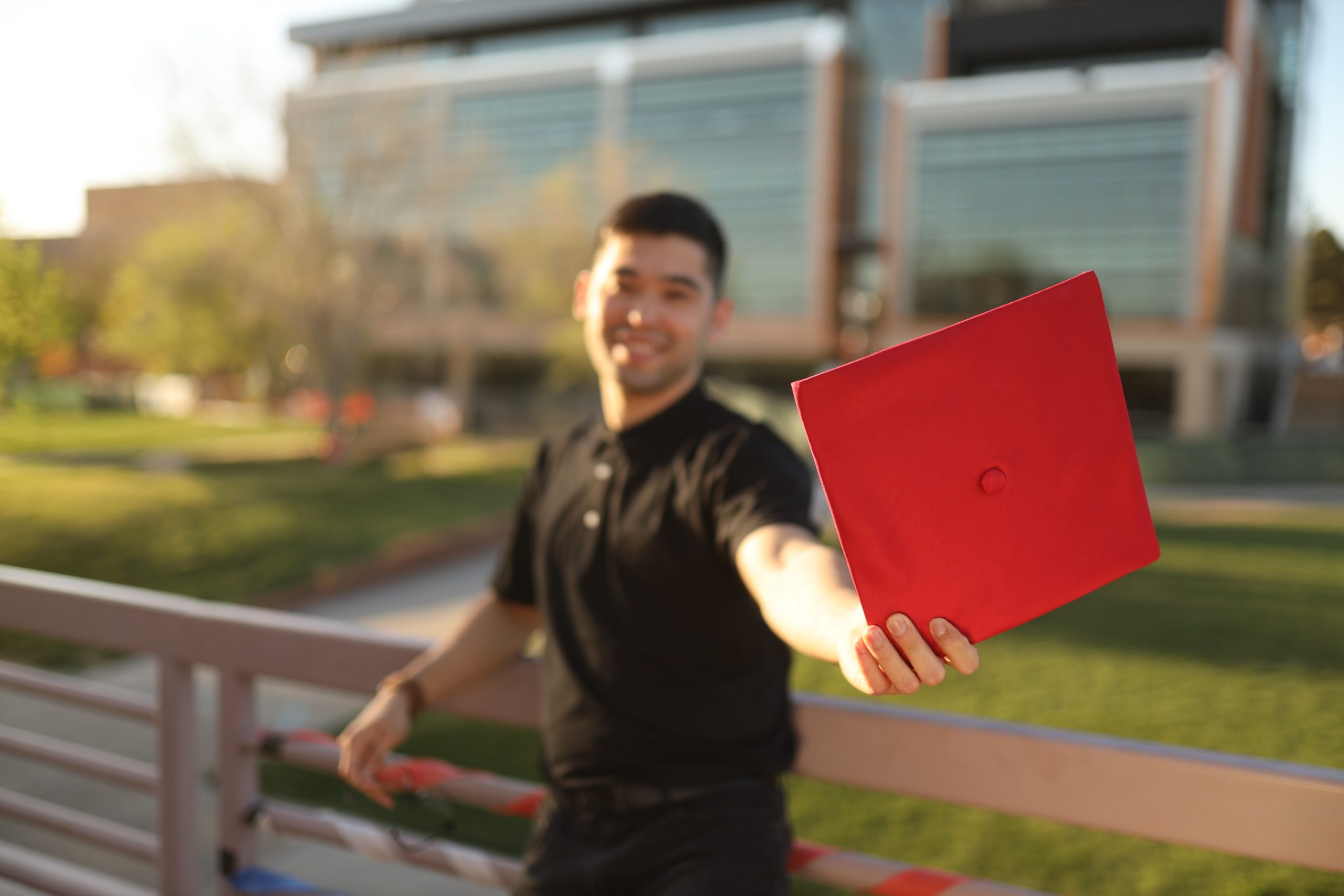 Firus Hanov, a senior information technology major from Ashgabat, Turkmenistan, is graduating this semester. Dixie State University seniors are looking forward to their graduation plans. Photo by Misha Mosiichuk.
---
Whether it's graduate school, marriage, a dream job, a master's degree or taking a gap year, each senior at Dixie State University has something to look forward to after graduating this spring.
Here is what DSU graduates are doing after graduation along with advice for future graduates:
Preparing for grad school
Kaitlin Webster, a senior exercise science major from St. George, is taking the summer to work a full-time job to save up for graduate school. She will be attending Rocky Mountain University of Health Professions in Provo this fall. Webster will be getting her doctorate degree in physical therapy.
"Becoming a physical therapist has been a dream of mine for the last 10 years and I'm so excited for it to be this much closer to a reality," Webster said.
It is a common stressor for students to worry about getting straight A's during their time in college, Webster said, but she wishes she would have realized grades are not as important as you would think, especially since a lot of students can obsess over getting straight A's.
"A well-rounded person with good grades can be just as impressive as a person with a perfect 4.0 GPA," Webster said.
Tying the knot
Wedding bells are ringing this summer for Landen Reynolds, a senior marketing major from South Weber, after graduation.
"I will be getting married in June and continue working as a marketing director in real estate," Reynolds said.
Reynolds is getting married in the summer and then will continue to live in St. George as his future wife attends DSU's nursing program. He hopes to eventually attend the Huntsman Program Masters of Business Administration at Utah State University.
"The sooner you get involved, the better; college is the best place to meet the most people that could help you later in life," Reynolds said.
Do not go to college just for the degree, Reynolds said. He said the people you meet in college will make a huge impact on your life whether it is professors, students, deans, advisers, or someone else tied to the university.
Capitalizing on opportunities at home
Ben Swallow, a senior media studies major from St. George, said he advises future graduates to put themselves out there and make a lot of friends in their classes.
Swallow said he wants his future career to be in TV production. He is planning on staying in St. George to work and then eventually be part of a media team for basketball or music.
"Seize the moment, take every opportunity you can get," Swallow said. "Whether that be with friends or with your major, just do it; you won't regret it."
Entering the workforce
Chiffawn Jonas, a senior secondary math education major from Santa Clara, will begin working as a 7th-grade math teacher at Lava Ridge Intermediate School this fall.
Jonas is getting married this June, and while her future husband finishes his schooling, she will work and then hopes to eventually get her master's degree.
"Put school and your health before anything else. Even if you don't remember every little thing you learned, a degree will show that you were willing to work hard for something you really wanted," Jonas said.
Jonas said school will get stressful, but it's worth it to stick it out and try your best. She also said you can only do great things if you are looking out for your well-being and to take care of yourself by eating well, getting enough sleep, and getting in daily exercise.
Taking on life
Brecken Bunnell, a senior accounting major from St. George, will continue working at his own accounting firm that he started while attending DSU so he can save up money for graduate school.
Bunnell said: "Get to know your professors and other faculty; they're there to help you and want to see you succeed, so build relationships with them as well as fellow students. I wish I would've known how impactful the contacts you make in school can really benefit you almost immediately after and even during your schooling."