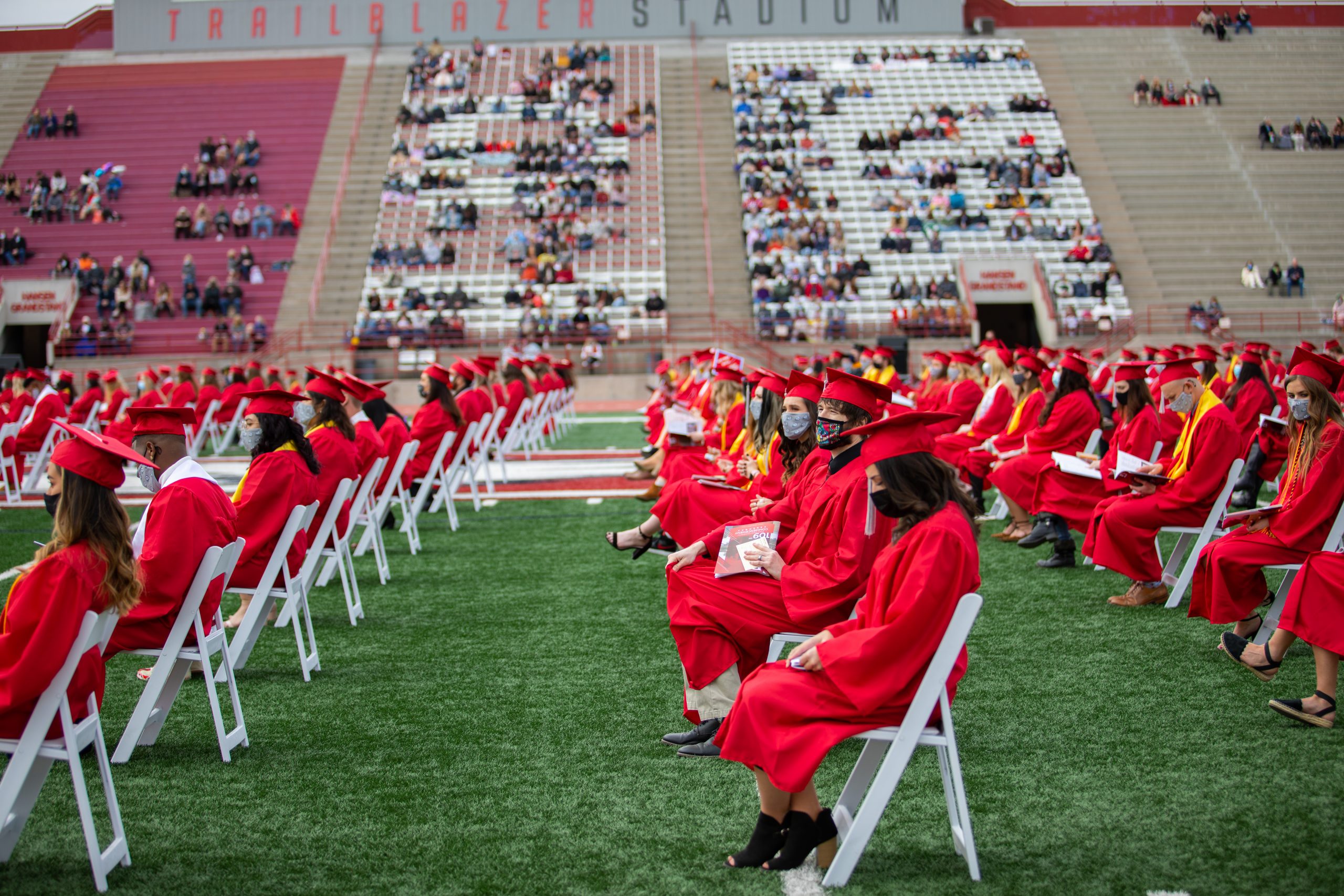 Dixie State University's fall 2020 commencement ceremony involved masks and social distancing. The spring 2021 ceremony will as well. Photo courtesy of UMAC.
---
Dixie State University's 110th commencement ceremony will involve slightly less restrictive measures against COVID-19 and a new master of ceremonies.
DSU President Richard "Biff" Williams said plans for combating COVID-19 may change depending on what guidelines are in place, but for now the university is hoping for less restrictive measures at commencement.
"It changes everyday, and so working with when we had six feet between each chair [last year], I think by that time we might not even have any feet between the chairs required," Williams said. "We're thinking about three feet between each chair, but it's not getting more restricted by any means, it's getting less restricted."
Masks, social distancing and ticketing will still be in place to stem the spread, according to the COVID-19 ceremony guidelines on DSU's graduate information webpage.
Michael Lacourse, provost and vice president of academic affairs, said somewhere under 1,000 students will be attending. Williams said he thinks there will be a bigger turnout than usual because those who didn't get a graduation ceremony last year will want one this year.
"We'll probably fill the stadium," Williams said. "We've given six tickets to each of the graduates. … The reason why we have [commencement] at the football field is because … it will allow us to spread out, and now we have the hill behind there, so we'll ask people to spread as much as they can."
Williams said former Gov. Gary Herbert will speak at the ceremony, something that was originally planned for the canceled spring 2020 ceremony. He also said DSU is one of the few institutions in Utah having a commencement ceremony.
"[According to] our council presidents meeting, Brigham Young University [is] not having them, I don't think the University of Utah [is], Utah Valley University's doing a similar drive-thru," Williams said. "Because we're outside, we're allowed to do it, so I think what's unique about Dixie State University, is we'll be able to have everybody come and we'll be able to celebrate."
Latest in News:
Williams said art professor Del Parson will be the master of ceremonies at commencement now that the previous master of ceremonies, Glen Blakley, has passed away. He said it's an honor to be the master of ceremonies.
"Del Parson has the longest length of service to the institution and he is a full professor, so that made him eligible to be the [master of ceremonies]," Lacourse said. "If he would've declined, we would've gone to the next person. It's interesting that Glen and now Del are from the same academic department, so it will stay in the department of art. I think Del, he obviously has an international reputation, and I think it's really a great selection."
Lacourse said this year's valedictorian speaker has also been chosen and will be announced after he meets with the selected student.
Lacourse said, "The way it works is I invite the person in and then I let them know face-to-face that they've been selected, and then we go from there, and then it will be announced publicly."
Lacourse said risking rain and cold weather at the fall 2020 commencement ceremony was worth it and he's really happy that a large number of students attended. He said he's looking forward to this year's commencement as well.
"[Commencement] is the moment that you just wait for every year because these kids have worked so hard and the faculty have worked so hard to help them gain this achievement," Williams said. "It was very empty last May when we couldn't have commencement, and then if you were there in December when we had it, that all came rushing back, and so … it's just such a neat experience to be able to honor our students and their families that have worked so hard, and then the faculty and staff that have really helped shape these students into these professionals."
DSU's 110th commencement ceremony is set to take place May 7 at 8 a.m. in Greater Zion Stadium. The Grad Fair will take place May 5-6 from 8 a.m. to 5 p.m. — or May 7 from 6-7 a.m. for those traveling late — at the Stephen and Marcia Wade Alumni House.