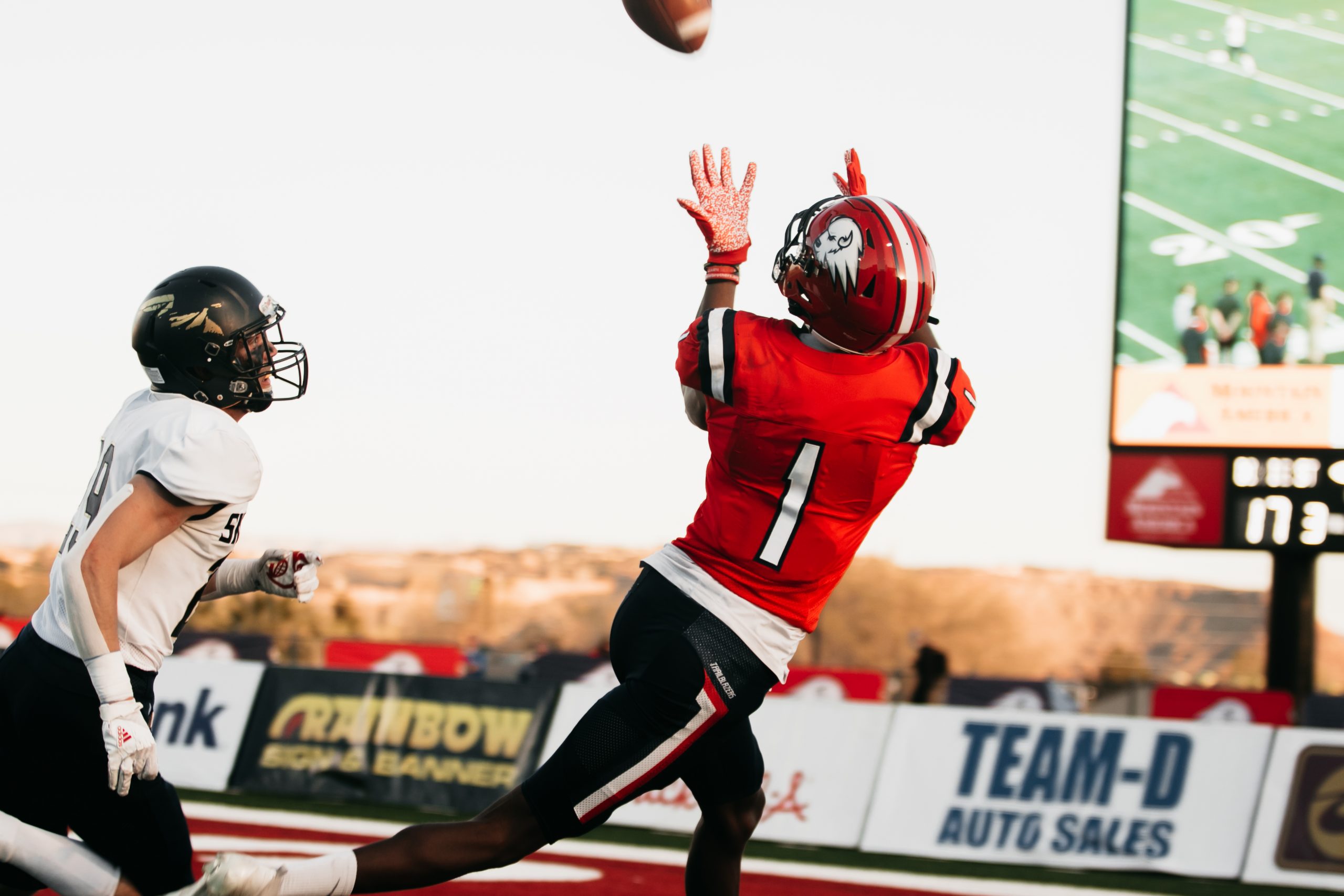 Devon Osborne, a senior business administration from Los Angeles, played against Fort Lewis College March 27. Osborne is more than just a football player, he has also been involved at DSU in various ways. Photo by Bailey Chamberlain.
---
The term "jock" has been correlated to athletes for quite some time now; however, Deven Osborne, a senior business administration major from Los Angeles, defies all of those stereotypes.
Osborne grew up in L.A. and got involved in the pee-wee Pop Warner leagues throughout California. Football was just a small part of Osborne's life, as even from a young age he took on a great deal of responsibilities.
"My mom was a big community leader, and she was involved in just about every event from the Rose Bowl Marathon [to the] Black History Parade to the Ronald McDonald House and charity; she was just involved in so many different things," Oborne said. "I was that kid with her waking up early in the morning and running around at these events with her. At the time, I wanted to sleep in or play with my friends, but over time I understood why she was doing it, and that's because she wanted to make an impact in the community and ensure people around her are doing the best they could."
When Osborne ended his senior year of high school football, he didn't have any offers until DSU reached out to him and extended an invite to come on an official visit.
"I just liked the area and wanted to be a part of it," Osborne said. "I saw the university was growing, and that was the same mindset I had. I wanted to be a part of something that was on the climb."
Osborne was persistent with his schooling and athletics and eventually came to understand why he had to attend all of the community events and early mornings with his mom.
"[My mother's impact] didn't really hit me until I got [to St. George] and saw what I could really do here at this school and with this community [like] she did with hers," Osborne said. "All the things I have done and will continue trying to do all really goes back to the days where I'd wake up at 5 a.m. with my mom in Pasadena, and helping at the city marathons or whatever event it was trying to lift up the biggest table, knowing I can't but trying to help out in any way possible."
On the field, Osborne not only plays receiver for the Trailblazers, but also has a much larger role for the team.
"His leadership is immeasurable for our football team, both on and off the field," head coach Paul Peterson said. "Deven is the perfect example of a student-athlete who embraces the process, he continues to get better and better every year that I've been with him."
Osborne is not only a college athlete but is also the president of the Student-Athlete Advisory Committee at DSU, ran for student body president, and has participated in numerous movements here in the state and community.
"The SAAC is really trying to create awareness in many different topics," Osborne said. "For instance, this week we are trying to help raise awareness of Operation Underground Railroad and inform others [of] what goes on with child trafficking."
SAAC Vice President James Baird, a senior recreation and sports management major from Trenton, New Jersey, said: "I'm just proud to be associated with [Osborne] on this committee and to be his vice president. It's crazy to see his vision and how he makes it happen."
As Osborne has made the transition to a Trailblazer, he's realized the possible opportunity he has to be a voice for those who may feel like he does.
"One of the biggest reasons I ran for student body president is because for me, being a Black male not from here, I wanted to show other minorities around this area that this school is a great place to come to regardless of what you look like," Osborne said. "I wanted to show kids that a Black male from Los Angeles, California that plays football and does all of these different things can thrive in this type of a community, so they can as well."
With the busy schedules all college students have, along with everything Osborne is doing, there is one motive that tends to drive him more than others: the passion to make somebody's life better or improve their day.