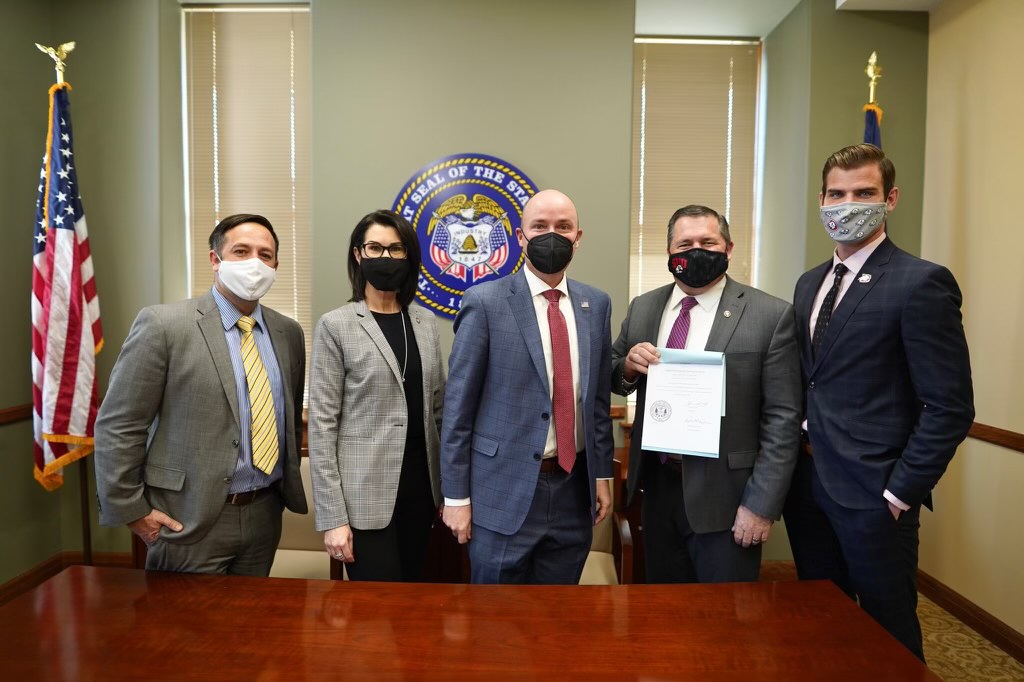 From left: Nathan Caplin, Lt. Gov. Diedre Henderson, Gov. Spencer Cox, Sen. Darren Owens, and Henrie Walton. House Bill 279, Dixie State University's Higher Education for Incarcerated Youth Program, was signed into law on March 22 by Gov. Cox. Photo courtesy of Nathan Caplin.
---
Dixie State University's Higher Education for Incarcerated Youth Program begins this summer.
After passing through the House and Senate, Gov. Spencer Cox signed House Bill 279, Higher Education for Incarcerated Youth, into law March 22. The program enables DSU to provide opportunities for incarcerated youths to participate in concurrent enrollment and gain college credits that can be applied toward earning undergraduate degrees and technical certificates.
Kevin Simmons, director of concurrent enrollment at DSU, said money will be allocated to the program July 1, but his department will fund a test run of a single class during the summer session, and he'll be visiting five facilities across the state to recruit the first cohort over the coming month.
"We will be serving high school aged youth up to 25-year-olds who were incarcerated as minors but are serving long sentences," Simmons said.
Simmons said he'll be overseeing the program for now since it's part of concurrent enrollment, but another director will eventually be selected to give full focus and attention to the program. He also said he would ultimately like to see the incarcerated youths in the program Zoomed into a regular class being held with live students on campus, but there are security and privacy issues that will need to be addressed first.
Latest in News:
"Until then, we will hand-pick faculty members to each specific general education course that we feel will resonate best with this unique population," Simmons said. "They will be their own entire cohort led by a faculty member on campus. We would like to be able to have that faculty member actually teach face-to-face at each of the facilities at least once during the semester too."
Simmons said textbooks and supplies will be paid for through the $300,000 allocated by the Legislature, but DSU is still looking to form partnerships, including one currently forming with Brigham Young University, to stretch the money further.
"We are looking for partnerships to assist us and make those dollars stretch further," Simmons said. "For example, BYU publishes one of the textbooks we will use. They have offered seven of the 25 books to us for free."
Simmons said he was approached by Nathan Caplin, a lawyer and a part-time instructor of humanities and social sciences at DSU, to help get the program off the ground as part of a doctoral dissertation Caplin is working on at the University of Southern California.
Caplin said, "No university or college in the state of Utah delivers a full program leading to college graduation for incarcerated youth, [but] the Higher Education for Incarcerated Youth Program at DSU will do this for every eligible student spending significant time in the juvenile justice system."
Simmons said the program will benefit taxpayers as well.
"The money we have been given to run this program over the year is less than it cost taxpayers to house just two incarcerated youth for a year," Simmons said. "We know that education results in lower rates of recidivism, so the better we do with this program the better the youth we serve will do."
Simmons said he believes the program will help distinguish DSU, which is one of the goals in the university's current strategic plan.
"We have been told that up to now, no one has been delivering live, virtual education to this group of students anywhere in the U.S.," Simmons said. "Upon completion of their general education or a CTE certificate, we would hope these students, upon release, seek a new and better life by coming to DSU and continuing their education."
Nancy Hauck, associate provost of community and global engagement, said the program also allows DSU the opportunity to realize its mission of providing open, inclusive, polytechnic education.
"We look forward to providing high quality education for the students in this program and to help them transform their lives through education and career preparation," Hauck said.