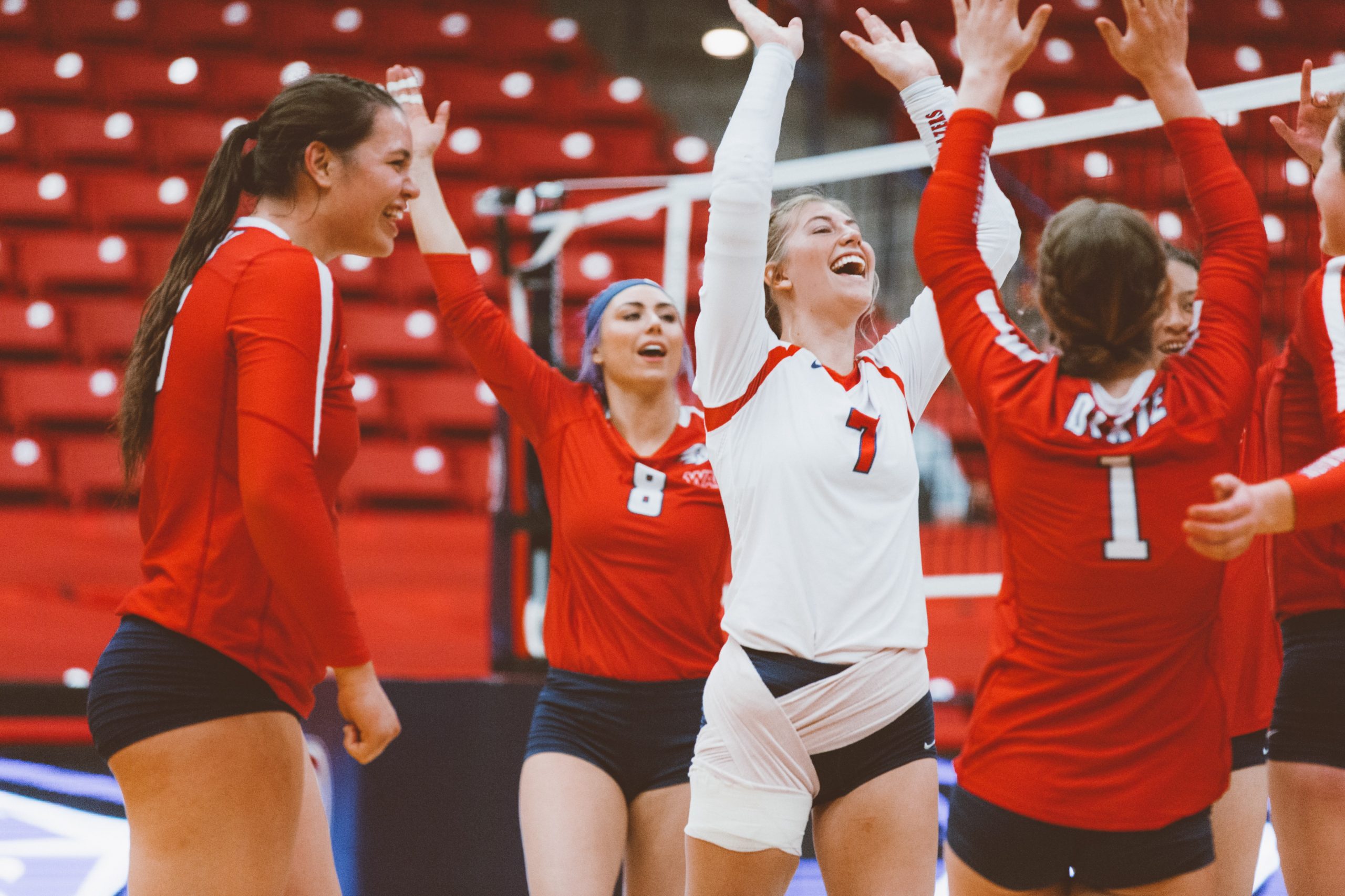 The Trailblazers finished the season with two wins over Chicago State University, earning a winning record for their first Division I season. Photo by Emily Wight.
---
As sports transition from season to season, all teams face expected struggles such as new players and coaches meshing to form teamwork, schedule changes, and keeping athletes healthy and ready to play; Dixie State University women's volleyball had all these transitions and more as it battled with COVID-19 testing and playing its first Division I season all in the same year.
The Trailblazers didn't allow for these challenges to have a negative impact on their season as they fought all year to make an impact and a name for themselves in the Western Athletic Conference.
"We fought really hard and did a good job representing [DSU] in DI volleyball this first year," said Sydney Johnson, a senior business administration major from Spokane, Washington. "Overall, I'm super proud of our team as a family for having a positive season."
The Trailblazer squad saw its inaugural DI season come to an end Tuesday afternoon as the team squared off against the Chicago State University Cougars. The Trailblazers entered the match with a .500 winning percentage (8-8) and CSU entered the series without a win for their season (0-5).
CSU came out hot, scoring the first four points of the match. DSU rallied back with a close contest throughout the first match but ultimately came out on top, winning the first set 26-24.
The second set was another tough fight. Points alternated between the two teams, but once again, the Trailblazers showed they were too much for the Cougars to handle, winning the second set 28-26.
"The first two sets were tough fights… We wanted to finish strong and reset after the second set," Johnson said. "We came back in the third and had a lot of fun and the score showed that; it's amazing how much good energy could do for the team."
DSU came out dominating the third set and never really gave CSU a shot to stay in the set, with DSU winning 25-16. Whitnee Nihipali, a junior psychology major from Las Vegas, tallied a career high of 19 kills in the match, which propelled the Trailblazers forward.
"This same group of girls will never play as a team together again," Nihipali said. "To play for each other is what we've always talked about, and it's easier to have fun and do well when you play for the person next to you."
With the NCAA approving athletes to have another year of eligibility because of the affect COVID-19 has had on collegiate athletics, the four seniors on the volleyball team were left with the tough decision of whether or not they'd like to return for another year of playing.
"Sydney Johnson was the only one we really celebrated as a senior," head coach Robyn Felder said. "As of right now, Megan Treanor, Jordyn Nelson and Lizzy Clark are all planning on coming back in the fall to get their year back."
The volleyball team will take the court next fall with the return of those three seniors playing important roles for DSU.
"It's going to be cool to have those seniors back, that leadership back, and they've been there done that at the DII level and now the DI level, so I think they want to come back and have some more fun next year," Felder said.
DSU finished No. 4 in the WAC, but it is ineligible for the conference tournament because of the transition period from DII to DI. Felder was able to find positives throughout the season even though the team is unable to compete for the conference title.
"This year was a big learning year for a lot of us," Felder said. "Playing teams at the top of the WAC, we needed to ask ourselves, 'What do they have that we don't and how do we get there?' I don't think we are that far away in a lot of categories."

Changes will be made for the Trailblazers this offseason, and Felder ended the season feeling good about where things are with DSU volleyball.
"I would just say I'm super proud of this team," Felder said. "I just walked away [from the locker room] and was saying, 'I'm so proud of you guys, you did something so hard with COVID and everything.' The fact we finished strong was the coolest thing."