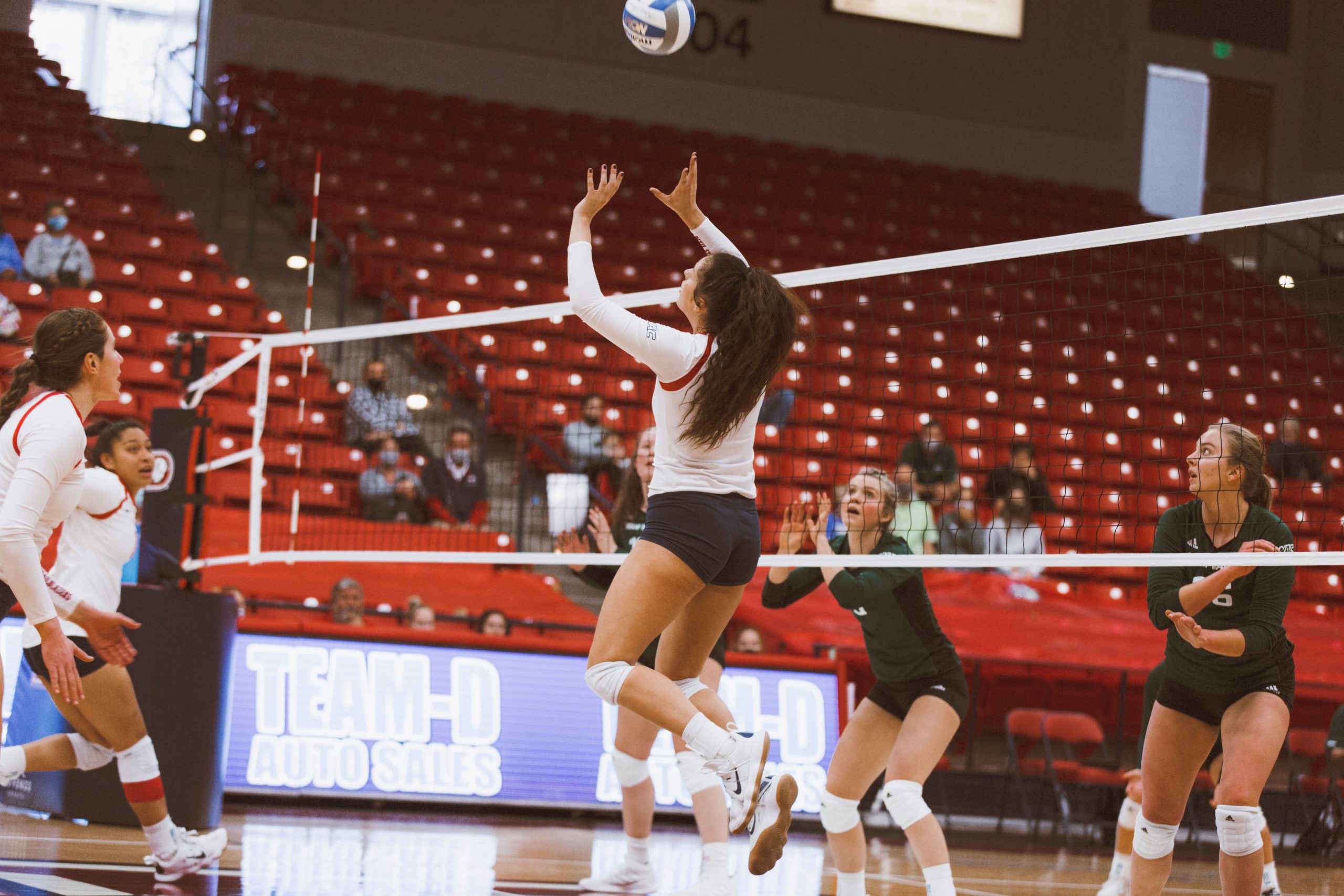 Megan Treanor, a senior communication studies major, runs DSU's offense in Tuesday's game against UVU. Photo by Emily Wight.
---
When Dixie State University joined the Western Athletic Conference, an in-state rivalry with Utah Valley University was born. Today, volleyball got their first taste of the "Old Hammer Rivalry."
"That [in-state rivalry] with someone in our conference was just something we've never had before," head coach Robyn Felder said. "So, it definitely set the precedent. UVU kind of got us this weekend, but it's good to kind of see where we can go [with the rivalry]."
In the back-to-back series with UVU, DSU lost twice. The team fell 3-2 on night one and 3-0 on night two. The score lines of these games don't tell the whole story, though.
On night one, it took five sets to determine a winner between these teams, DSU went into the fourth set up 2-1, but a rally from UVU found the Trailblazers taking the 3-2 loss in the end.
Night two was not what the Trailblazers were looking for. The team's positive takeaway, though, was that they could make progress and get better through the game. Despite the slow start and the losses, the team saw improvements from set to set.
"I definitely feel like we just didn't start strong," Felder said. "We definitely gave UVU momentum and teams play totally different when they have that."
Momentum was the name of the game in this one for the Trailblazers. Though the team was unable to get much in the first set, sets two and three had momentum for DSU, but it just wasn't quite enough to give the team a set win.
DSU held the third match level until the end with the two teams matching points nearly the entire way. Sets two and three both ended 25-21, with the final win for UVU coming from playing a clean end to the set.
"I think we gave ourselves a lot of opportunities, but at the end of the day, we just kind of missed that opportunity," said Sydney Johnson, a senior business administration major from Spokane, Washington. "But now this will feed us and make us be really hungry for our next two games."
The mentality for DSU leaving this one is to get back to work and focus on the Tarleton games next week. The Trailblazers' season is drawing close to its end, and they have just four games remaining.
Felder said: "We've been to [Tarleton] before and Tarleton is always a good team. Texas teams are just always good, and honestly, they're pretty similar to us. They're an energy-driven type team. They're a feisty, competitive team. I'm hoping it's going to be a dog fight."
Johnson and Chayse Daugherty, a sophomore business major from Gilbert, Arizona, echoed the same thought: The team is ready for an intense, gritty game in Texas.
"Scouting them, I think it's going to be a very good game," Daugherty said. "It's going to be a very high-energy, high-intensity game and as an athlete, you kind of live for [games like] that."
Johnson said she is excited to head to Texas and play against the Texans. She played them in her sophomore season and lost, so she is looking to avenge that and play them now that she and her team have "stepped up to the DI level."
The Trailblazers will brush off the losses against UVU with matches against the Texans March 8-9. They will then return home for the team's final matches on March 15-16 against Chicago State University.