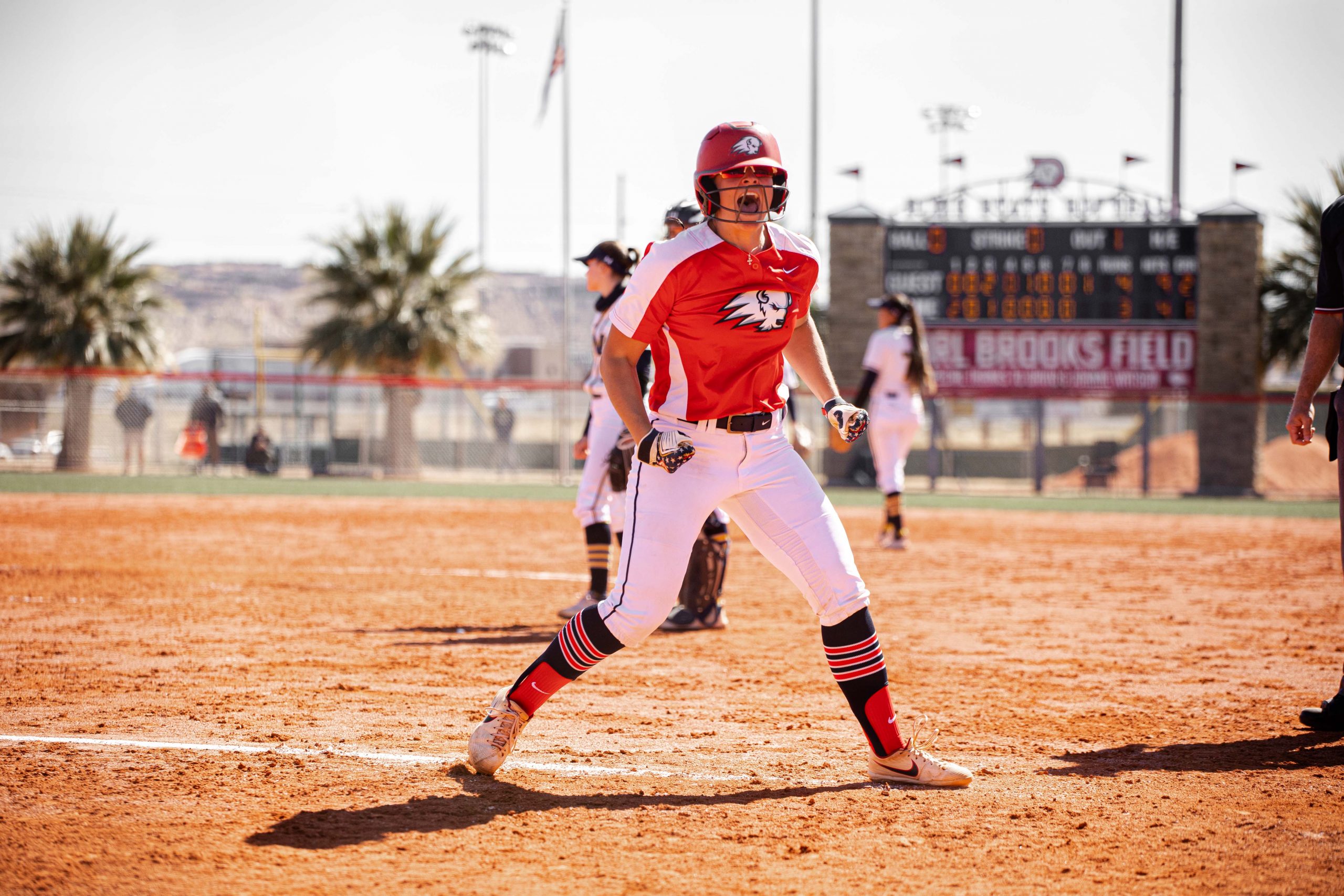 Rachel Campbell, a freshman biology major from Castle Rock, Colorado, celebrates after driving a ball over the fence against Northern Colorado Feb 28. The Trailblazers' next games are March 5-6 against UC Riverside. Photo by Breanna Biorato.
---
Entering the Dixie State Tournament, the Trailblazers' softball team had an overall record of 1-9; now DSU has won four of its last five games.
The Trailblazers battled it out at Karl Brooks Field Feb. 26-28 and defeated Utah State University, the University of Northern Colorado and Weber State University.
Head coach Randy Simkins said it's phenomenal for his team to win four out of five games from the tournament, but he was also impressed by defeating the Wildcats because they're known for having an outstanding softball program and running the Big Sky Conference.
Simkins said: "[WSU] don't beat themselves very often [and] they don't have holes in their lineup. They have a lot of speed; they play the short game really well where they bunt or they slap and steal bases. If you don't play clean, if you don't catch the ball, and if you don't take care of stuff, they're going to make you pay. That's how they beat us the first time. We gave up four runs in an inning where we probably should've only given up one or two."
Either way, it was an outstanding win for DSU against the Wildcats as well as defeating the Bears and Aggies. There are numerous takeaways from this tournament for the Trailblazers, so let's go ahead and evaluate the successful turnaround for DSU:
Piecing together the lineup
From the beginning of the season to Feb. 20, the lineup has consistently stayed the same; however, during that time the Trailblazers struggled offensively and were shut out five times. During the first meeting between DSU and USU on Feb. 21, Simkins switched leadoff hitter Hannah Hughbanks, a sophomore exercise science major from Chino Hills, California, to bat second and put infielder Meagan Anders, a senior psychology major from Las Vegas, at the top of the order. He also moved first baseman Mikaela Thomson, a senior business major from Herriman, to bat fifth and moved outfielder Malory Eldredge, a redshirt junior biology major from Arvada, Colorado, to bat third in the lineup.
Simkins said he moved Hughbanks to the No. 2 spot in the lineup because he wanted to take pressure off of her. He said pitchers are usually more tough on the leadoff hitter, so he decided to change it up with putting Anders at the top of the order.
"[Hughbanks and Anders are] both capable of hitting for a little bit of power, pretty high average, and a high on-base average, so they're pretty much interchangeable there," Simkins said.
As soon as Simkins made these adjustments to the lineup, the Trailblazers' offense clicked.
Contributions from the lineup top to bottom
Throughout the Dixie State Tournament, the lineup from top to bottom contributed in some way by having an overall of 27 singles, 11 doubles and eight homeruns.
Two standout players from the tournament overall were Thomson and Eldredge. Thomson had a batting average of .412, hit five home runs, and collected 10 RBIs. Eldredge had a batting average of .530, hit six singles and two doubles, and racked up four RBIs.
"[We're] at the plate winning pitch by pitch, winning at-bats, not just hitting [the ball] out [of the field], but [we're] winning every pitch [to be successful on offense]," Thomson said.
Simkins said getting contributions from everybody top to bottom was huge and he knows how locked in his team was throughout the tournament offensively.
Pitching settling down
With the lineup finding its groove, DSU's pitching staff has the opportunity to settle down and do its thing. Pitcher Carissa Burgess, a junior business marketing major from Ellensburg, Washington, and pitcher Ashtyn Bauerle, a redshirt sophomore sports management major from Syracuse, pitched three complete games combined and tallied up 22 strikeouts.
Simkins said having his No. 1 and No. 2 pitchers pitching three complete games was key to his team's success and that's something they need to do more often.
Simkins said: "[Our] pitching staff isn't as deep as other pitching staffs [because] some staffs have six or seven pitchers on it and we only have four. We need to get pretty good contribution out of our No.1 and No. 2 to try to lengthen games a little bit."
Burgess said what helped the pitchers ease into the tournament was playing at their home field to boost up energy and trusting the defense to have their backs.
Limiting errors on defense
The 11 errors the Trailblazers gave up defensively weren't too costly for them in the games they won.
After losing the first game to WSU, Simkins told his team it couldn't have mistakes to turn a small inning into a big inning, and he said he gives kudos to his defense for limiting the number of errors throughout the tournament.
Hitting the road
After a 10-game homestand for DSU, its current overall record stands at 5-10, and the team will be hitting the road to the University of California, Riverside for a three-game matchup.
The last time the Trailblazers were at an away game was at the University of Nevada, Las Vegas tournament at the beginning of the season where they didn't have too much success.
Simkins said his team needs to play well on the road, have everybody continue to contribute in the lineup, have quality at-bats against an opponent they never played before, and get better as the season progresses.
DSU will take on the Highlanders March 5-6.