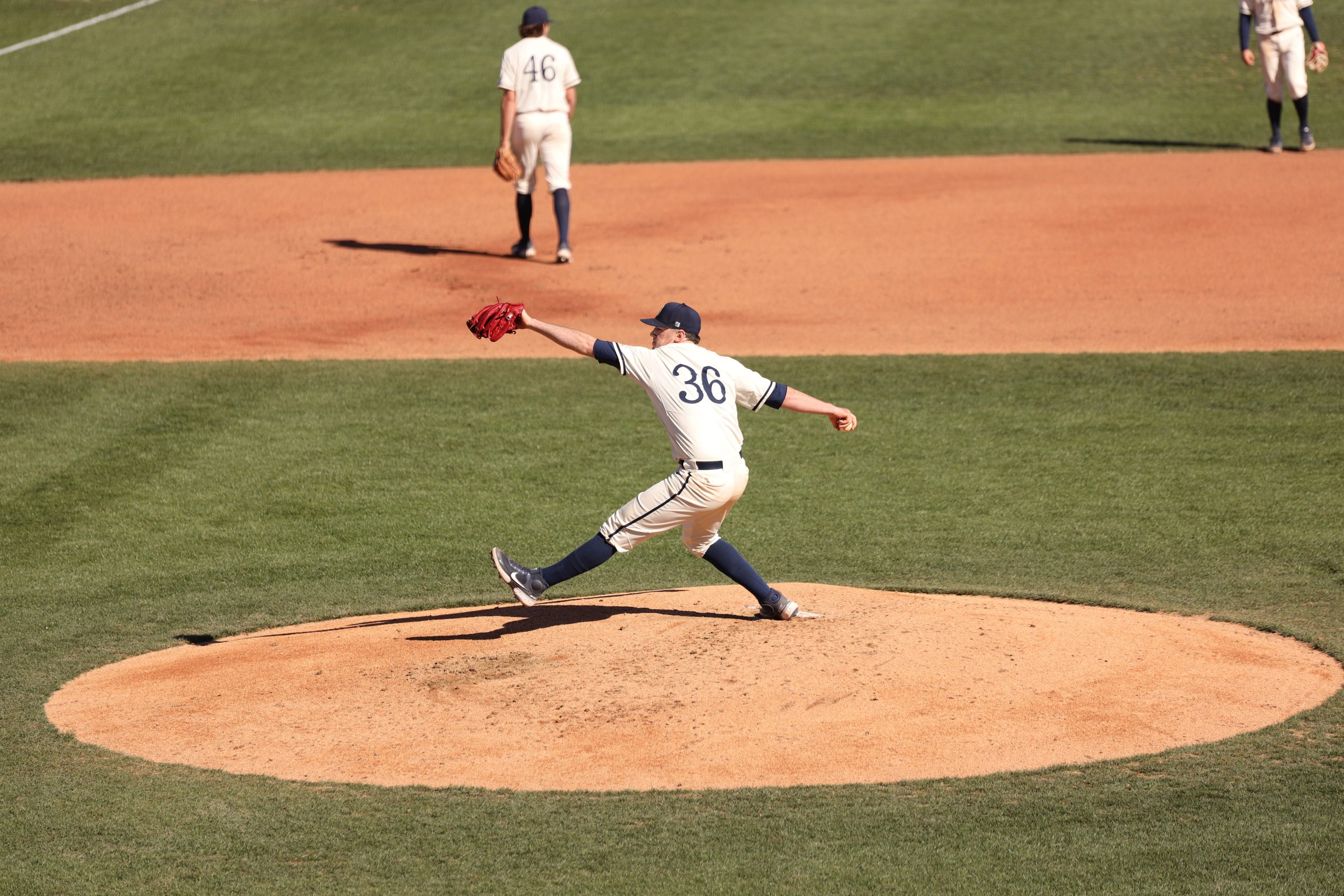 The DSU baseball team was defeated by Washington State University Feb. 28. The next home game is going to be against Brigham Young University March 16. Photo by Misha Mosiichuk.
---
Hot dogs, the seventh-inning stretch, sun burns, and home runs returned to Bruce Hurst Field as the Trailblazers hosted Washington State University in a four game home-stand over the weekend.
DSU was 15-3 before having the season come to an end because of COVID-19 regulations in 2020; however, none of these games played were against Division I teams. WSU is a DI, PAC-12 conference team and finished 9-7 last year. Going into the series, DSU knew this series would test them.
"[The] first series of the season and we're playing a PAC-12 conference team; it doesn't get much better than that," said Tanner Harper, a junior business administration major from Paul, Idaho.
DSU laced up its cleats and was ready to bring DI baseball to St. George. The Trailblazers jumped out to a hot start to the season after holding a 3-0 lead after five innings in the first game. After the fifth inning came to a close, the momentum shifted completely to the WSU side. DSU gave up back-to-back three run innings in the seventh and eight frames, finishing the game with a 9-6 loss.
"We thought we had Thursday night's game going into the seventh inning, and we had a big letdown after giving that one away," head coach Chris Pfatenhauer said. "After that, Friday and Saturday went by too fast."
The Cougars were flexing all of their muscles at the plate Friday and Saturday as they outscored the Trailblazers 34-6 after the two games Friday and Saturday. DSU lost both Friday's contest 19-5 and Saturday's 15-1.
It was evident over those two games that the Trailblazers were still getting their feet underneath themselves in DI ball. Regardless of who they are playing, the Trailblazers were going to keep the same mindset they've always had.
"We like to think that whatever the circumstance is we can bounce back and continue to grind," Pfatenhauer said. "We didn't do any facet of the game well on Friday or Saturday, but we regrouped and tried to grow and get better for Sunday."
The closing game of the series came to an end on Feb. 28 as the Cougars showed they were just too much for DSU to handle, falling once again to the Cougars 10-3.
"Our egos aren't too big to not watch the other teams do things right," Pfatenhauer said. "We want to be a really good Division I baseball program, so why not bear down and watch what a PAC-12 team is doing well on the other side of the ball and get better? We are going to get better from this."
DSU is staying positive and focusing on the good that came from the weekend.
"One of our biggest take aways from the series from the weekend is the experience we were able to get," Harper said. "We got a lot of young guys to get some playing time and able to get some experience, which could really help us."
DSU will head to Wichita, Kansas and square up against the Wichita State Shockers in a three-game series March 5-7. The Trailblazers' next home game is March 16 when they host Brigham Young University.