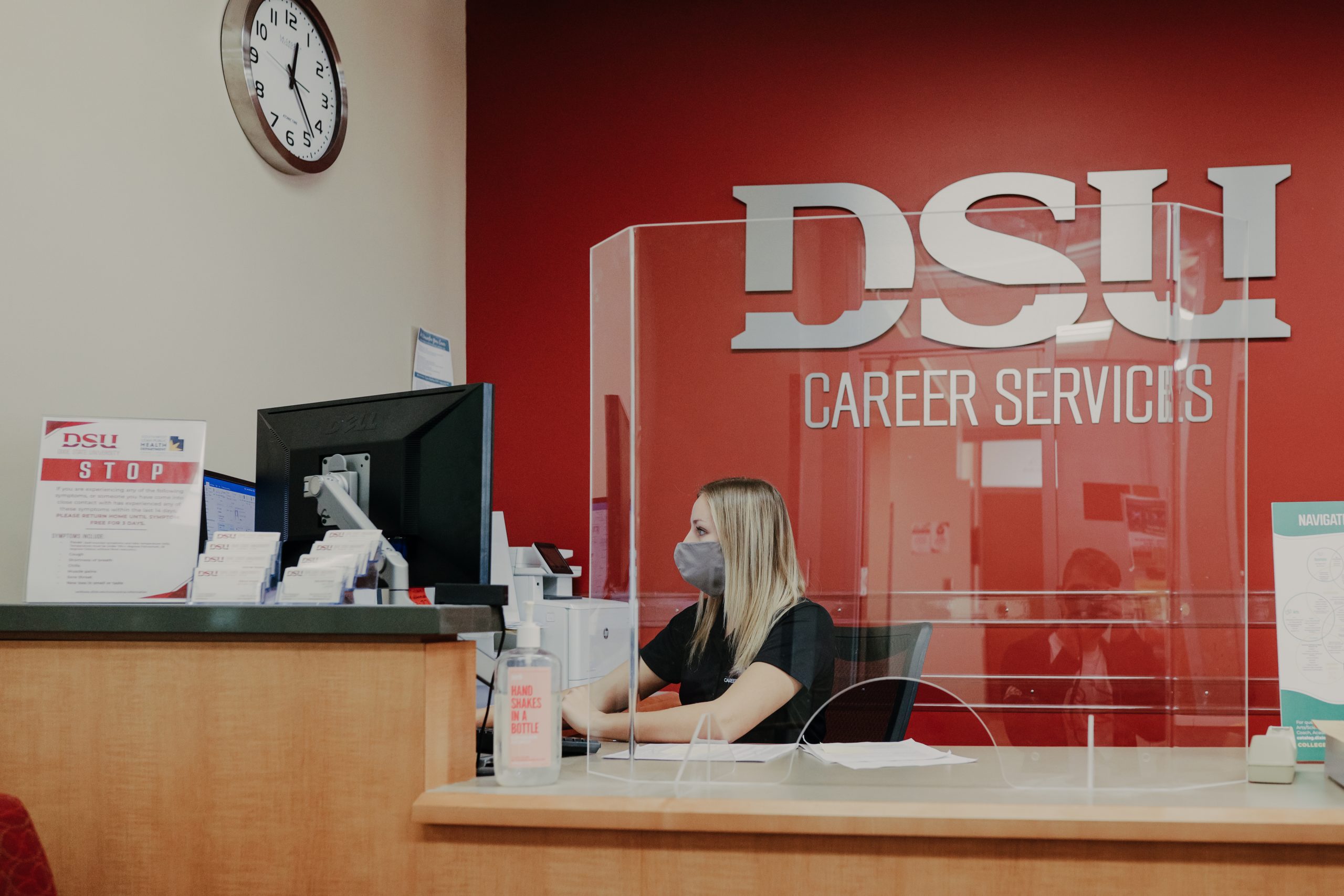 Ashley Christensen, a freshman pre-med major from Riverton, works at her desk in Career Services where she is a career mentor. Career coaches give advice on what students should be considering to make sure they are ready for their post-graduation careers. Photo by Misha Mosiichuk.
---
Between juggling classes, homework and extracurricular activities, students can often find themselves forgetting one of the reasons why they are sweating over a bachelor's degree in the first place: To launch their dream career.
Some anxious seniors, in their last semester, might even be thinking, "What am I going to do next?" or "I just graduated college… now what?"
Don't fret — the Dixie State University Career Services team is willing to prepare and train you for what's ahead with its version of a career readiness checklist.
Do you have the physical necessities?
Career coach Gina Gottfredson said almost every employer will ask for a completed resume, so it is essential to build one over your four years of school. A resume is not something you just want to throw together last minute; it should be taken seriously.
"I would start by really focusing on creating a targeted resume," Gottfredson said. "[A resume] is what is going to help you land a job interview in the first place, so it needs to catch the eye of your future employer."
Career coach Rochelle Blatter said to enter a job search, students need to make sure they also have these physical elements:
Cover letter
Online profile for LinkedIn
Online profile for Handshake
An online, professional portfolio (depending on your major)
Shane Blocker, assistant director of Career Services, said to use your school work as a way to upscale and sell yourself to your future employer.
"Don't just do papers to do papers," Blocker said. "Most of the time, we get done with a big group project or finish our senior capstone paper and think, 'Cool, now I never have to look at that again,' when really you should take that content and put it on your LinkedIn profile so employers can see your abilities."
Are you networking?
Blocker stressed the importance of networking as a way for students to start preparing for future jobs and connections to job opportunities.
"You have to know people," Blocker said. "So many times we go to class and pull out our cellphones and start ignoring everybody around us, but if you just start talking to the people in your classes, the network that you start now opens up a lot of things post-graduation."
Blocker also said students should take any opportunity they have to introduce themselves to guest lecturers and all of their professors who have their own webs of networking that can assist that student.
"[Students] need to network with professors, they need to network with potential employers, they need to network online, and they need to — most importantly — network with Career Services," Gottfredson said.
Starting early and building these connections now through networking with others will ease your stress as you prepare to graduate and land a job, Blatter said.
"The more you engage with others, the better you will feel prepared," Blatter said. "The more connections you make through friends, family, instructors, faculty and staff, the better."
What's in your wardrobe?
"Dress to impress."
We've all heard that saying over and over again, but as you navigate your way through college, it's important to start collecting professional clothing to prepare for your future career, Gottfredson said.
"It would be expensive and some students would not be able to afford to buy a whole month's worth of professional clothing all at one time," Gottfredson said. "So I would suggest students prepare a professional wardrobe while they are attending school."
DSU Career Services has a "career closet" of professional work clothing that was donated by students on campus that anyone can take from if they are in need of clothing appropriate for the workplace.
"It's always better to be ahead than behind," Gottfredson said. "Starting early when collecting these pieces of clothing will give students one less thing to worry about when starting a job."
The staff members of DSU Career Services are available to assist any student with reviewing documents, practicing mock-interviews, acquiring professional clothing, and more as long as they make an appointment online first.