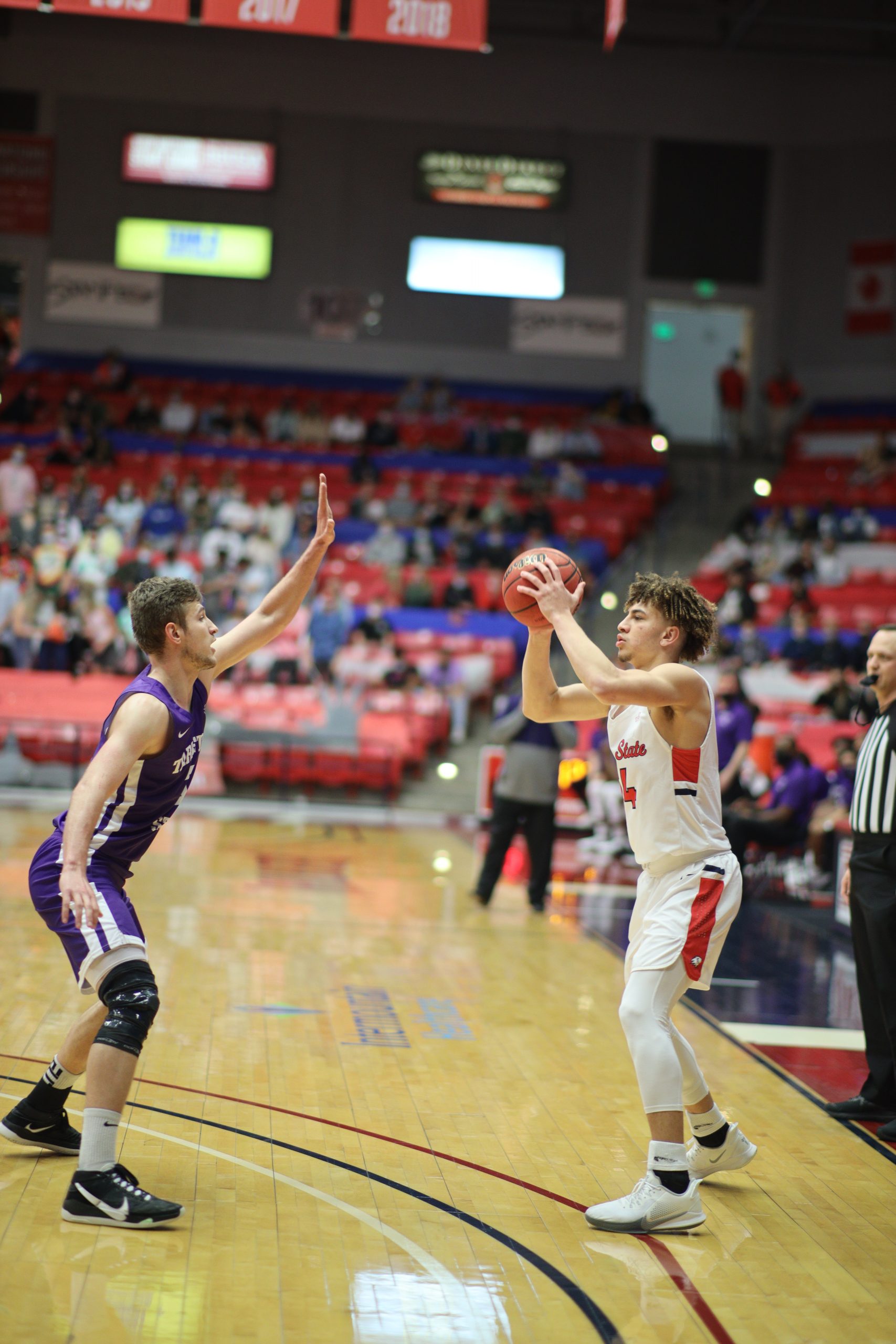 Isaiah Pope, a sophomore communication studies major from Yorba Linda, California, tied the school record for single game three-point shots against Tarleton State University on Feb. 20. The Trailblazers won 64-48 over the Texans. Photo by Misha Mosiichuk.
---
The first all-time series meeting between Dixie State University's men's basketball team and Tarleton State University results in a split.
The Texans took game one against the Trailblazers by a final 59-77 scoreline Feb. 19, and DSU came away with the victory in game two with the score being 64-48 Feb. 20.
Here are some key takeaways from this battle of Division I newcomers in the Western Athletic Conference:
Maintaining momentum
This two-game series was identified by who would maintain momentum the longest to win the game. In game one, TSU had all the momentum right from the jump by having its largest lead being 20 points. DSU cut down the Texans' lead to ten points at two different points in the game; however, TSU had the hot hand throughout the night by knocking down 50% of its shots from the court.
Head coach Jon Judkins said he showed his team on film how wide open they were on certain plays, and he wants his players to shoot the ball with confidence because the Texans were going to stick with their game plan by stopping the Trailblazers' big men in the paint.
Judkins said: "I heard some of [my players] talking about their confidence, and we tell them: 'Hey guys we have all the confidence in the world. If you're open, shoot it. If you're in your range and you're a three-point shooter, then shoot it.'"
Then DSU flipped the script in game two by shifting the momentum in their favor. Throughout the first half, the Trailblazers and TSU would exchange baskets, but guard Andre Mulibea, a freshman general studies major from Salt Lake City, hit a huge three pointer as the first half expired to give DSU a huge swing of momentum. The Trailblazers capitalized on the momentum and ran with it to claim the victory over the Texans.
Mulibea said it felt amazing to hit that last-second three pointer to give his team momentum coming out of halftime, and his teammates kept trusting him to knock down shots.
Guard Isaiah Pope, a sophomore communication studies major from Yorba Linda, California, said the coaches and his teammates put a lot of emphasis on beating TSU because they were embarrassed and disappointed with the loss in game one, so they had a point to prove.
Defense
The Texans laid out a blueprint offensively where they would wind down the shot clock to the last ten seconds and knock down their shots. In game one, DSU would do it's best to stay locked in defensively by staying man-to-man, two-three zone, or applying a full court trap and press defense.
Judkins said the Texans work the shot clock all the time, and the way he countered TSU's strategy was by making sure his players stay in front of the guy with the ball and force difficult shots.
In game two, DSU's defense improved significantly by forcing the Texans to commit shot clock violations, holding TSU's offense to a 35% shooting percentage, and only allowing 17 points in the second half.
Judkins said the team's defense made the difference in game two, and it's the reason why his team won the game.
Knocking down the mid to long-range shots
In this two-game series, the Trailblazers offensively settled for the mid to long-range shots. The Trailblazers combined for 38 points in the paint from both games and combined for 85 points when shooting mid to long-range. Despite DSU's 30% shooting percentage and 17% three-point percentage in game one, those numbers bumped up to 42% shooting from the court and 39% shooting from downtown.
Mulibea and Pope had a big night shooting from mid to long-range in game two. Pope had a new career high in points with 22 and tied the single game record for most three pointers made in the DSU's men's basketball programs' history with six. Mulibea had 14 points while knocking down four of seven three-pointers.
Pope said he credits his teammates for doing an outstanding job finding the hot hand, whether it was him or Mulibea, and he thought the team overall played unselfishly by sharing the ball or making the extra pass to score points.
Making the extra pass for points
Making the extra pass to score points turned out to be more successful in game two for the Trailblazers compared to game one. DSU players would make the extra pass to one another to try to score points in game one, but it specifically worked in favor of forward Hunter Schofield, a senior exercise science major from Spanish Fork. Schofield scored 18 points in the second half in game one, which led to the Trailblazers' main source of scoring.
Now in game two, since the Texans' defense was focused in on Schofield, this allowed more ball movement outside the paint to allow points to be scored from mid to long-range.
Judkins said he saw on film how TSU collapsed down onto Schofield and there would be times when Schofield would be guarded by three or four defenders. Judkins continued saying Schofield did amazing in kicking the ball back out to his teammates to create scoring opportunities.
Bye week
After another series split, DSU improves to 8-11 overall and 4-8 in conference play. Since Chicago State University suspended its 2020-21 season and the game against Park University is canceled, the Trailblazers will have a bye week before they head out on the court again.
Pope and Mulibea agreed that this week off will help the team focus on themselves, get a mental break physically and mentally, and perfect who they are as a team.
Judkins said this bye week came at a good time because his team is worn out from playing a lot of minutes due to injuries and playing two consecutive games every week.
Judkins said: "We're going to give [our team] Monday off. Tuesday is going to be like our Monday, and then we've got to have good practices on Wednesday, Thursday, Friday. We've got to get rest, but you can't get rest and get rusty, but it's time for these guys to get their rest and save their legs."
DSU's last two games of the season will be at home against New Mexico State University Mar. 5-6 at the Burns Arena.