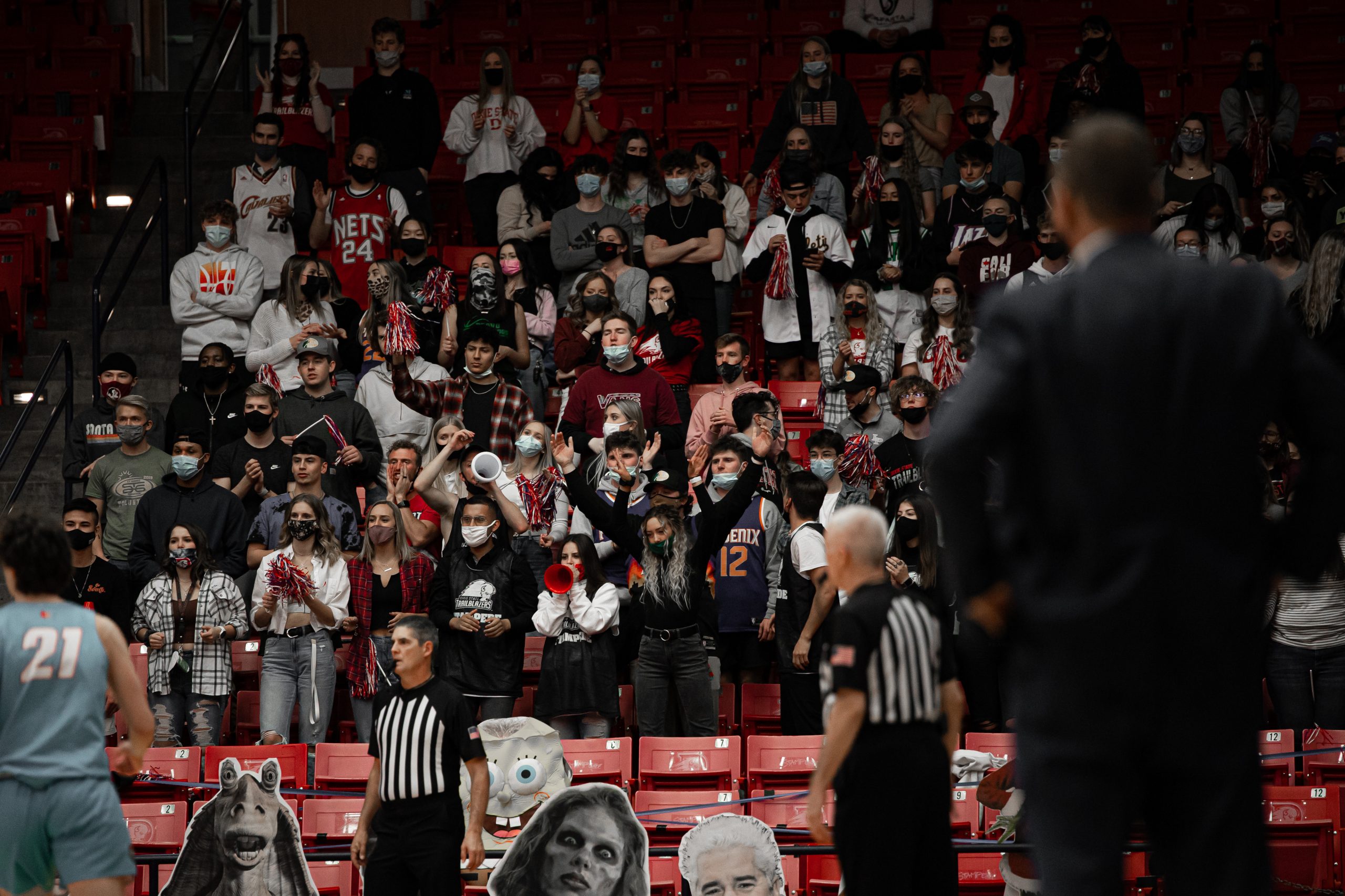 DSU's student section, "The Stampede," cheers on DSU men's basketball in a game against the University of New Mexico on Jan. 13. Photo courtesy of DSU Athletics.
---
Fall 2020 was a rough time for sports fans, and specifically for those at Dixie State University. Greater Zion Stadium was empty for the whole semester and the Saturday night lights that football fans crave were nowhere to be found. Along with football, cross country, soccer and volleyball all had their seasons postponed because of COVID-19.
"I missed sports last semester," said Josh Gardner, a senior biology major from St. George. "It's nice to have games back this semester and more sports happening."
DSU has played host for basketball, soccer and volleyball matches so far this spring semester.
There is no doubt that participating in games against opponents changes the way DSU athletes go through their day-to-day schedule, but how does the return to sporting events change campus life for students?
"With all the sporting events happening this semester, there is not a week where we don't have some type of home game to go to," said Chase Jenkins, a senior psychology major from St. George. "The joy of sharing your school pride and supporting our fellow classmates along with teasing the other team is happening once again."
Jenkins is also the president of DSU's student section "The Stampede," and he said he has plenty of fun activities planned for this semester.
"We as a Stampede Council are planning fun themes for the games and passing out swag items, plus free food," Jenkins said. "With these themes, we expect students to dress up as wild as they want and yell as loud as they can."
Trailblazers can feel the sports buzz as weekends approach with DSU home games throughout the weekend. When Seattle U came to town for men's basketball, the M. Anthony Burns Arena welcomed 645 fans.
"I'm getting excited for the football games," said Jaylee Slack, a freshman psychology major from Syracuse. "It will be fun to meet other people and feel some school spirit."
DSU students have the opportunity to attend all home games for free with a valid DSU student ID. There currently aren't any single game tickets available to the public, so those in the stands are either students, parents of athletes, or season ticket holders or boosters.
To find the complete DSU athletic schedule, click here.