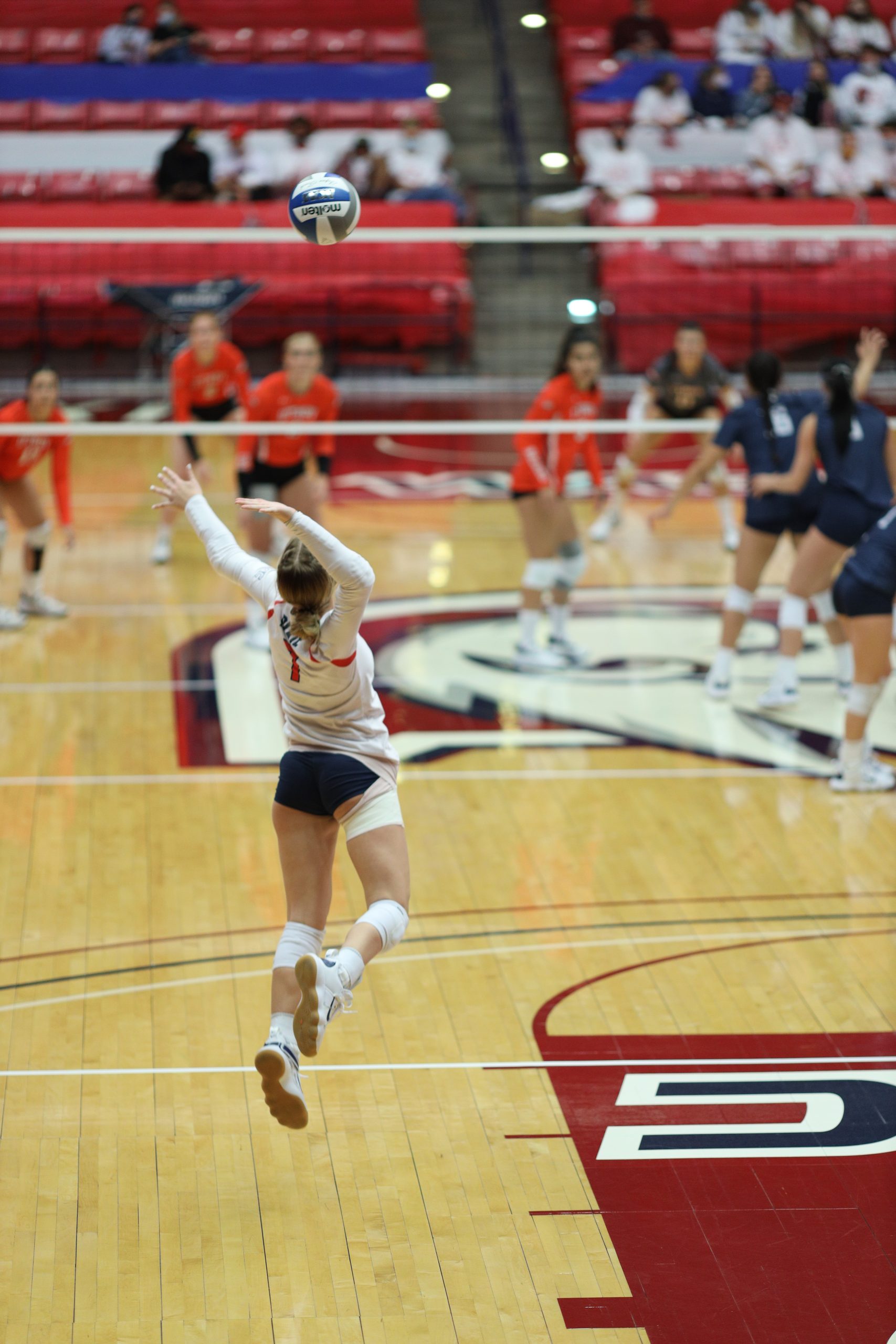 Mykenna Nelson, a sophomore recreation and sports management major from Phoenix, sets up a serve in DSU's win over UTRGV Feb. 1. The team's next game is Feb. 15 against CBU. Photo by Misha Mosiichuk.
---
Looking to rebound from being swept by Grand Canyon University, Dixie State University women's volleyball will play a home series against California Baptist University Feb. 15-16.
In two games against GCU, the Trailblazers failed to win a single set against the top seed in the WAC. The Trailblazers struggled defensively against an overall more experienced GCU side. DSU drew a few close sets, one 25-21 and 25-22 set in game one, and another 25-20 set in game two, but it wasn't enough to steal a set in either game.
"Right now, [GCU's] a better team than us," head coach Robyn Felder said. "They're more consistent and just a little more solid in a lot of the positions that, right now, we're just not."
As GCU sits No. 1, DSU is No. 5 in the WAC standings. DSU was selected to finish No. 6 in the WAC Preseason Poll, something that the players use to fuel them as they press on through the 2021 season.
"We're trying to make a statement," said Mykenna Nelson, a sophomore recreation and sports management major from Phoenix. "We were seeded almost last in the Preseason Poll, and we just played UTRGV who was seeded third, so beating them helps us make a statement that we deserve to be up there."
Up next, the team will face former PacWest rival CBU in the Burns Arena.
"We're a little upset with our results from GCU," Nelson said. "So we're just hungry to get back in the Burns and play at home and just take it to them and see what we can do."
CBU is currently No. 3 in the WAC standings but suffered its first loss of the season against Utah Valley University Feb. 9. The Trailblazers are looking forward to the test against the Lancers.
"Cal-Bapt always has a good team, always has a good program," Felder said. "They're very well coached and they always play hard. I think that's what makes it such a good rivalry is it's such a slugfest every time."
The Trailblazers are hoping to show the WAC that they are not the underdogs everyone thinks they are.
"We started out as the underdog of the conference because we're transitioning from DII to DI, but we want just to go in with no fear," said Taela Laufiso, a sophomore English major from West Jordan. "We want to get better and to match our opponents. If they're better than us, it's OK; we're going to learn how we can get to that level of play."
The team will have back-to-back games due to the new conference format brought on by COVID-19, but this format has proved beneficial for DSU.
"Any team can win any given day," Nelson said. "You can get swept by someone one day and then the next day you sweep them or vice versa. Things can just go either way."
For coaches and players, the ability to make quick adjustments has been nice. The team watches the film after it plays and tries to make the necessary changes to prepare for the game the next day, even with a quick turnaround.
"We're used to playing one team Friday, traveling, trying to scout another team quickly, and then play the next day," Felder said. "So, for this it's nice because we scout the whole week for that team and we play them, watch our film, adjust, and then we play them again."
Being back home for the rivalry series against CBU is an opportunity Felder and her team hope to capitalize on to push themselves into the top half of the WAC standings.