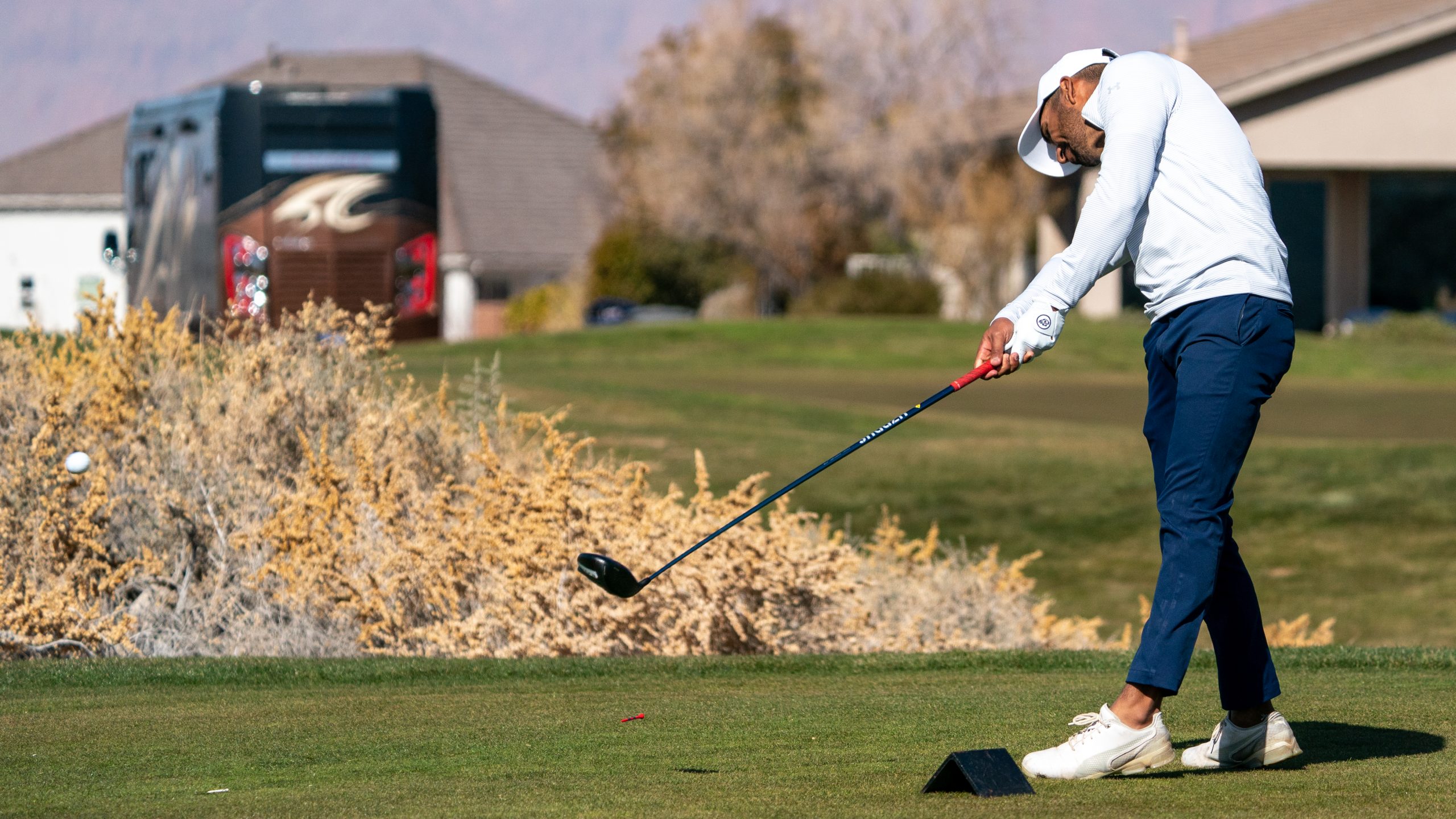 Aman Uddin, a freshman communication studies major from Fareham, England, tees off in the SUU Invitational. DSU men's golf placed No. 7 of 12 in its first ever Division I tournament. Photo courtesy of Stan Plewe / DSU Athletics.
---
The Dixie State University men's golf team competed at its first invitational as a Division I team Feb. 6-8 in St. George.
The team placed No. 7 of the 12 teams that played the Southern Utah University Invitational.
"I do think we are close as a team to being tournament ready," said Aman Uddin, a freshman communication studies major from Fareham, England. "Some nervous swings in the first round where expected after not being in a tournament mindset for so long."
The team took this invitational as a learning experience and is thrilled to get out and enjoy more playing time on the courses.
"The first invitational went OK; we know we can do better, but even though it wasn't our best, we were just happy to be competing again," said Brock Nielson, a junior communication studies major from Salem.
Head coach Brad Sutterfield said the team has potential and is looking forward to the challenge that being a DI sports team brings.
"The competition is a little tougher, but all in all I believe that it will just make us better," said Davis Heslington, a sophomore criminal law major from Beaver.
As the team goes up against stronger teams, it also has the opportunity to play in better tournaments and on nicer courses. The team's next match will be March 1-2 against Sacramento State.
Sutterfield said: "We are talented from top to bottom; anyone can play well for us. We have a great group and they all get along well, which helps our team dynamic."
The fall season was postponed due to the COVID-19 pandemic; however, in the spring season the team hopes to show off its ability to compete as DSU's first ever DI men's golf team.
"The season so far has just given me time to work on my game; it's hard to gauge where you're at with things when you're not competing," Uddin said. "It sucks for everyone that we couldn't play this fall, but I have just taken it as an extended offseason."
The team has five matches on its schedule for the spring season, along with the Western Athletic Conference championship April 30 – May 2.