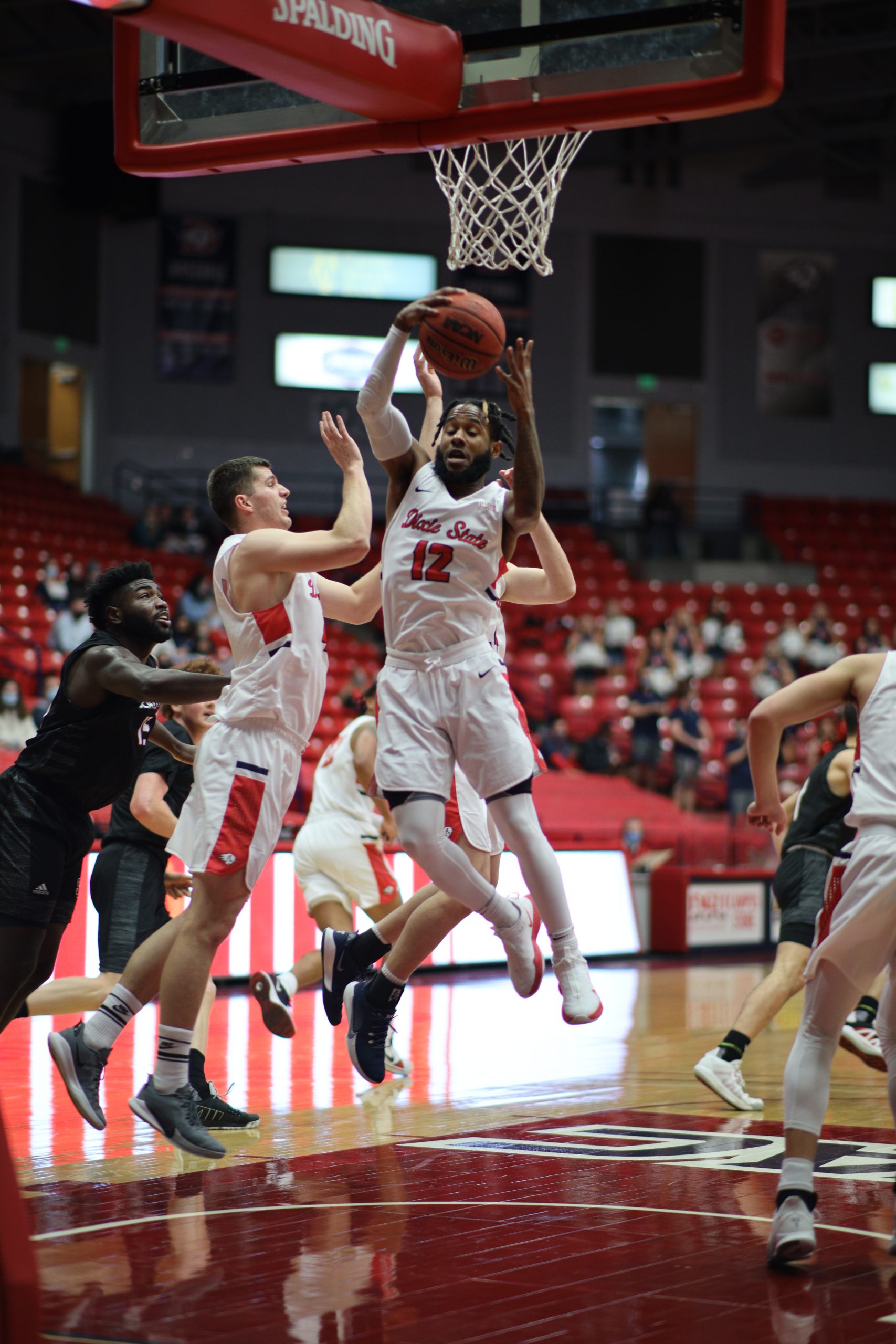 Cameron Gooden, a junior sports management major from Frisco, Texas, had seven points and five rebounds in DSU's 77-76 win over Seattle University Feb. 5. Gooden averages 14 points per game for the Trailblazers. Photo by Misha Mosiichuk.
---
The Trailblazers started off their homestand with a closely contested victory against the Seattle University Redhawks, winning the game 77-76.
The game started with the Trailblazers getting off to a rough start, scoring just two points in the first five minutes of the game.
"Things can go downhill fast," said Cameron Gooden, a junior sports management major from Frisco, Texas. "We just stayed together, regrouped and battled all the back and forth [of the game]."
DSU was resilient the rest of the period, chipping back at the lead, heading into the half down by just three.
However, just three minutes into the half, the lead had been stretched to 49-35 favoring Seattle U. The second half was a game of runs as both teams created leads then saw them diminish. Jarod Greene, a senior finance major from Blackfoot, Idaho, tallied 16 points in the game, which is a season high for him.
"I don't really care about scoring; I was trying to get everyone else going, but things started falling for me," Greene said. "I wanted to do what my role is, and that's to be there when someone needs me to."
The Trailblazers again fought back and took the lead with just five minutes left in the game. The game continued back and forth until Gooden made a bucket to push the Trailblazers up by two. After a defensive stop and a foul on the Redhawks, Frank Staine, a sophomore finance major from Inglewood, California, sealed the game with two free throws with less than five seconds left in the game.
"These are the games where you grow stronger, bigger and better when you learn how to win games down at the end like that," head coach Jon Judkins said. "We had 582 in attendance tonight, and that brings energy to our team."
This win is the second consecutive victory for DSU, and it will take the court again Feb. 6 at 7 p.m. for its back-to-back against the Redhawks. Next week, the Trailblazers head up to Orem to take on in-state foe Utah Valley University in back-to-back games Feb. 12-13.