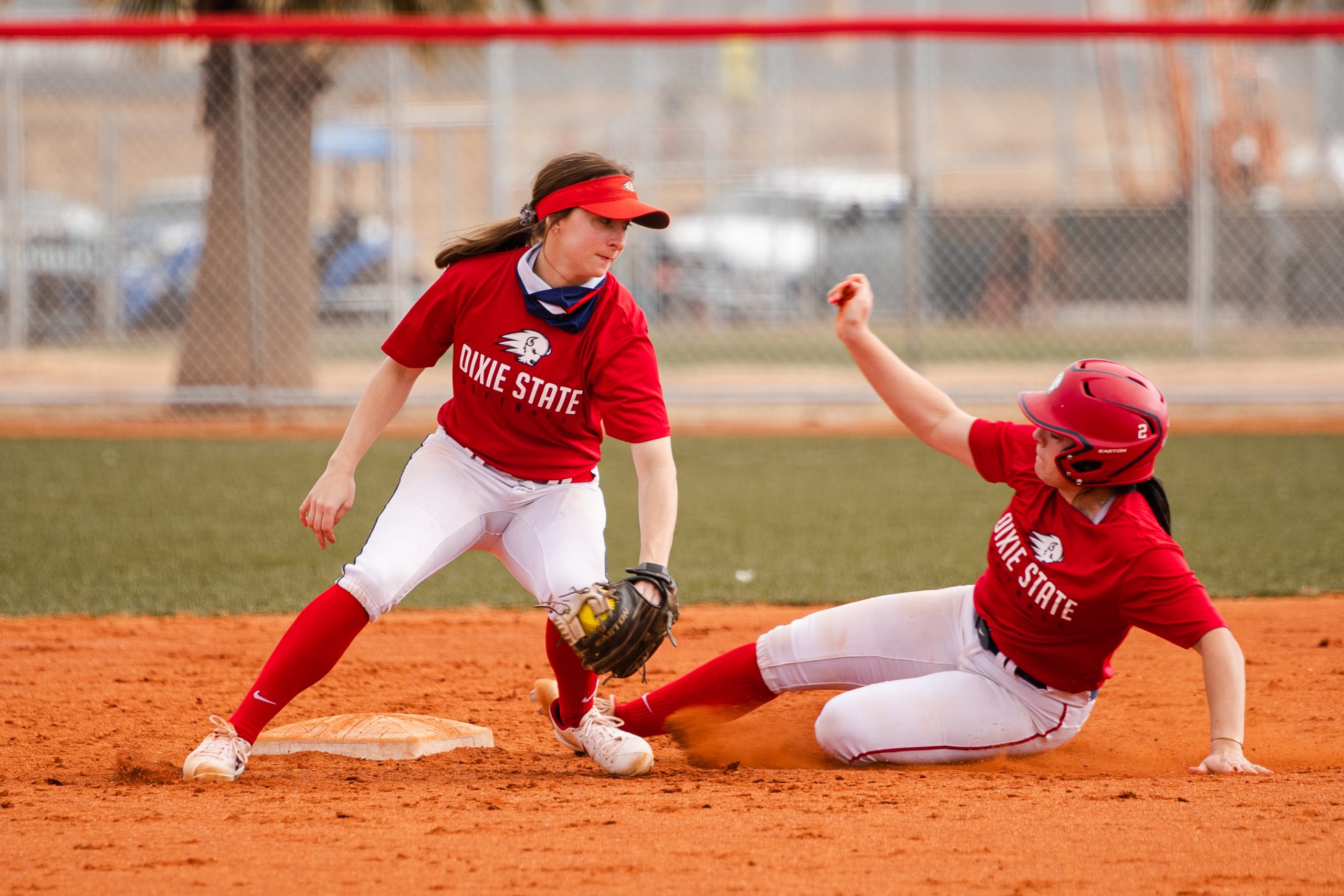 Shea Clements, a sophomore exercise science major from Las Vegas, slides to a base in practice. DSU women's softball is preparing for its season opener Feb. 12. Photo by Breanna Biorato.
---
After an unfortunate end to its season last year, the Dixie State University softball team is ready to get back out on the diamond for its 2021 season.
This year's Trailblazers team is still young with 16 underclassmen, but 10 of these athletes are returning players who bring a lot of potential this year to make some noise at the Division I level.
"It's huge [to have this many returning players] because our competition went way up, so having [players] that have played the positions before and have been successful at those positions before is really good for us," head coach Randy Simkins said. "We're going to need to lean on some of those senior leaders or returning players because things are going to get tough. So, having those people who have been there before and have to grind through it before is going to give us a little bit better foundation to lean on when those tough times hit us."
Shortstop Kirsten Quigley, a senior medical laboratory science major from Othello, Washington, said she's taking on more of a leadership role this season to help her younger teammates out in the infield be comfortable because they will need to step up during difficult games.
Quigley said: "I know we've been working really hard, [and] I think this is the most we have actually pushed each other as a team. This is my fifth year and I know we've all been working our butts off for this. I'm super excited, and I think we're more than ready to take on that competition."
This year's schedule for DSU is interesting because the Trailblazers will have seven road games and 16 home games before beginning conference play. Then, looking ahead to the rest of the schedule, DSU is not traveling too far for any road games and will still have plenty of home games toward the end of the season.
Simkins said the reason why his team has more home games than road games this season is partly because of COVID-19, and because of the amazing weather and facilities in St. George. He said a lot of California schools can't host multiple teams in a day but DSU can, so the teams who were supposed to participate in California tournaments are now coming to St. George.
The Trailblazers will be starting their season on the road at the University of Nevada, Las Vegas tournament where they will be playing the University of Washington, UNLV and Southern Utah University.
Before the COVID-19 pandemic caused an abrupt stop to all of DSU Athletics' spring 2020 sports, DSU had a 19-7 overall record with a 7-5 conference record in its last year at the Division II level. The Trailblazers were ranked No. 4 in batting and No. 2 in pitching among other Rocky Mountain Athletic Conference teams last year.
Pitcher Carissa Burgess, a junior business marketing major from Ellensburg, Washington, said the team has unfinished business because of how the season ended last year. She said the team wants to prove themselves by finishing this season strong to prove DSU can play at a higher level.
Burgess said: "I think our mentality is: 'No matter what, just fight through it; win or lose, go down with a fight; win with a fight and lose with a fight.' There's going to be some challenging games, so we're just going to go out there and try as hard as we can and play the best we can play no matter what."
Simkins said the No. 1 focus for his team is to get better individually, get stronger in the weight room, and get stronger at hitting.
Simkins said: "We talk a lot about NATO — Not Attached to Outcome. Have your process be better, process as a hitter, process as a pitcher, process as a teammate to be better every day. We don't put a lot of emphasis on winning and losing, we do things the right way and play the game the right way. The wins and losses will come, so we're trying to push ourselves. [The team is] trying to hold each other accountable to raise their level of play as teammates because they have great expectations of themselves."
The Trailblazers will begin their season at the UNLV tournament Feb. 12-14, and DSU's first home game will be Feb. 16 against SUU.