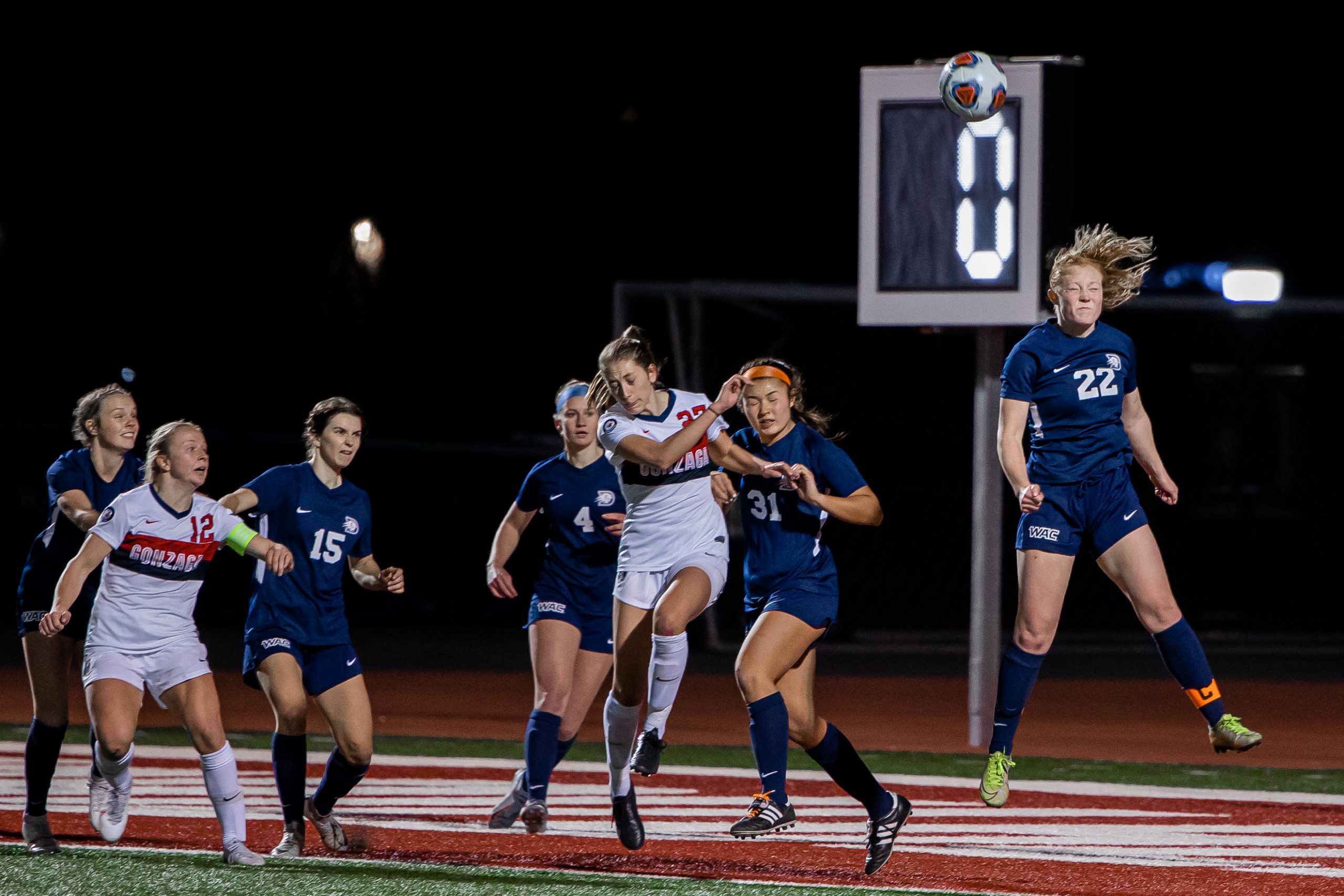 Whitley Griffiths, a redshirt junior social science composite teaching major from Gilbert, Arizona, scored the lone goal for DSU in its 5-1 loss Feb. 3. Griffiths' goal was the first goal in the DI era of DSU women's soccer. Photo by Breanna Biorato.
---
Dixie State University women's soccer saw a 5-1 loss in its Division I debut against Gonzaga University.
Gonzaga found the first goal just three minutes into the game, but from there, the Trailblazers held firm against a talented Gonzaga side, holding Gonzaga goalless for almost the rest of the first half.
The game was back and forth for large parts of the first half, but Gonzaga's Erin Healy netted the second goal of the night shortly before the break. Despite matching for seven shots apiece, the Trailblazers went to halftime down 2-0.
Out of the half, Kelsey Cook, a senior business administration major from American Fork, found Whitley Griffiths, a redshirt junior social science composite teaching major from Gilbert, Arizona, for DSU's lone goal of the night in the 56th minute.
The goal was the first in the school's DI women's soccer history, something Griffiths said she was excited about.
"[The goal] felt pretty good," Griffiths said. "Especially coming off my head; I don't get many of those."
From there, the Trailblazers got unlucky. After Adelle Brown, a senior recreation and sports management major from Birmingham, England, mistimed a save and rebounded the ball into her own net, Gonzaga was up 3-1, then two penalty kicks capped off the night for the 5-1 scoreline. The Trailblazers were on the wrong side of that 5-1 scoreline, but that doesn't tell the whole story of this game.
"Obviously, the scoreline is not exactly what we want," head coach Molly Rouse said. "However, there were a lot of really good attacking opportunities that the team created and a lot of really impressive defensive moments."
This game came down to a few momentary lapses for the Trailblazers, and Rouse said she recognizes that her team didn't play an entirely bad game; Gonzaga capitalized on momentary lapses.
"That's just a good depiction of what [the DI] level is," Rouse said. "You've got to be on all the time."
The biggest takeaway from this game, though, is that it's a starting point. This team has not seen the field in over a year; with a new coach and a new system in place, playing against someone other than themselves in practice was what mattered most.
"We've just been scrimmaging ourselves for so long," Griffiths said. "So to go up against a team – and a good team – it was what we've been waiting for."
Making adjustments tactically is what the team plans to do moving forward, Rouse said. The team plans to take the result as it is and look at how to fix where they got exposed.
"Tomorrow's a new day; we have to show up and get better," Rouse said. "We fix the things that we have to fix and hold our head high on the things that went well."
The Trailblazers have just two more games before Western Athletic Conference competition begins, following its game's cancellation against Weber State. DSU women's soccer will face in-state rivals University of Utah and Southern Utah University on Feb. 11 and Feb. 14, respectively.
"I think [playing in-state games] is a fun way for us to lead into conference play," Rouse said. "With playing against a couple different programs within the state, it helps us to be able to gauge where we're at at a competitive level."