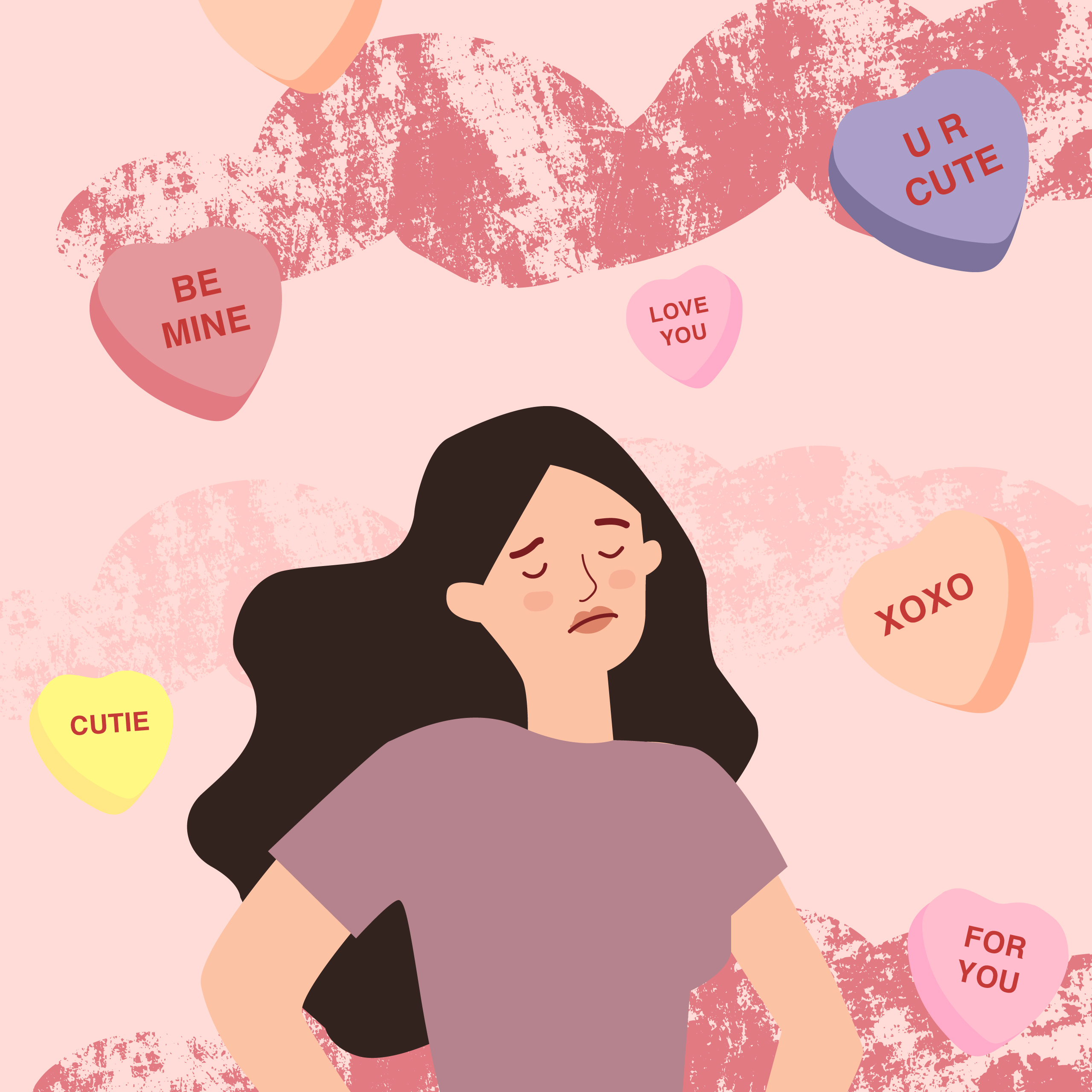 Valentine's Day has been celebrated as a day of romance since the 14th century. Maddie Corder says this day has become superficial. Graphic by Emily Wight.
---
Valentine's Day is right around the corner and couples everywhere have started preparing for the day of love. Everywhere I look, I see people holding hands and displaying an absurd amount of PDA. Valentine's Day is a ridiculous holiday and I am over it.
Valentine's Day originated from the Roman festival of Lupercalia, which celebrated spring and featured fertility rites, and women were paired off with men in a lottery. At the end of the 5th century, Pope Gelasius I replaced Lupercalia with St. Valentine's Day, which became celebrated as a day of romance after the 14th century.
The holiday has lost its original roots over the centuries. Instead of being a festive celebration, it has become superficial and somewhat meaningless.
21st century couples celebrate Valentine's Day with dinner and a movie. The celebration of love has dwindled down to nothing but a day for couples to post about on Instagram.
Couples can celebrate their love for each other any day of the year; why do they need a holiday to rub it in single people's faces? If you are in a relationship, you don't need a single day devoted to giving your significant other cute gifts and candy — that's what anniversary celebrations are for.
For single people, this time of year can be challenging. Every store is filled with flowers and heart-shaped boxes of chocolate. Only couples celebrate the holiday, so it leaves the rest of us feeling extra lonely.
Instead of couples going on a romantic date night, Valentine's Day should be spent with all the people you love, not just a significant other.
The best way to celebrate the day of love is to have an intimate gathering with your closest friends or family. Bring out the yummy party food, fun games and dessert. It is better to surround yourself with a group of people who adore you rather than one person you met two months ago. Love is more profound than a romantic fling.
Society pushes this expectation that you are only happy if you are in a relationship, but that is not the case. Relationships can take a lot out of you mentally. It is hard to open yourself up to someone and expect them to love you the way you want to be loved.
You can find happiness by loving yourself or surrounding yourself with the people who make you feel good. Your worth is not decided by having a relationship.
If you are alone this Valentine's Day, go round up your closest friends and have some socially-distanced fun.
Here are a few fun alternatives to Valentine's Day:
Have a movie night
Bake sweets
Plan a date with your best friend
Cook dinner for your parents
Host an intimate gathering with the people you love
Buy yourself a fancy gift