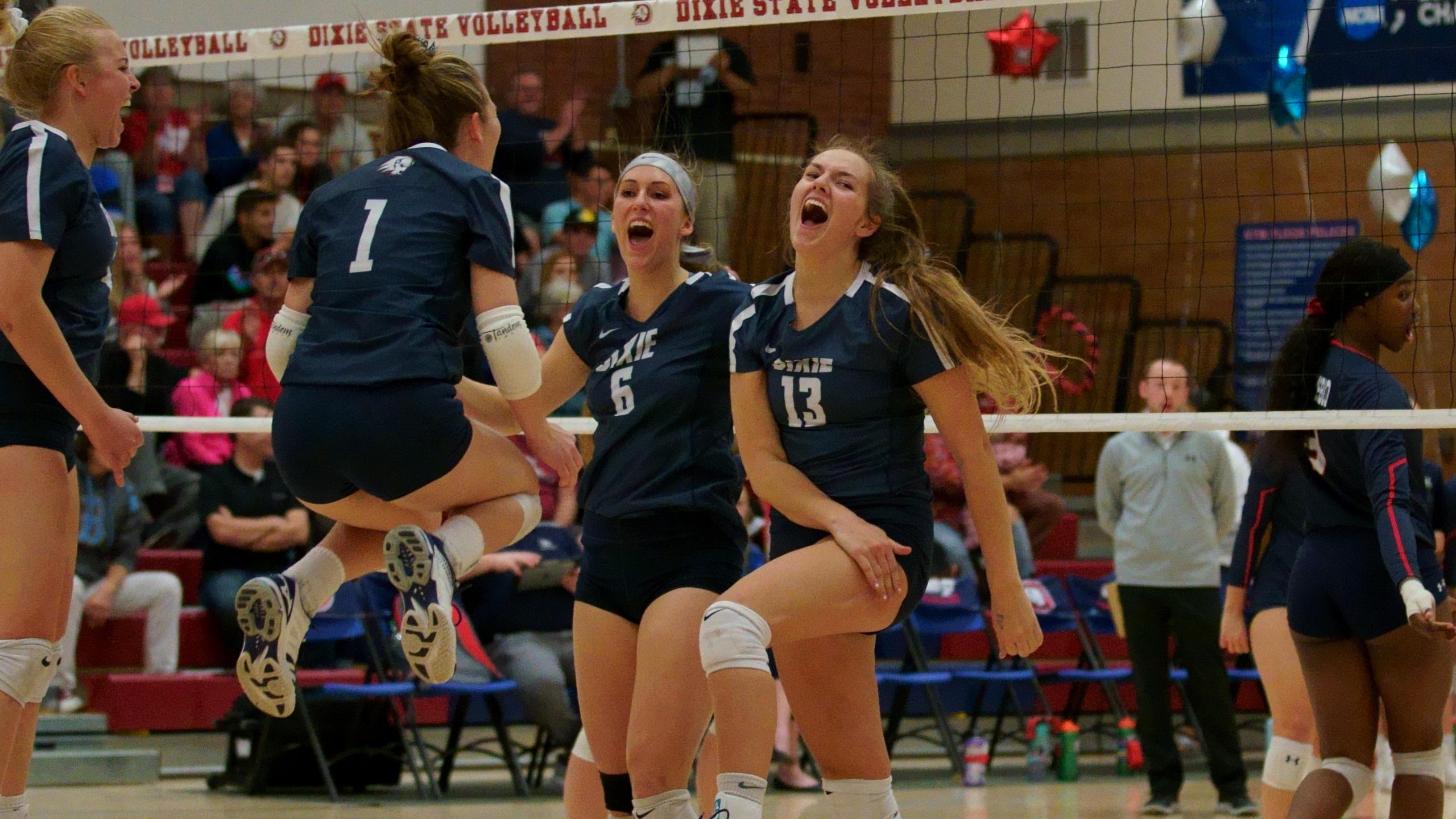 DSU volleyball started its spring season 1-2. Despite what the record says about the Trailblazers, they demonstrate their own mantra: "Out work, Out talk, and out hustle." Photo courtesy of DSU Athletics.
---
Three games are on the books for the beginning of the Dixie State University volleyball team's Division I era.
The Trailblazers' three games have been on the road against Southern Utah University and reigning Western Athletic Conference champion New Mexico State University.
DSU took care of business against the Thunderbirds and swept them three sets to zero. The key player for the Trailblazers during their first win of the season and DI era was outside hitter Whittnee Nihipali, a junior psychology major from Las Vegas. Nihipali had 12 kills and 13 digs against SUU, and she earned herself WAC Offensive Player of the Week.
Nihipali said getting the first win of the season felt great; she was proud of her performance against the Thunderbirds, and she said it felt amazing to be back on the court with her team.
Head coach Robyn Felder said the best part of defeating SUU was being able to play somebody other than themselves and take it out on somebody else.
"I felt like from beginning to end we just never lost our confidence, we just never lost control of that match, so that was a good thing to see that we can kind of start our season so strongly," Felder said.
Even though it's remarkable to see DSU earn its first victory over the Thunderbirds, they were the Trailblazers' only preseason match.
Felder said there wasn't time to add any more preseason games before heading into conference play and the WAC wouldn't allow her team to play any more nonconference matches. She said her team will take whatever games it can play and pursued on the road to face NMSU.
DSU took on the Aggies in a doubleheader matchup and lost both games three sets to one. The key player in both matches was right-side hitter and setter Megan Treanor, a senior communication studies major from Salem. Treanor combined for 20 kills, 32 assists and four blocks from both games.
Treanor said the team played well against a solid team like NMSU, and it hyped the players up because they made the Aggies work for both victories.
"We were like, if this is the No. 1 team then we can be No. 2 and if not, No. 1 played them in the championship and try to get that," Treanor said.
Felder said she was proud of her team for demonstrating their mantra: "Out work, out talk and out hustle" the competition and play that type of volleyball.
Felder said: "New Mexico State, they're good. I felt like we played fearlessly, we were not afraid of them, we were not intimidated, so that's good. At the end of the day, I want my [team] to go to war and we're going to win some, we're going to lose some, but I was super proud of just the way we played the game."
The Trailblazers' next set of matches will be at home in a doubleheader against the University of Texas Rio Grande Valley. The Vaqueros are 0-2 overall and will be hungry to get their first win of the season against DSU.
Felder said UTRGV won't be an easy team to takedown, and if her team cleans up their weaker areas they were exposed to against the Aggies, they'll have a solid chance to win.
Felder said: "We have a lot of good pieces of just a great team. We've got good setters, we got a good libero, we got some really good middles that block well, so I feel like we need to put it all together and get the dub on Monday."
The Trailblazers will take on the Vaqueros Feb. 1 at 6 p.m. and Feb. 2 at noon in the Burns Arena.