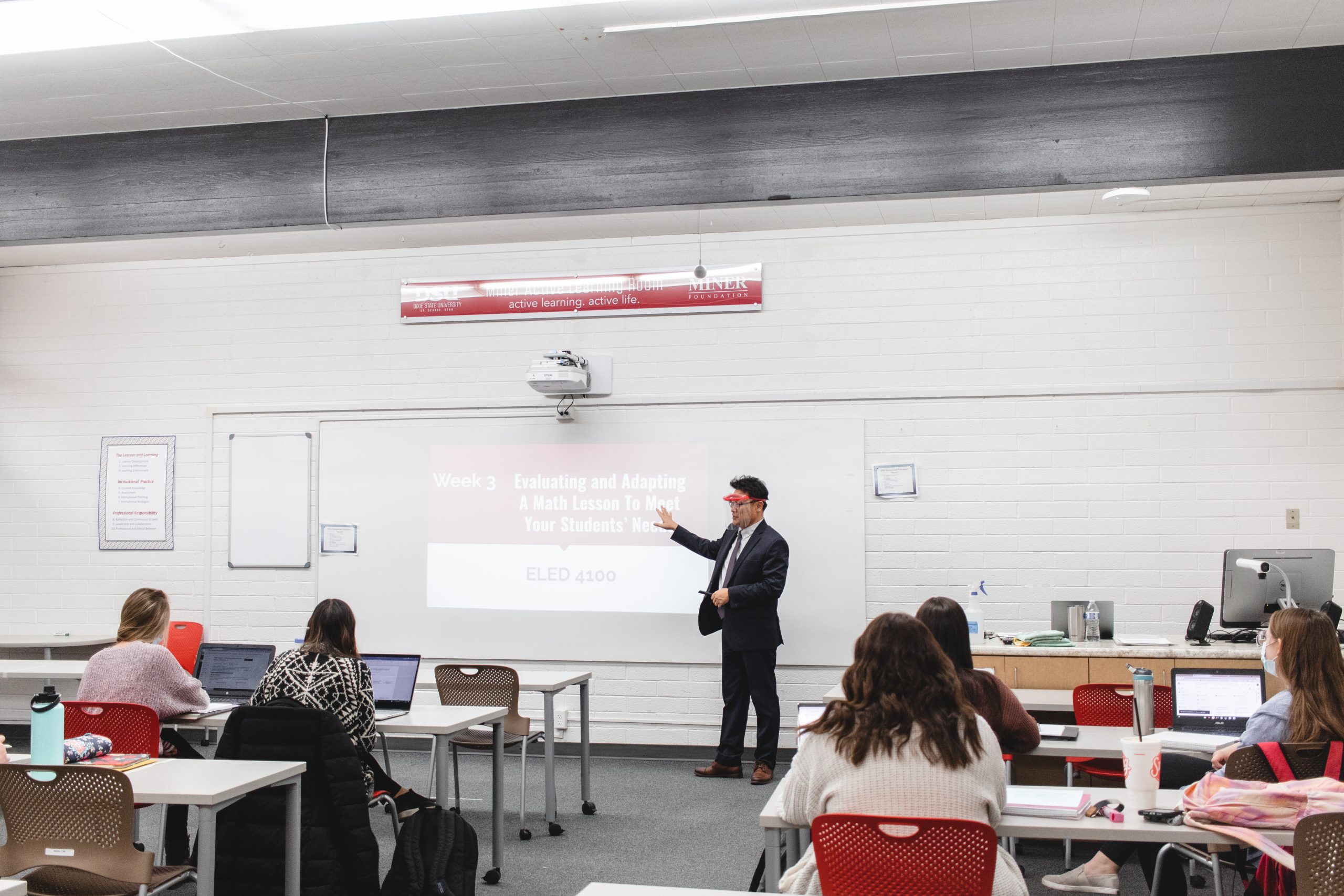 Byungeun Pak, assistant professor of education, teaches Methods of Teaching Elementary Math to his students. Pak aims not only to teach this course material, but also to educate and make an impact on his students. Photo by Bailey Chamberlain.
---
The education department at Dixie State University has been fortunate to welcome a new faculty member last fall who is determined to educate his students and be a friend to each of his colleagues. Byungeun Pak is an assistant professor of education, and he has prepared his whole life to be at DSU today.
"As a first generation college student, I had a difficult time dealing with everything because I did not have a lot of support," Pak said.
Pak grew up in Jeon-Ju, South Korea, and that is where his love and passion for a college education was created.
"When I was in South Korea, I wanted to become a teacher — an elementary school teacher to help students like I once was, so they could learn something that they deserved," Pak said.
Pak said he wants to be there for his students, and he wants to see them succeed. When he was younger, he struggled in school and wished someone was there to help him out.
"I spent lots of time dreaming of my future," Pak said. "I was a child who needed more academic support than my peers throughout my schooling."
Pak finished his teacher preparation education in South Korea and moved on to teaching at several public schools in his country for 22 years. After living and teaching in South Korea, he decided he wanted to continue his teaching education even further.
"I needed to learn more about how to teach," Pak said. "I decided to go to Michigan to learn more and to develop myself to become a better teacher."
Pak said as he attended Michigan State University, he was able to meet some of the most influential people in his college education. They always assisted him through his classes and encouraged him to keep moving forward.
"He sees places where he can help and steps up to do so."

Angela Child, associate professor of elementary education
The support from these professors made a huge impact on Pak's career and shaped him into the educator he is today.
"I love his teaching style," said Trisha Black, a senior elementary education major from Mesa, Arizona. "You can tell that he is very passionate about math and also is passionate about teaching students."
Pak teaches the course "Methods of Teaching Elementary Math." Pak said he loves being an educator at DSU, but more importantly, he loves the people he works with.
"He is a great colleague and is eager to be involved and contribute to the department of education and the DSU community," said Brenda Sabey, dean of the College of Education.
Pak's colleagues said they appreciate the work ethic and determination he brings to the education department at DSU.
Angela Child, associate professor of elementary education, said Pak has become an important asset to the department in such a short amount of time.
"He is very responsive to the department needs and the student needs," Child said. "He sees places where he can help and steps up to do so."
Pak has a love and passion for what he is doing at DSU, and he has impacted the lives of his community, his colleagues and each of his students.
"I don't see myself as a professor," Pak said. "I really want to see myself as a teacher educator because I care about my future teachers."