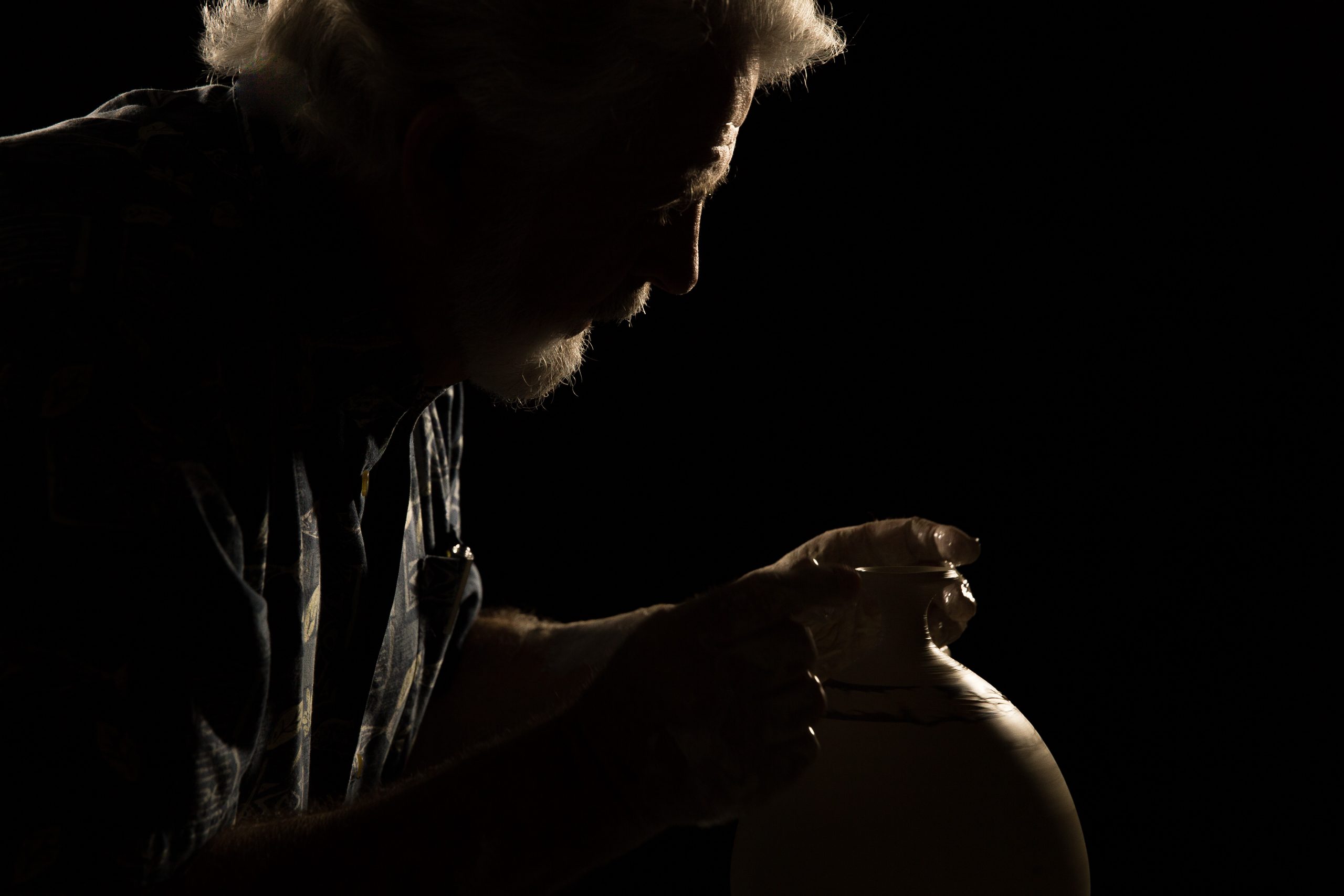 Professor of art Glen Blakley left the Dixie State University community with broken hearts when he died from COVID-19 on Dec. 31. Colleagues and past students reminisce their time with him. Photo courtesy of Alex Chamberlain.
---
Jovial, selfless, loyal and energetic are a few words used by students and staff at Dixie State University to describe the man who inspired so many with his artistic talents and genuine kindness. Professor of art Glen Blakley died of COVID-19 on Dec. 31 but left behind his mark as a true Trailblazer at DSU.
"It's difficult to encapsulate somebody who reached as far as he did," said Alex Chamberlain, department chair and associate professor of art. "His reach was international; he just knew everyone and everyone knew him."
Chamberlain said something unique Blakley brought to DSU on a professional level was that he connected the art department to art communities all over the world.
"He was just a friend to anyone and everyone; it's like he collected people," Chamberlain said. "He had a way of making everyone feel like they were special to him; everyone felt like they were his best friend."
Shane Christensen, associate professor of ceramics, said Blakley was his ceramics professor and mentor when he attended DSU in the '90s. Christensen said he worked with Blakley for 17 years, and as a colleague he was always so understanding and easy to work with.
"I feel like he always tried to build students up and other faculty members, and I think that's a trait that a lot of people don't have," Christensen said. "He would always talk highly of everyone, and if he introduced you to someone else he would say something like, 'Oh, this is Shane Christensen, he's a world-renowned potter,' but in actuality he was the real world-renowned potter."
"You just knew you mattered to him when you spoke to him, that's the kind of effect he had on people."

Alex Chamberlain, department chair and associate professor of art
Several students and faculty members spoke about the memorable art trips Blakley would lead in Los Angeles every year. His group would get to tour massive art museums in the city and view popular, vibrant art exhibits.
"I did not know professor Blakley super well, unfortunately, but the reason I went on the L.A. art trip three times was solely because of him," DSU alumna Erika Anderson said. "He went on that trip so many times but still found beauty and joy every time he went. He was always such a happy-go-lucky kind of person."
Christensen said he has never seen a grown man act like such a kid at Disneyland when they would go together during the department's art trips. He said experiencing the park with Blakley is one of his fondest memories with him.
"The first time I went to Disneyland with Glen as a professor, we hit every ride in the park in three hours," Christensen said. "I think that's unheard of, but Glen would do that every time he went there, and it just shows what a fun-loving and energetic person he was, even at his age."
The most notable thing about Blakley was the way he truly cared for his students and constantly encouraged them, Chamberlain said.
DSU alumna Jenny Plecki said she met Blakley during her sophomore year of college in 2011.
"Whether you were 18 or 88, Glen found ways to relate with his students regardless of their generation," Plecki said. "He also had a unique sense of Hawaiian shirt fashion that nobody but him could truly pull off."
Plecki said she remembered initially struggling with ceramics as a student at DSU. At one point, she thought about quitting her class despite needing the credit to graduate. As she was breaking down in class, Blakley dropped by to say "hi" and told her he was proud of her for working so many hours to earn the credit she needed to graduate.
"This is a conversation I will never forget," Plecki said. "That little bit of encouragement really meant a lot to me, enough for me to push through my ceramics class and graduate on time."
Chamberlain said there have been many tears shed in the art department following the loss of their colleague, and that staff feel as if they have lost a key member of their family.
"You see somebody every day for years and years and years, and with Glen, you didn't just see him or pass him in the hall, you talked with him," Chamberlain said. "You just knew you mattered to him when you spoke to him; that's the kind of effect he had on people."
Details about a campus memorial service are currently unknown.