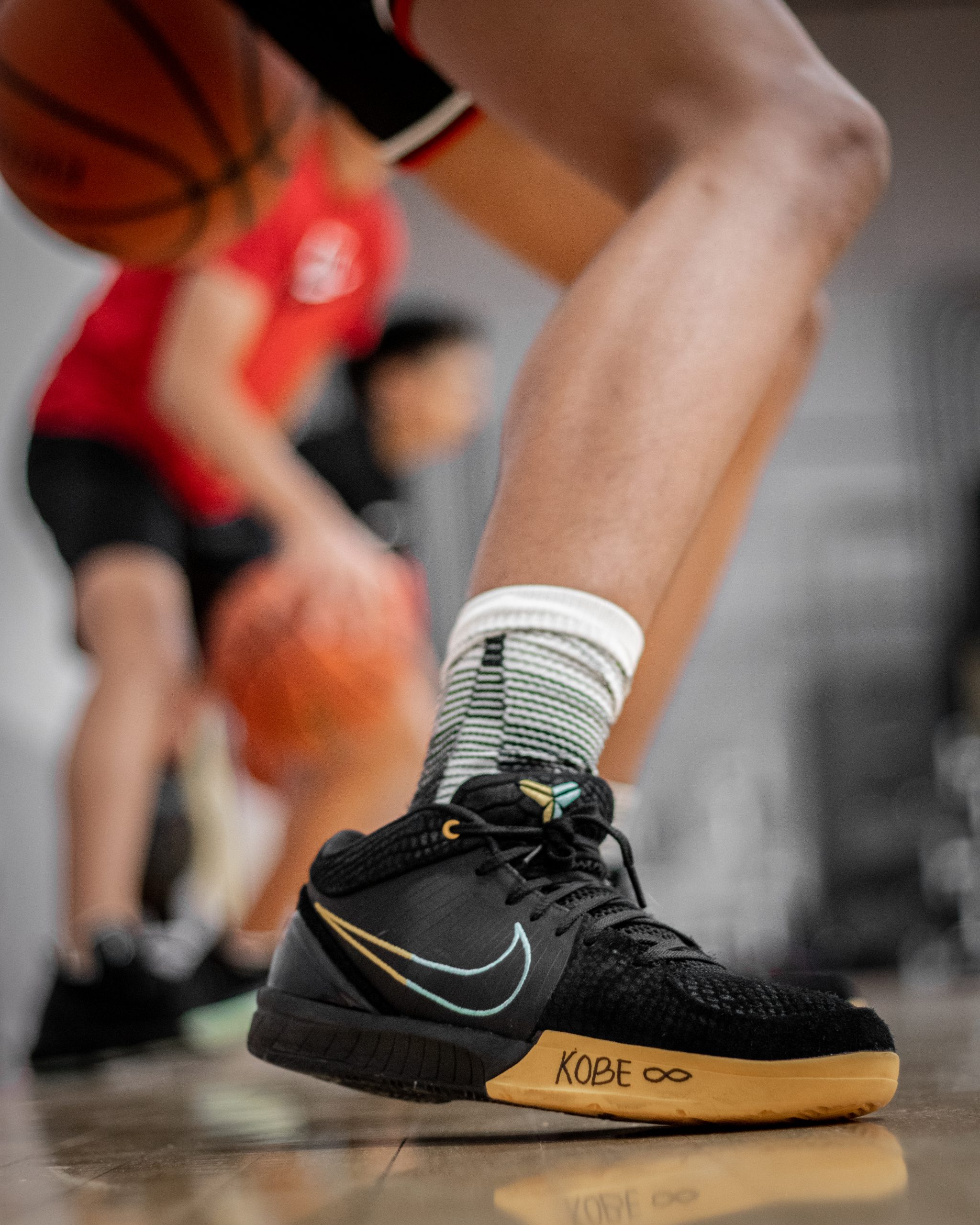 Basketball players have been writing "Kobe" on their game day basketball shoes in remembrance of him. Kobe Bryant has left his mark on the world, Michael Santoscoy said, which led to the #DoItForKobe trend. Photo by Breanna Biorato.
---
It has been over a month since the Los Angeles Lakers won the 17th NBA championship in the franchise's history. The Lakers had one heck of an emotional roller coaster 2019-20 season to get to the NBA championship and win it all. Despite all the COVID-19 madness going on this year, the biggest drive for the Lakers to succeed in winning the NBA championship was because of one name: Kobe Bryant. Do it for Kobe; win the title for Kobe.
Lakers legend Kobe Bryant, Bryant's daughter Gianna Bryant, and seven other people died in a helicopter accident on Jan. 26. When I first heard the news of the accident, I felt sick to my stomach and I didn't want to believe what I was hearing was true. One of the athletes I looked up to for his work ethic had passed away in a tragic helicopter accident.
NBA players from the past and present, NBA fans and even people who weren't too familiar with basketball were devastated, especially the Lakers organization. So, in a way to honor Bryant, the Lakers wanted to dedicate the rest of the season to Kobe and win the NBA championship for him. Lakers fans and people who looked up to Bryant rallied behind the idea to honor him and made it a trend on social media platforms to say, "#DoitForKobe."
It's amazing to witness how many people are behind this trend. I can understand the Lakers organization preaching the motto "do it for Kobe," but what does it really mean for those who are fans of Bryant?
Katherine Schulten, an editor for The New York Times, wrote an article about what Bryant's death means to people. Schulten left her article open for comments to see what Bryant's death meant to others.
Sung Min, a student from Saigon International School, said: "I'm not a basketball fan, but I am a sports fan and Kobe had such a big impact on the sports community, and it's really sad to see a legend pass away. His legacy will always live on, he will be an All-Time Great, and an inspiration to all."
This quote is significant to me because a lot of people can relate to the message here. In whatever aspect somebody impacts your life or the things you love, they will have a deep meaning. When people post the hashtag "DoitForKobe," it shows how impactful and meaningful Bryant was on their lives.
Now that the Lakers are NBA champions, does it bring a sense of closure for anybody? A Hollywood Life article by news editor Jenna Lemoncelli discussed LeBron James' thoughts about how the Lakers overcame emotional adversity with Bryant's death and how the team became "close as can be."
James said: "If we weren't already as close as we thought we can be, that made us even closer. That brought us even closer. Our ball club, we got as close as you can possibly be when that moment happened. Obviously, we know it brought the whole basketball world close as well, but when you're internal and it hits home, it just means that much more and we locked in from that very moment and said, 'This is bigger than us. This is bigger than us.'"
By reading what James has to say after the Game 6 victory in the NBA Finals about Bryant's death, there's a sense of closure that the Lakers achieved what they set out to do. This is closure for not only the Lakers organization, but to the fans of Bryant as well, knowing the job is done and starting the other positive trend on social media platforms: "#JobisDone."
Want to read more? Follow us on Twitter and Facebook for daily articles and updates!