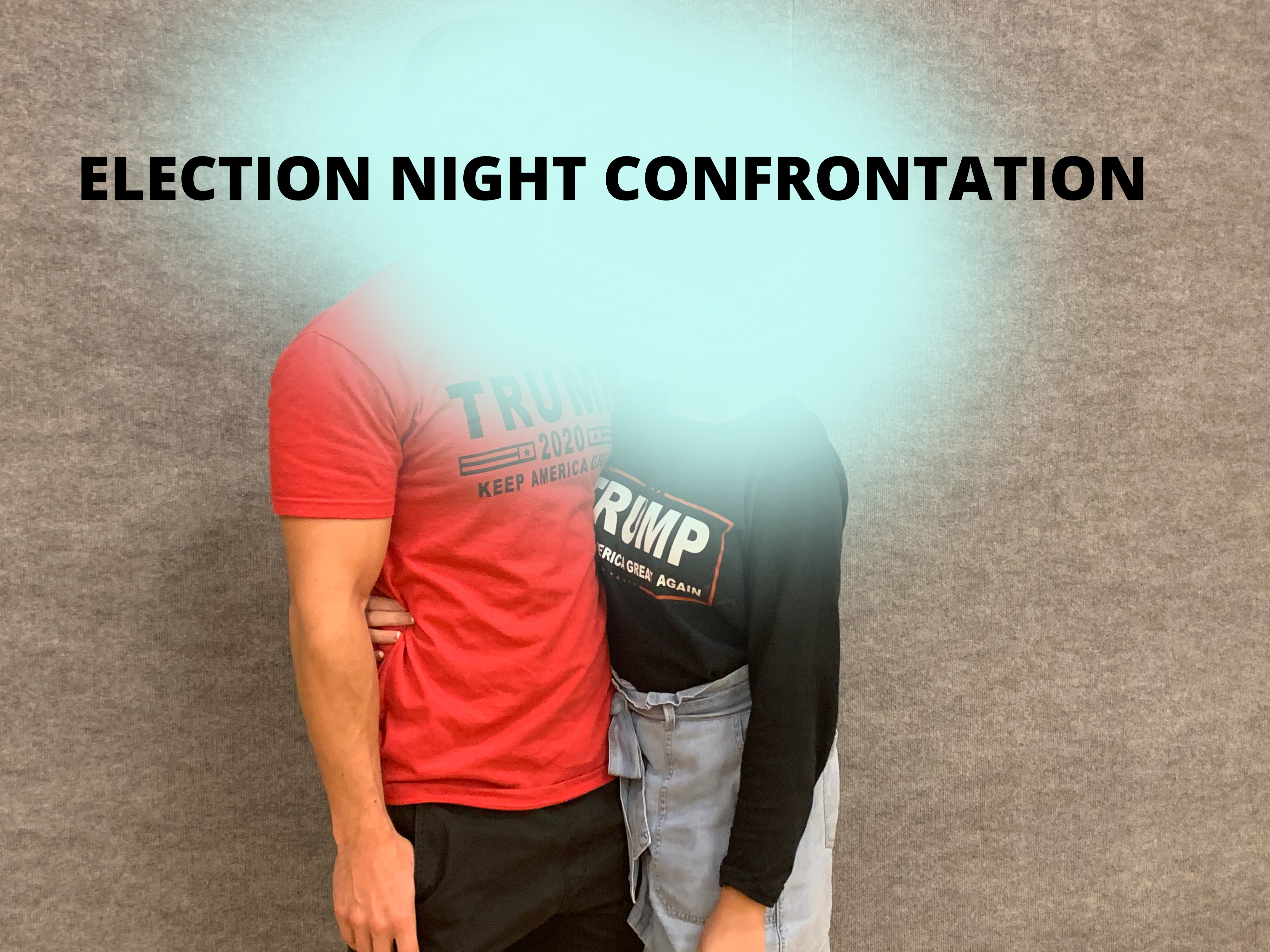 A couple sporting matching Trump shirts became the target of a verbal confrontation that paused the Election Night Party, which caused an uncomfortable break in the news stream being projected at the event. The event was hosted by DSU's Institute of Politics. Photo by Arielle Cabrera.
---
Tensions ran high between attendees at the Election Night Party hosted by the Institute of Politics, resulting in an event-pausing verbal altercation between political groups.
What was meant to be a night of education and collaboration quickly turned into an uncomfortable night for two Trump supporters attending the event. A couple wearing matching "Trump" shirts experienced a tense altercation when they saw a student filming and asked if that student was filming them. Bystanders quickly turned heads from the screen being shared on the projector to raised voices coming from the back of the Gardner Ballroom.
The Trump supporters wished to remain anonymous but told the Dixie Sun News that they had simply been on their way out and wished to know if they were being recorded. According to the couple, the student recording allegedly called them "racist mother******s" and said, "You can't offend us by 'are you videoing us.'"
With the commotion gaining attention from the rest of the attendees and disrupting the event, Brione Lockett, Multicultural Inclusion Center coordinator for African American students, stepped in to try to diffuse the situation.
"We prepared for a mayhem incident of some sort; just like any election, it's polarizing, [and] some of the topics are going to make you feel a certain way," Lockett said.
The crowd broke off after Lockett's intervention and attention resumed the party; however, the couple left shortly after. Lockett offered to continue the conversation with both the student and the couple, but each decided to leave it where it was.
"The conversation to deal with, it was just to remind them that they're not going to make everybody happy, but we still have to be respectful, and they're at a place where they can learn each side instead of leaving [and] learn from one another," Lockett said.
Students moved on but were still feeling the effects of the election. Hailey Heaps, a junior criminology major from Lake City, Florida, said she was especially feeling the nerves being so far away from home.
"What I am scared of is that the mail-in ballots are going to come in and Trump's going to say it was fraud, throw out a threat and take it to the Supreme Court," Heaps said. "Sadly, with everything going on, I think they're going to say, 'Yeah, there's no way to actually tell whether those votes are correct or not."
The Election Night Party ended on a peaceful note, though a notable number of in-person attendees left about three hours into the four-hour event. Zoom viewers stayed at a steady 25-30 viewers and participated through polls run by Lockett throughout the evening.
The event itself included raffle prizes, games of "who said it" from Twitter quotes of past presidents and those on this year's ballot, and Saturday Day Night Live skits to break up the constant news stream throughout.
According to the New York Times, the night ended with Biden at 213 and Trump at 145 with 180 remaining to be decided. Alaska, Nevada, Arizona, North Carolina, Minnesota, Wisconsin, Michigan, Maine, and Georgia were the remaining states to count votes at 10:53 p.m.
This story will be updated as the votes continue to come in.
Want to read more? Follow us on Twitter and Facebook for daily articles and updates!