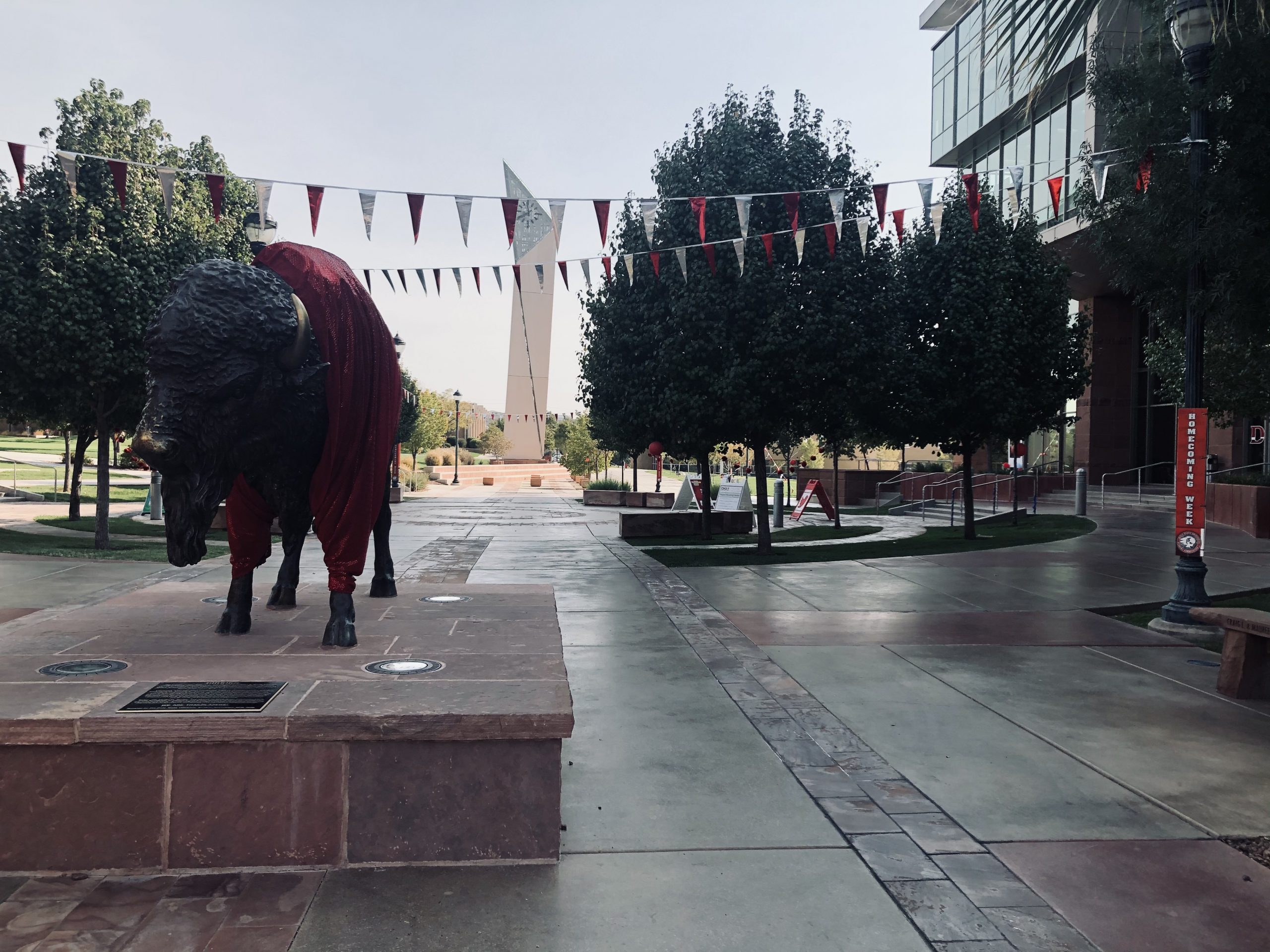 The Dixie State University campus is decorated for Homecoming Week Oct. 19 - 24. The remaining homecoming events on Friday and Saturday are postponed until further notice. Photo by Kristi Shields.
---
Thursday was a turning point for Dixie State University. The university announced the postponement of the remaining Homecoming Week events, and the College of the Arts announced the postponement of the Celebrity Concert Series.
According to the DSU Trailtracker, several Trailblazer football players tested positive for COVID-19 this week and in an effort to halt the spread of the virus, all football team practices and activities are paused for two weeks.
Jyl Hall, director of public relations, said in an email Thursday morning the Homecoming Week events originally scheduled for Friday and Saturday are postponed.
The Powder Puff game scheduled for Oct. 23 at 7 p.m., and all events scheduled for Oct. 24, including the Traditional Tailgate at 4:30 p.m., Greater Zion West Grandstand Groundbreaking Ceremony at 6 p.m., and the Red and White Scrimmage at 7 p.m., are postponed as a precaution to continue to protect student and community health.
It is not yet confirmed what dates the events will be rescheduled for, but it's possible they will be in mid-November.
Amelia Slama-Catron, a sophomore environmental science major and Powder Puff player from Salt Lake City, said: "Obviously, I am disappointed about the game being postponed; the team was practicing really hard. … I'm super competitive and I love sports, and I was super ready to play."
Powder Puff coach Micah Gardner, a freshman criminal justice major from Los Angeles, said he would love if the event were to still happen because the girls were putting in all their effort in practicing for the game. They were also putting in extra practice time before and after practices.
"They are definitely passionate about the game, and they deserve the opportunity to play," Gardner said.
Slama-Catron said the game scheduled for Oct. 23 was going to be coached by a couple of the football players, so considering the positive COVID-19 tests, it was a smart call to postpone the game.
"Realistically, COVID is getting worse in the county; I was even surprised that we were already having in-person things like this, but I won't be surprised if we don't have it at all," Slama-Catron said.
She said on the other hand, there is still a possibility the university would allow it to continue if the football players quarantine for two weeks.
"I'm honestly not sure how [the postponed game] is going to work; the virus brings a lot of uncertainty," Gardner said.
According to The Spectrum: "Health officials counted 1,543 new confirmed cases of COVID-19, a new record high for the number of new cases reported in one day. The state reported six new deaths. The state has now counted 99,549 cases in total, and 563 deaths have been reported.
President Richard "Biff" Williams said as of now, he anticipates campus remaining open throughout the rest of the fall semester.
"DSU is continuing to monitor the number of cases in southwest Utah and will keep the health and safety of our campus community in the forefront of any decisions moving forward," Williams said.
The most recent report, updated Oct. 21 at wellness.dixie.edu/coronavirus-information, stated DSU had 35 new cases in the past week and 28 currently active cases. In total, DSU has had 180 reported cases among students, faculty and staff since March, which Williams said is a low number when considering the university community consists of 13,500 individuals.
"Since campus numbers have continued to remain relatively low and steady, I'm optimistic that our protective measures are working," Williams said. "I want to continue to encourage students and others on campus to stay diligent about following guidelines."
Williams said the health and safety of students and the community is a continuing priority for DSU.
"As the university community keeps diligently following COVID-19-related guidelines, we will continue to be able to offer students the in-person educational experiences they want," Williams said.
The College of the Arts announced Thursday that The Celebrity Concert Series, which is an annual performing arts series originally set to proceed through December, will be postponed until January 2021, according to the Celebrity Concert Series website.
"Unfortunately, we have watched the steady increase of COVID cases in our areas and the safety of our patrons has always been our number one priority," the message reads.
Anyone who has tickets to the canceled show will be refunded in the upcoming days. Those who have tickets for events from January through March should keep their tickets because it's possible that the remaining season will continue as scheduled.
"It breaks our hearts to cancel when we know the healing power of the arts is so very needed in our communities right now," the message reads.
Want to read more? Follow us on Twitter and Facebook for daily articles and updates!