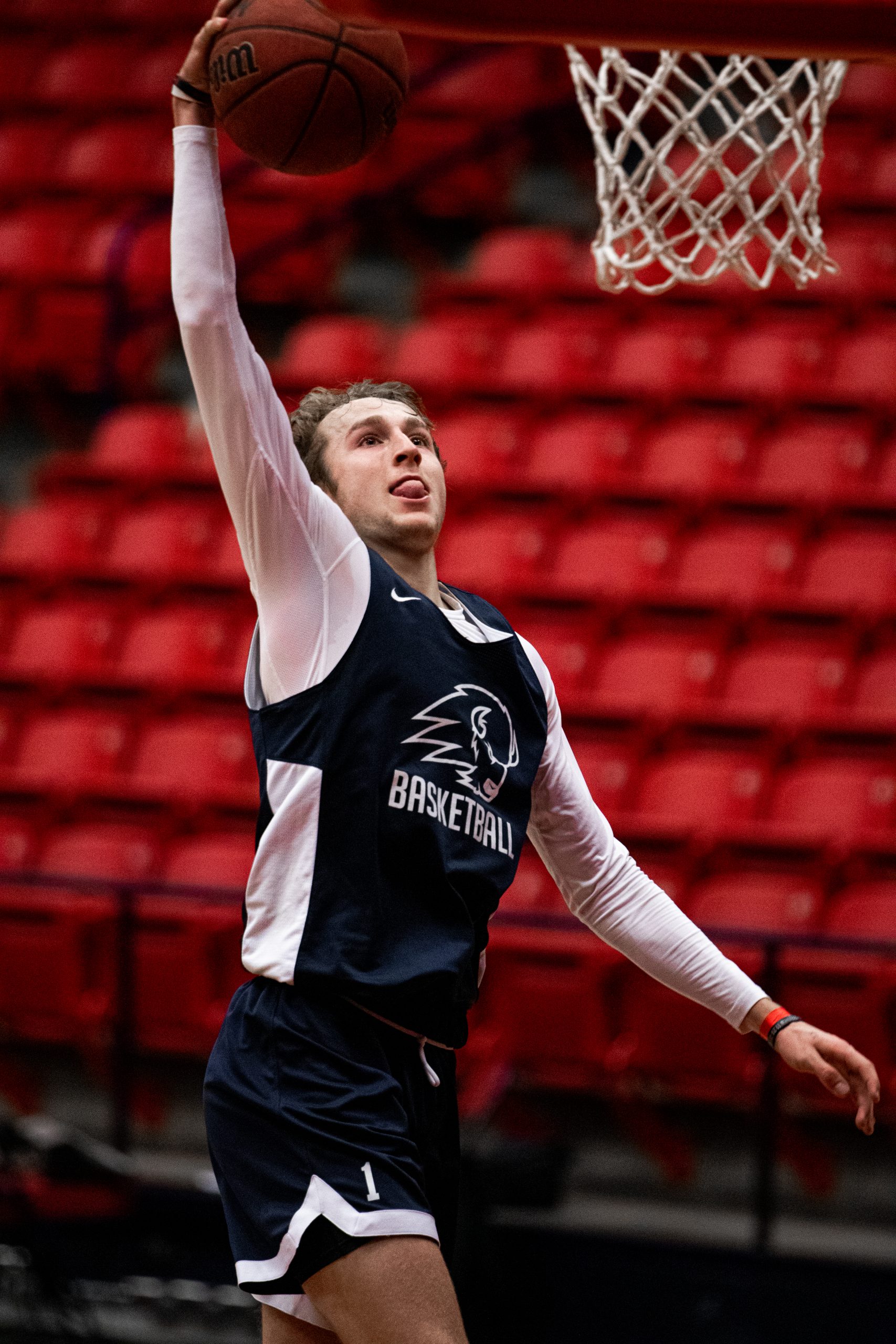 Guard Mason Chase, a freshman general studies major from St. George, gets ready for the upcoming season at the team practice on Oct. 26. Chase and two of his teammates used to be rivals in high school, but now allies. Photo by Breanna Biorato.
---
Even though St. George continues to grow as a city, it's small enough where 4A high schools in the Utah High School Athletics Association Region 9 still have rivalries.
Each UHSAA Region 9 school is within 45 minutes of each other and those schools are: Canyon View, Cedar, Crimson Cliffs, Desert Hills, Dixie High School, Hurricane, Pineview and Snow Canyon.
Guard Brock Staheli, a sophomore accounting major from Santa Clara, played for Snow Canyon when he was in high school and said UHSAA Region 9 athletes were able to answer the question who was their biggest high school rival. He said now that has changed because every high school is a rival because they want to beat one another.
"You want to beat everyone, you know everyone, you played with everyone, and you see them all the time and you don't want to lose to them because you know you'll hear about it the next day," Staheli said.
No. 1 Dixie High School
Conference: 13-1
Overall record: 23-3
No. 2 Cedar
Conference: 10-4
Overall record: 17-7
No. 3 Pine View
Conference: 9-5
Overall record: 13-9
No. 4 Crimson Cliffs
Conference: 7-7
Overall record: 10-12
No. 5 Desert Hills
Conference: 7-7
Overall record: 13-13
No. 6 Hurricane
Conference: 5-9
Overall record: 13-11
No. 7 Snow Canyon
Conference: 4-10
Overall record: 9-16
No. 8 Canyon View
Conference: 1-13
Overall record: 5-19
Taking a look at last season's 4A Region 9 High School men's basketball standings, Dixie High School is the reigning 4A Region 9 champion and the 2020 UHSAA Boys State Basketball champions. Dixie High School owns some bragging rights over the other 4A Region 9 schools.
Forward Noah Lemke, a freshman criminal justice major from St. George, was a part of the Dixie High School championship team last year and he said his team was in the toughest region to compete in because any team could come away with the win at any night. It was up to who performed better, and who had more chemistry.
Guard Mason Chase, a freshman general studies major from St. George, played for Desert Hills in high school and said playing against other UHSAA Region 9 schools was entertaining because of the trash talking with old friends he grew up playing with and eventually went up against in high school.
Chase said the team he looked forward to playing the most was Pine View because both schools anticipated going head to head against each other and it being a fun match up. He'll never forget last season during his senior year the atmosphere of playing at Pineview in the playoffs where Desert Hills defeated Pine View 57-56.
Chase said: "I think it was the second round of the playoffs and it was the loudest gym I've ever been in. We were shooting free throws at the end of the game and I had to plug my ears on the court because it was so loud."
Now all roads connect for Staheli, Chase, and Lemke as they're now teammates for the Dixie State University men's basketball team.
Since Staheli graduated high school before Chase and Lemke they didn't compete against each other, but it's all respect.
"In the end it's fun playing with someone you know that's from here because you kind of had the same path getting here, you had to work hard, you weren't given anything, and you had to earn everything," Staheli said. "Now [myself, Chase, and Lemke are] on the same team, working hard to beat everyone else instead of each other."
Want to read more? Follow us on Twitter and Facebook for daily articles and updates!