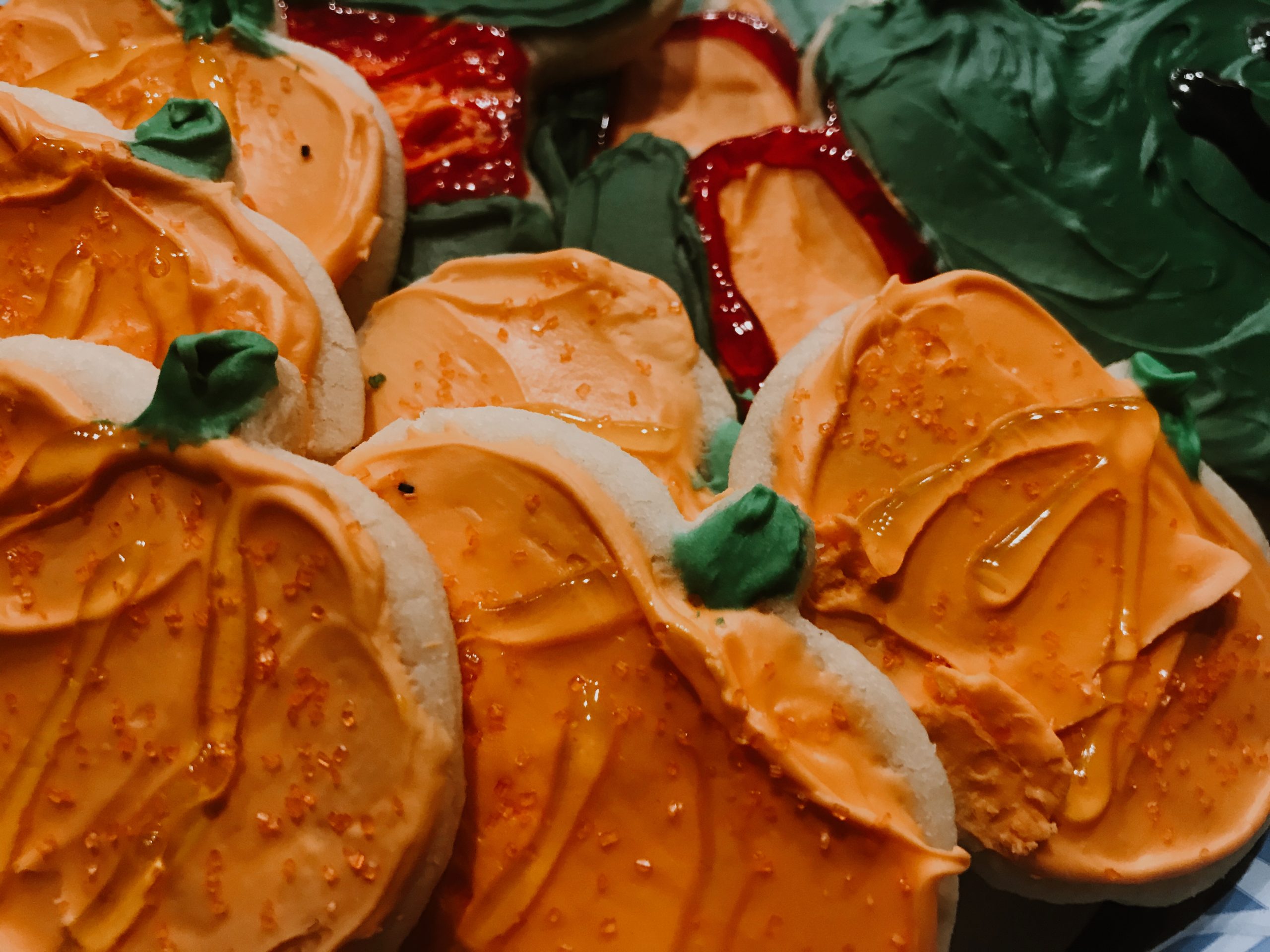 Baking Halloween cookies is one safe way to celebrate Halloween indoors this fall. You can create a cookie-decorating party with a small group of friends. Photo by Tianna Major.
---
For students at Dixie State University, celebrating Halloween this year will not be the same.
Typically on Halloween night you might come across ghosts, goblins and ghouls, but the spookiest thing to beware of this year is COVID-19.
What was once a night filled with trick-or-treating, decorated houses and parties, will now likely be spent at home. Here are some ways you can turn your boring night-in into a COVID-friendly celebration of spooky season:
Halloween Bake-off
If you enjoy making sweet treats and a little competition, this activity is for you.
Grab your roommates or close friends, create teams, wear matching costumes and choose judges. Each team has the responsibility of creating the best Halloween-themed treat, which will be judged based on taste, look and creativity. The winner will receive a grand prize at the end presented by the judges.
Connor Baird, a sophomore population health major from Heber, said: "Food is always a great way for people to get together and bond, especially for Halloween night. This is a great idea for people like me, who want to stay low-key [during the holiday] and just chill at home with some close friends and goodies."
Pinterest offers several mouthwatering recipes and Halloween-themed treats that students can look up and use during the competition.
"I love baking and adding a little dazzle to my treats by the way I decorate them," said Abigail Yadon, a freshman exercise science major from Idaho Falls, Idaho. "Adding some competition will only make baking even more fun, especially because my friends and I will be dressed in our costumes. I'll even throw on a scary movie that we can watch as we bake in the kitchen."
Pumpkin Painting
Bring out your inner Bob Ross as you paint pumpkins while listening to Halloween music with friends or roommates.
"Painting pumpkins is something that I do every year with my friends either the week of or night of Halloween," said Hannah Waddell, a junior elementary education major from Pleasant Grove. "Basically, we just lay some paper down on our table, wash any dirt off of our pumpkins, fill some jars with water, grab acrylic paint, and play some music as we paint and talk."
Students can also turn this activity into a competition if they want to do something more serious, fast-paced and upbeat. Waddell said she no longer uses the activity to create any serious paintings or designs, but likes to chit-chat and joke around with friends as they create their masterpieces.
"As freshmen, my roommates and I took the painting seriously and tried to make our pumpkins really cute," Waddell said. "Now, we just do it for fun and mainly joke around. One of my friends painted 'Venmo Me' on her pumpkin this year along with her user name and we left it on our front porch. Hopefully, someone will eventually Venmo her $1 at least."
For creative inspiration, students can look at painted pumpkins on Pinterest for ideas on how to design theirs.
"I think I'm going to do this idea with my friends, and we'll have music, food and dress up in our last-minute costumes," Baird said. "We'll even add some pumpkin carving in the mix."
Halloween Spa Night
Trick or "Treat yourself." A cozy night in is the perfect opportunity to work on self-care and pampering.
Start by throwing on Halloween pajamas and fluffy socks or your comfy costume. Before the night begins, go shopping with your roommates or friends for face masks that are traditional Halloween colors like purple, orange, green or black. You'll also need nail polish and your favorite treats to snack on.
"I'd start by turning the lights out and lighting some of my favorite fall scented candles to give our apartment a peaceful vibe, kind of like the spas do," said Chelsea Wistisen, a freshman elementary education major from Soda Springs, Idaho.
Wistisen said students can then put on their face masks, munch on their favorite finger-foods and watch some of the classic Disney Halloween movies like "Nightmare Before Christmas" or "Halloween Town."
Wistisen said students can also combine this activity with others mentioned, such as painting pumpkins or baking Halloween treats since having a spa night can be quick after washing off your face mask or doing your nails.
"I feel like even us guys would like this idea," Baird said. "Most Halloweens are all about feeling fear and being spooked, but this is more about just relaxing and enjoying the night at home."
Home Costume Competition
Stuck at home and bored with your roommates on Halloween night? This activity is cheap, quick, one that everyone will get a good laugh out of, and will test your creativity.
You and your roommates will be in teams with one to two people sitting out as judges. You will have 10 minutes to create the best Halloween costume using the everyday household items within your dorm or apartment. One of the group members will be the person who is getting "dressed up" and the others are the ones who create the costume.
Josh Phillips, a freshman general studies major from Pleasant Grove, said: "One year, I did this with my family and they dressed me up as a mummy using a roll of toilet paper. It was funny and embarrassing all at the same time, and I think doing this with friends would be a great activity if you plan on staying home on Halloween."
At the end, the winner will be given a prize presented by the judges of the contest. Phillips said a good idea for the losers in the competition is they have to post a picture on one of their social media platforms showing their ridiculous costume.
Halloween Karaoke Night
No party, no problem. You can still create the atmosphere of a party without actually throwing one.
Ask your roommates or close friends to wear their costumes and gather in the living room of your dorm or apartment. If your TV can connect to YouTube, that is a great way to play karaoke music and show the lyrics of a song. If your TV does not connect to YouTube, all you'll need is a phone and a speaker. Take turns eating pizza and Halloween candy while singing your favorite songs in a jam session with your friends.
"This is an activity I loved doing with my friends last year during Halloween," said Haley Hedricks, a junior art major from Portland, Oregon. "Although we didn't do it on Halloween night, we still dressed in Halloween-themed clothes and just all sat in our living room while we sang our favorite songs and ate candy."
Hedricks said she also played her guitar as her roommates sang, which gave the night a more personal feel.
"It was a good way for us to get closer as roommates, and we even danced around to some of our favorite remixes of Halloween music," Hedricks said. "I still have the funniest videos from that night, so this is definitely an activity I would recommend to everyone if they're comfortable enough to sing, dance and act crazy with their friends."
Want to read more? Follow us on Twitter and Facebook for daily articles and updates!