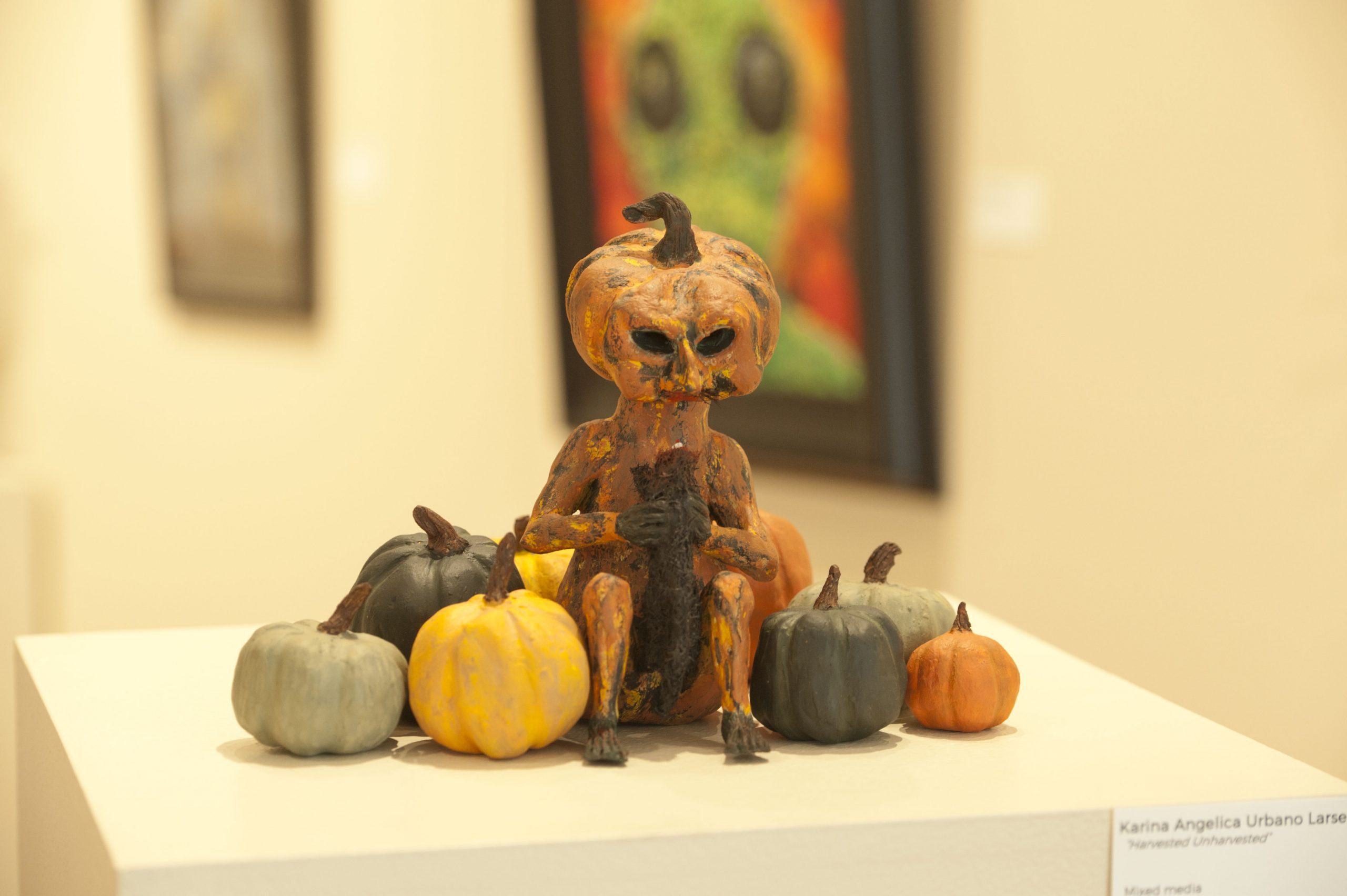 "Harvested Unharvested" is a mixed media sculpture that you can check out at the fourth annual Halloween Art Show in the North Plaza. DSU students, faculty, staff and community members have submitted their artwork to be showcased Monday - Saturday from 9 a.m. - 5 p.m. until Nov. 2. Photo by Tianna Major.
---
A painting of a girl running through a dark and haunting forest, a bright orange pumpkin designed with a spooky face, and a horrifying animal mounted on a wall with large horns sticking from its head are just a few art pieces presented at this years Halloween Art Show.
With no specific title or theme this year, there are all kinds of art that project the Halloween season. Everything from cute, fun and kid-friendly to fright, terror and dismay are projected through paintings, sculptures, drawings and more.
When entering the show, artwork is mounted along the walls and select ones are on white blocks in the middle of the room that you can walk around and easily observe.
Next to each piece of art is a white tag with the artists name, the title of art and the cost of work.
To purchase a work of art, you must contact the artist by contacting the director of the gallery who has all the names and contact information for each artist.
This is the fourth annual Halloween Art Show hosted in the North Plaza Gallery inspiring students to start creating their own art.
Like previous years, students, faculty, staff and community members have their art featured in the show.
Creator of the Halloween Art Show Jeff Yule, professor of interdisciplinary arts and sciences, has always had a love for art and Halloween, and was honored to be asked by his colleagues to do something for the holiday.
He said the inspiration for the show, "is that a lot of people like Halloween, it's a holiday that I've always enjoyed and some people that I worked with knew that I liked Halloween and they said, 'hey not that much goes on really at the Halloween around Dixie State, is that something that you can maybe help out with and change a little bit?' and I said sure."
Yule taught a class about Halloween art and has been collecting Halloween artwork, which inspired him to create the show and make it an annual tradition.
McGarren Flack, assistant professor of studio art, has worked with Yule in the past to jury the show. In previous years, the show has been hosted at the St. George Art Museum, but after the director of the museum quit last minute and the COVID-19 pandemic came about, the show moved on campus. Flack helped move the show to campus and set up this year's event.
Latest in Features:
Because of the last minute notice with the museum, this year's show didn't have a title like the previous shows, such as "Scary Fun" in 2017, but this allowed artists to submit any kind of artwork that fit the Halloween theme.
Overtime, someone suggested that a People's Choice Award should be included in the show. Now, when observing the show, every person can cast one vote for the award, which is like a popularity contest, Flack said.
The winner of People Choice will receive an award at the end just like other pieces of art that will be judged by the jurors. The inspiration behind people's choice was to go deeper than just what the jurors think, but more what people who may not know about art think.
Next to where you can submit a vote is a purple buttons designed with a white ghost and a spooky pumpkin head.
The purple button has, "DSU ANNUAL HALLOWEEN" written across the top and "ART SHOW" written across the bottom. In the center is a white ghost with an orange pumpkin head. The year 2020 is divided by the ghost. One 20 is written in orange lettering to the right of the ghost while the other 20 is written in black lettering to the left.
The black numbers on the left reflect the shadow that is shown on the pumpkin and ghost, giving the button detail.
All together the pin reads, "DSU ANNUAL HALLOWEEN 2020 ART SHOW."
"It's a nice little flare you know? Spreading the happiness of Halloween to other people." Flack said about the buttons that were inspired by Yule.
The buttons are free and everyone can grab one or two after the show. They have a pin on the back, allowing you to put them on your shirt, jacket, bag or whatever appeals to you.
Beth Axelgard, Honors Program Support Coordinator, said she did a few small backend things for the show this year, like button ordering.
She wants students to know that art can be fun, not just during Halloween but all throughout the year.
Flack said he wants to build up a community that loves Halloween art.
He said, "Were working on building a good presence … making it a national show so that we would have a better presence, and then making it online."
The show will continue to be an annual event, hopefully reaching a national show in years to come.
"I think it's a great show, people should come and see it," Flack said.
Want to read more? Follow us on Twitter and Facebook for daily articles and updates!
The show is open Monday-Saturday from 9 a.m. – 5 p.m. and ends at the beginning of next month when artists fetch their art on Nov. 2.