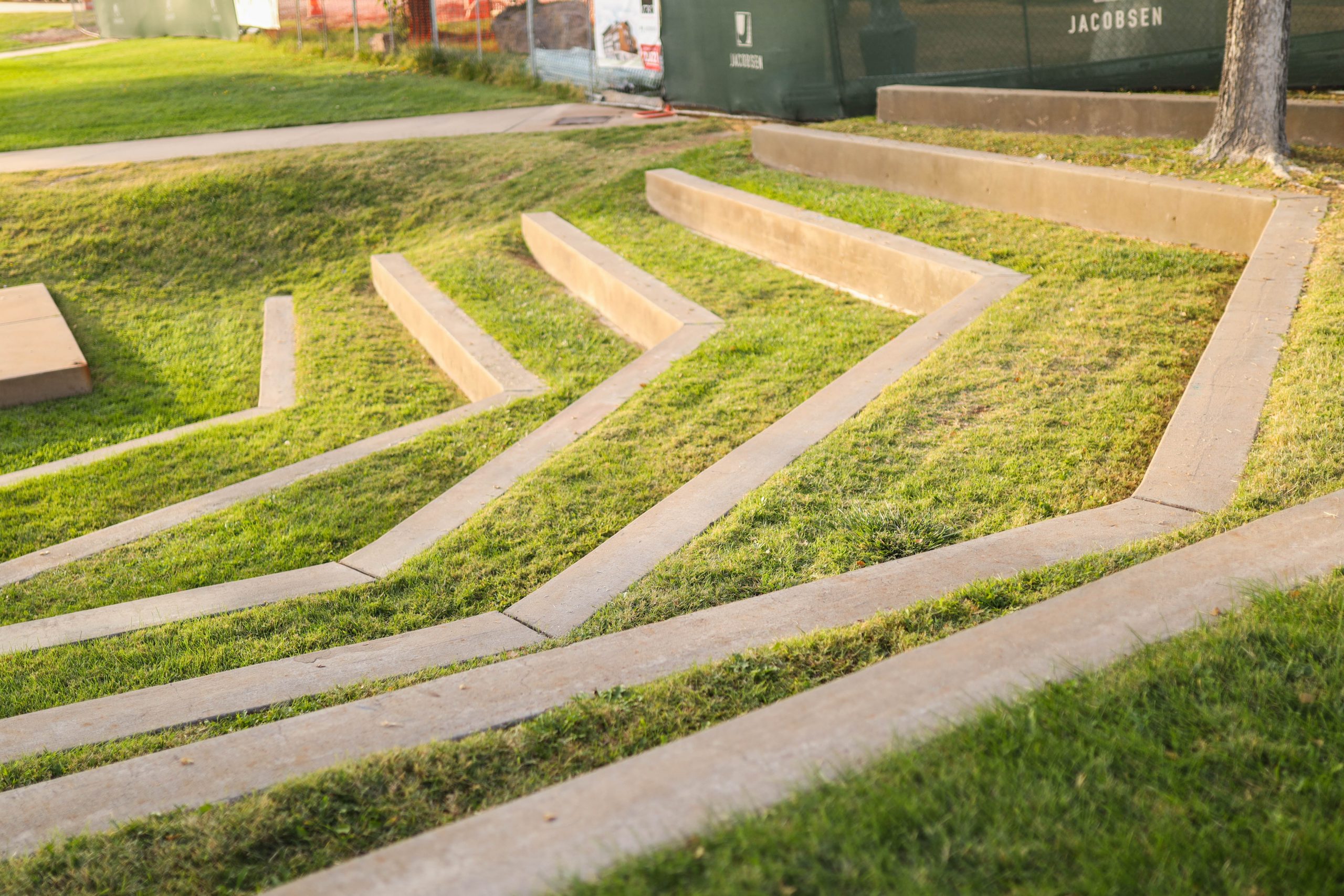 Outdoor pavilions are a hot spot for students looking for a quiet place to study. An outdoor study option allows students to connect with nature while working on what might be stressful tasks. Photo by Misha Mosiichuk.
---
Finding a great study area might seem hard, but there are popular study spaces on campus favorited by students. Each location provides a different experience, from the beautiful views to peace and quiet.
Jeffrey R. Holland Centennial Commons Building
The Holland is the most commonly visited area for studying on Dixie State University's campus. Students love to study in this building, specifically the fourth floor, which has the beautiful scenic view and a balcony.
Stuart Seegmiller, a freshman general studies major from St George, said that he enjoys the fourth floor of the Holland, especially the balcony because of the view of the campus and the city.
"You can see all of St. George," Seegmiller said. "You can enjoy the fresh air and the learning environment is really good up there."
Chris Spiller, a senior chemistry major from St. George said: "The study rooms are pretty good… not many people know that there are study rooms up on the fourth floor, and that's also where the tutoring center is."
Katherine Boyce, a freshman general studies major from Spanish Fork, enjoys more than just the views and study room, she enjoys the environment as well.
"It's super peaceful and everyone is super nice," Boyce said.
Outdoor Pavilions
Weather does determine whether or not this is the best place to study. The pavilions are like study rooms but outdoors. A lot of students would like to study here, but some are waiting for when it starts to cool down outside.
The pavilions have charging ports and bench style seating for students to be able to study. Multiple pavilions are located around campus in between buildings next to the volleyball courts and near the stairs going toward the Val A. Browning Learning Resource Center.
DSU alumna Krystal Dean said, "I had a lot of classes in the Hazy building so that was the pavilion I mostly studied at…it was just nice to get outside in between classes and enjoy the sun."
Dolores Dore Eccles Fine Arts Center
Music could be distracting to some people, but the music building has become a place where some students find their inner peace. It's not a common area, but it is a unique place to study.
This building has an inside and outside peaceful vibe. The waterfall outside gives you that background noise that isn't too overpowering. The inside has plenty of space to sit at the tables, music is being played, and doesn't have a lot of traffic of students.
Ethan Park, a freshman accounting major from Las Vegas, finds the music center to be his favorite building, he likes to listen to the music while studying.
"I'll take a break, play a little bit, then go back to studying," Park said.
Human Performance Center (HPC)
This location is not exclusive to working out and classes, some students study there while others desire to study there one day. The HPC is a hidden gem when it comes to studying.
Sadie Christensen, a sophomore art major from South Jordan, works at the HPC and likes to study there because it's more quiet.
"It's smaller and very quiet," Christensen said. "You could go and get snacks or go hot tubbing afterwards to reward yourself."
Other students want to go study there but have not quite gotten the time to yet. Seegmiller has had his eye out for the HPC as a place to study at because of its great view.
Hazy Idea Room
Another student's favorite location for studying is in the Udvar-Hazy School of Business building: the idea room. There's a waterfall in the main area with various seating options, it's a dimmer building, and it definitely sets the tone for a calmer area.
Deven Osborne, a senior business administration major from Los Angeles, shared that not many people actually utilize these study rooms, and they are typically open and not packed full of people like other study areas.
"It's a great room to study with classmates and by yourself," Osborne said. "It's unique to me because it gives me an area to focus while not being around a lot of people."
Want to read more? Follow us on Twitter and Facebook for daily articles and updates!