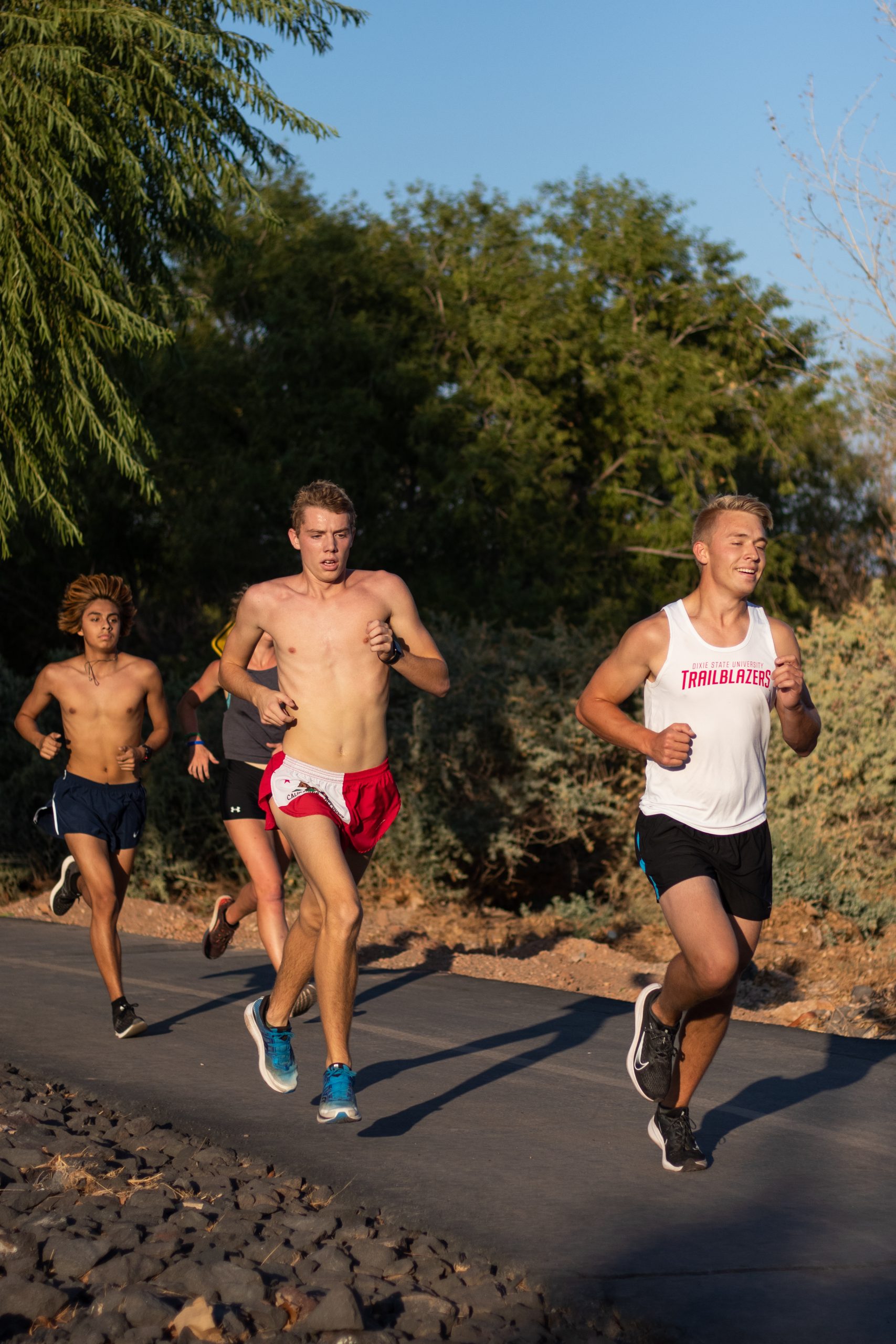 The cross-country team continues to train in preparation for the upcoming DI season. Athletes are using this extra time to further condition themselves to be ready for the season. Photo by Breanna Biorato.
---
The Dixie State University cross-country team remained at the starting line this fall as the highly anticipated start for Division I racing was delayed because of COVID-19.
As the team prepared for the season like any other, the news to push the season back further was not an easy pill to swallow.
"I got kind of heartbroken," said Madison Flippence, a junior exercise science major from Hyrum. "All the summer season [training], and then you don't even get a season when you originally thought. I have used that as motivation, the harder I work now, the better the results will be in January."
Not only does this change affect the racers for the Trailblazers, it affects the staff and the way the coaches prepare for when their season does begin.
"You want to do what you need to in order to keep everybody safe, but obviously for coaches and athletics this is a major part of our lives, and something we are training for and working toward year-round," head coach Justin Decker said.
Decker said the team is practicing like it would during a normal season, but there might be some additions toward the end of the semester before competitive racing season begins.
"It's somewhat like we would be in a regular season, but we may have a team race or time trial toward the end of the fall season," Decker said. "Then we will take a break and get ready for the spring."
Once the season was delayed, there was a new plan of action for the Trailblazers as they got another semester to prepare for their first DI cross-country season.
"When we found out the season was going to be postponed, we definitely moved into doing more individual stuff," said Miguel Ramirez, a senior exercise science major from Las Vegas. "Coach [Decker] decided to let us do more on our own, and we were a lot more responsible to run on our own or with our teammates."
Flippence said she runs on average 60-70 miles per week in order to stay in racing shape.
"A good base is getting a decent number of miles in," Flippence said. "Not to the point where you are getting injured, but enough to where you are feeling strong doing it week to week."
Flippence has experienced quite a bit of change when it comes to racing since she started her collegiate career at the College of Southern Idaho, which is a junior college. She then transitioned to DSU when the university was still DII, and now making the transition to DI brings another change to racing.
"It's a big jump from a junior college to DI," Flippence said. "I'm pretty excited for the competition."
The Trailblazers looked forward to returning to practice to begin their DI journey, and the team was able to return to practicing together; however, not all their questions were answered.
"We were able to start practicing but didn't know what we were practicing for," Decker said. "Are we going to race in the fall? January or February? Or is it going to be March or April?"
The season was announced to take its course starting in January, and Ramirez said this helped refocus the team and prepare it for the season.
"Knowing there is even going to be a cross-country season motivated us to get faster and start training a lot harder," Ramirez said.
Ramirez is an important piece of the cross country team as he enters his fifth year racing for the Trailblazers, which he can do because the NCAA has allowed an additional year of eligibility because of COVID-19.
"Going DI will help me push myself even further than I have before," Ramirez said. "As a DI team, you are expected to be better; the best teams in the nation are DI and having the chance to possibly compete against them is motivational."
As the Trailblazers continue to prepare for the starting line, we can watch for them this January to make their first jump in DI racing.
Want to read more? Follow us on Twitter and Facebook for daily articles and updates!