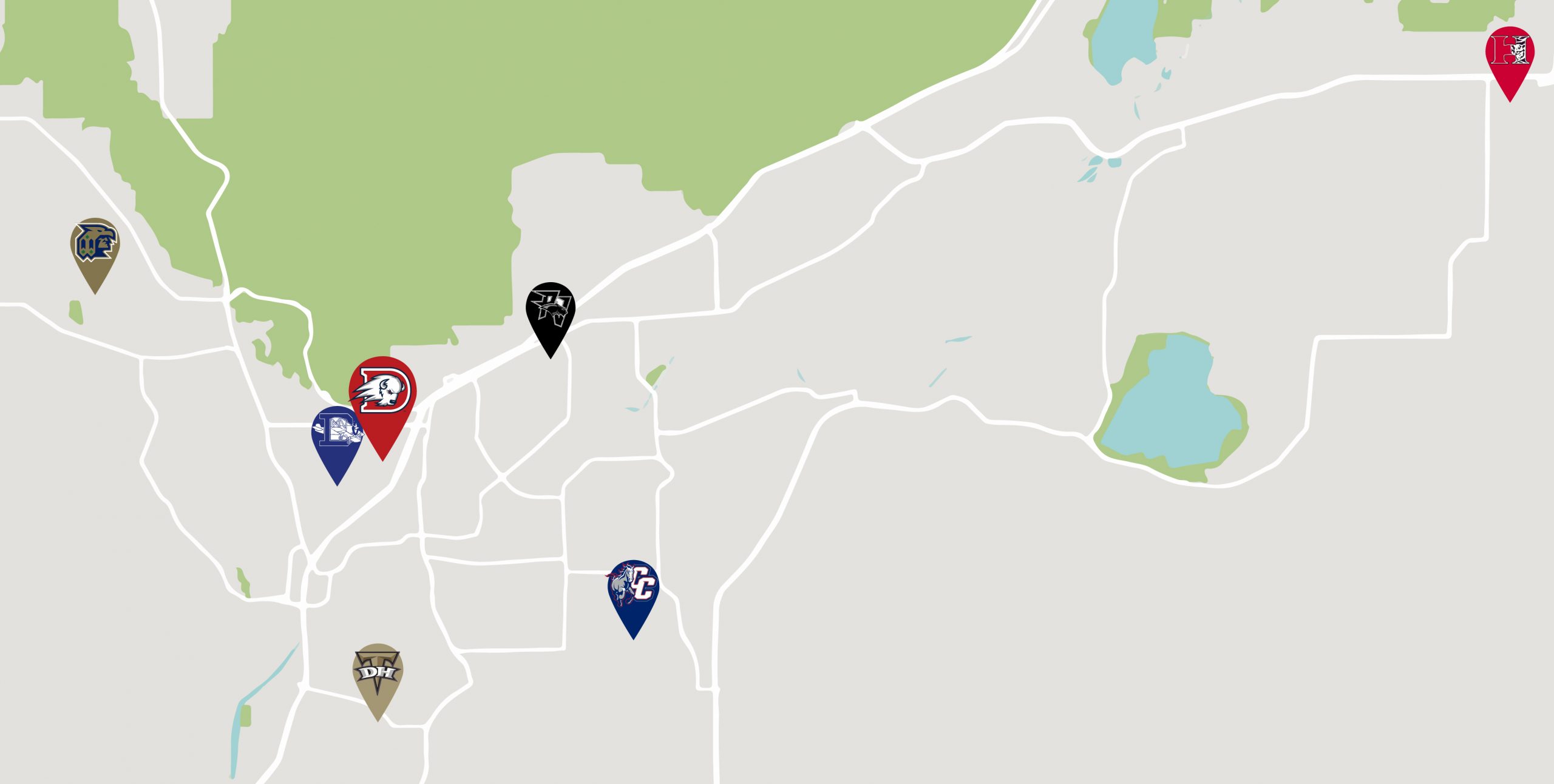 The St. George area encompasses six of Region 9's eight 4A high schools, which are located no more than 25 minutes away from DSU. This provides a good opportunity for DSU to keep athletic talent in southern Utah. Graphic by Emily Wight.
---
Dixie State University has a unique opportunity for scouting talent for its teams since a lot of talent is grown in the school's backyard.
The St. George area is home to six of the eight 4A high schools that compete in the Utah High School Athletics Association (UHSAA) Region 9. Dixie High School, Pine View, Crimson Cliffs, Desert Hills, Snow Canyon and Hurricane are all within a 25-minute drive of DSU. The two other Region 9 schools, Cedar and Canyon View, are just 45 minutes north in Cedar City.
UHSAA Region 9 consistently develops talent that feeds into both DSU and Southern Utah University. Currently, DSU has 45 student-athletes who came from one of the Region 9 schools.
As DSU becomes a Division I institution, the attraction to stay here to compete will only grow. For student-athletes who already chose to stay here, DSU was an attractive option for them to continue their education and playing careers while still being close to their friends and family.
Men's soccer player Michael Cardenas, a senior occupational therapy major from St. George, chose to stay and compete at DSU because his family was already here.
"I went to Pine View for all four years, so when Coach [Josh] Pittman – at the time he was the coach – asked me to come to Dixie, I was like, 'You know, why not,'" Cardenas said. "I have my family here, my friends; I grew up here, so that's the reason I really decided to stay here and come to [DSU]."
Men's soccer player Daniel Brubaker, a junior general studies major from Hurricane, echoed similar sentiments. Although his path wasn't quite as straightforward, Brubaker "kept bugging" head coach Johnny Broadhead to give him a shot. Eventually, Brubaker earned a tryout and became a mainstay on the Trailblazers' squad in 2019.
Brubaker wanted to play for DSU mainly to stay close to his family, and also because his older brother, Ryan, was a Trailblazer.
"My brother played here, so watching him play when I was younger, my first thing was, 'Oh, I want to do that,'" Brubaker said. "Dixie was always my idea because it was closest, so in the back of my head that was just what I planned on doing."
Women's soccer player Kelsie Schwager, a sophomore computer science major from St. George, had a bit of a different outlook.
"When I was trying to get recruited, I was trying to get outside of Utah," Schwager said. "I was hoping to go play in California or Nevada; I didn't want to stay here."
Schwager said she wanted to experience more cultural diversity and a new lifestyle, drawing her away from St. George. But after the inspiration to talk to then head coach Gerry Lucey, Lucey convinced Schwager to stay in Utah and play for DSU.
Schwager said while she had other offers, she got the best offer from DSU and recognized the opportunities DSU brought her both on the soccer field and in the classroom.
Schwager said: "I knew that [the computer science] program was a really good program that I'd be going into. It's very well looked at in Utah."
With a good program to join, becoming friends with some of the women's soccer team's international players, and recognizing the value of having her parents down the road, Schwager said she's glad she opted to stay in Utah to compete DI.
"I really am truly grateful that I can play on such a high level in my hometown and have my parents' support," she said. "I wouldn't change it for the world."