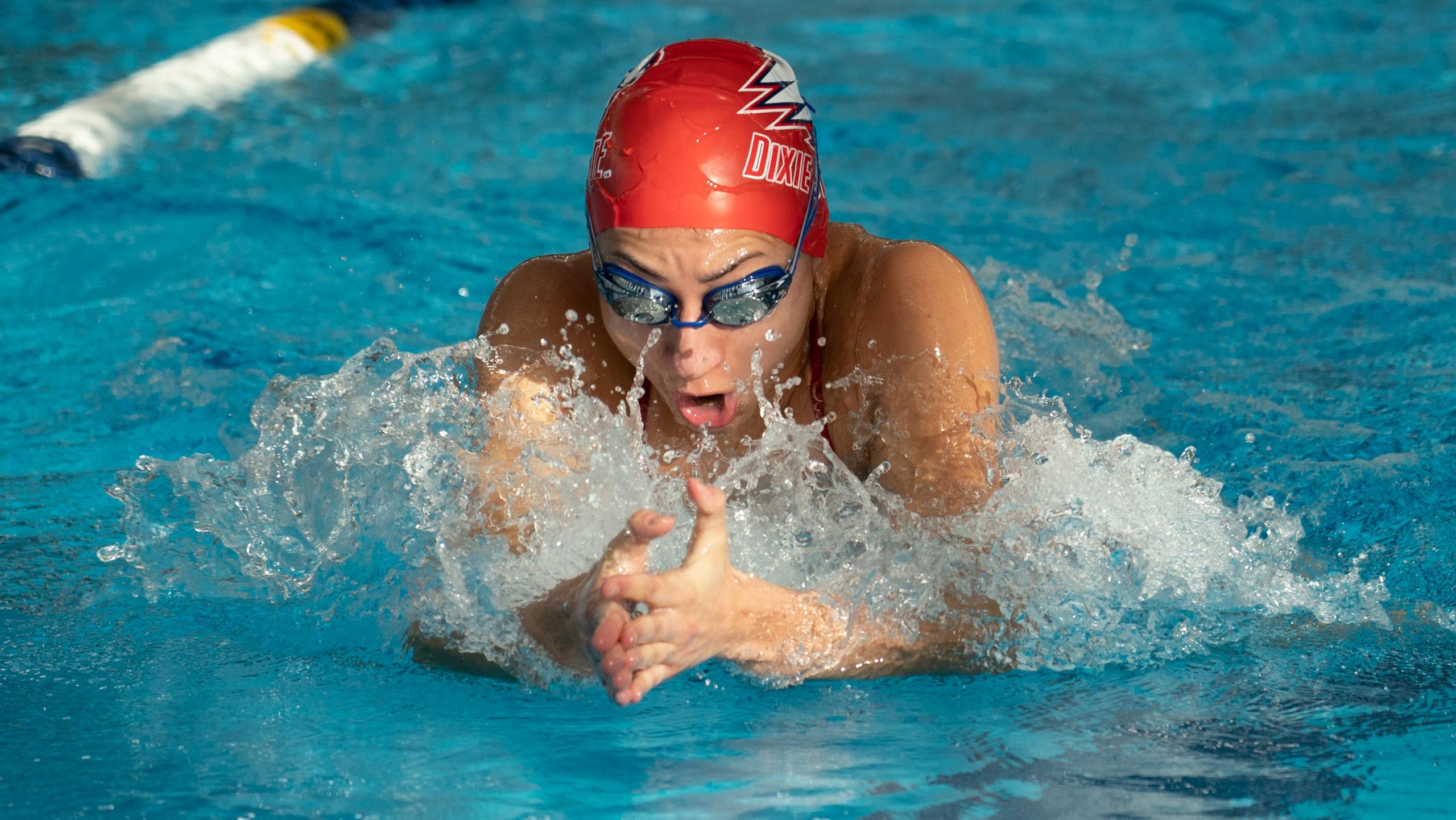 Miriam Gonzalez, a senior secondary art education major from Murrieta, California, competed against NAU in the Northern Arizona Dual meet on Jan. 18. She said she is excited to compete as a Division I institution this upcoming season. Photo courtesy of DSU Athletics.
---
Dixie State University's women's swim team is likely to be the first team ever to compete for DSU as a Division I institution.
With the season scheduled to begin Nov. 19 at home in the Dixie State Invitational, women's swim will be the first team to compete since the suspension of fall sports, and will be the first team to see the heightened competition DI status will bring.
"We are looking forward to the WAC and the fast teams we will be racing," said Miriam Gonzalez, a secondary art education major from Murrieta, California. "We also look forward to having teams come to our school and be represented as a DI team. It will be exciting to see the team grow more and more every year."
The women's swim team is only in its fifth year of existence, yet already has many accolades behind it. The jump to DI is the next challenge for the team, though the team already competed against DI team Northern Arizona University on Jan. 18, along with a few other teams it plans to compete against this season.
Gonzalez said she is looking forward to competing against NAU again, but the team is "also looking forward to having a few teams for an invite; it will be great to have other teams come enjoy our facility."
Another school the women's swim team is looking forward to competing against is Seattle U because "both the teams are evenly matched," head coach Tamber McAllister said. Her team, likewise, is excited about the prospect of competing against Seattle.
"One of the meets that we have on our schedule is Seattle; that will be at the beginning of the year and I'm really excited to do that," said Kyrie Sutherland, a sophomore nursing major from Ogden. "Usually we stay in the closer states, so Seattle will be a little bit further and a new place to go."
The women's swim team, just like all other teams, has to remain flexible and be grateful for what it has because of continually changing COVID-19 rules and regulations.
"It's still up in the air how much we're going to be able to compete," Sutherland said. "I'm just glad to be in the pool."
Being back in the pool with her teammates is something Sutherland has found joy in.
"I like the team aspect because it's individualized, so my success or failure is based primarily on me," Sutherland said.
Despite competing individually, Sutherland said she loves having the support of a team to back her up and push her to her limits.
"I love that balance between individualization and a team sport that swimming has," she said.
The team has been able to get back in the pool and train together again, which is one thing that has helped maintain some sense of normalcy. The team is now training regularly, preparing for a season as usual despite the delay in its start. While being sure to follow the rules and ensuring anyone with COVID-19 symptoms is not practicing, the team is just trying to ensure it is ready when the time comes.
McAllister said: "We can train socially distant, which is nice. We don't have to have contact with each other to train well, but they can still be within visual distance of each other to encourage each other and cheer each other on. A lot of them had their seasons taken away from them last year, so they're really taking advantage of getting to be here and doing this."
Although the Trailblazers anticipate being able to compete at their home meets this season, it is likely to be without fans. McAllister said at least the first meet on Nov. 19 will be held without fans, but students voicing their support to the student-athletes is still just as important.
"Any way you can reach out to our swimmers and support them, that would be great," McAllister said.
Want to read more? Follow us on Twitter and Facebook for daily articles and updates!