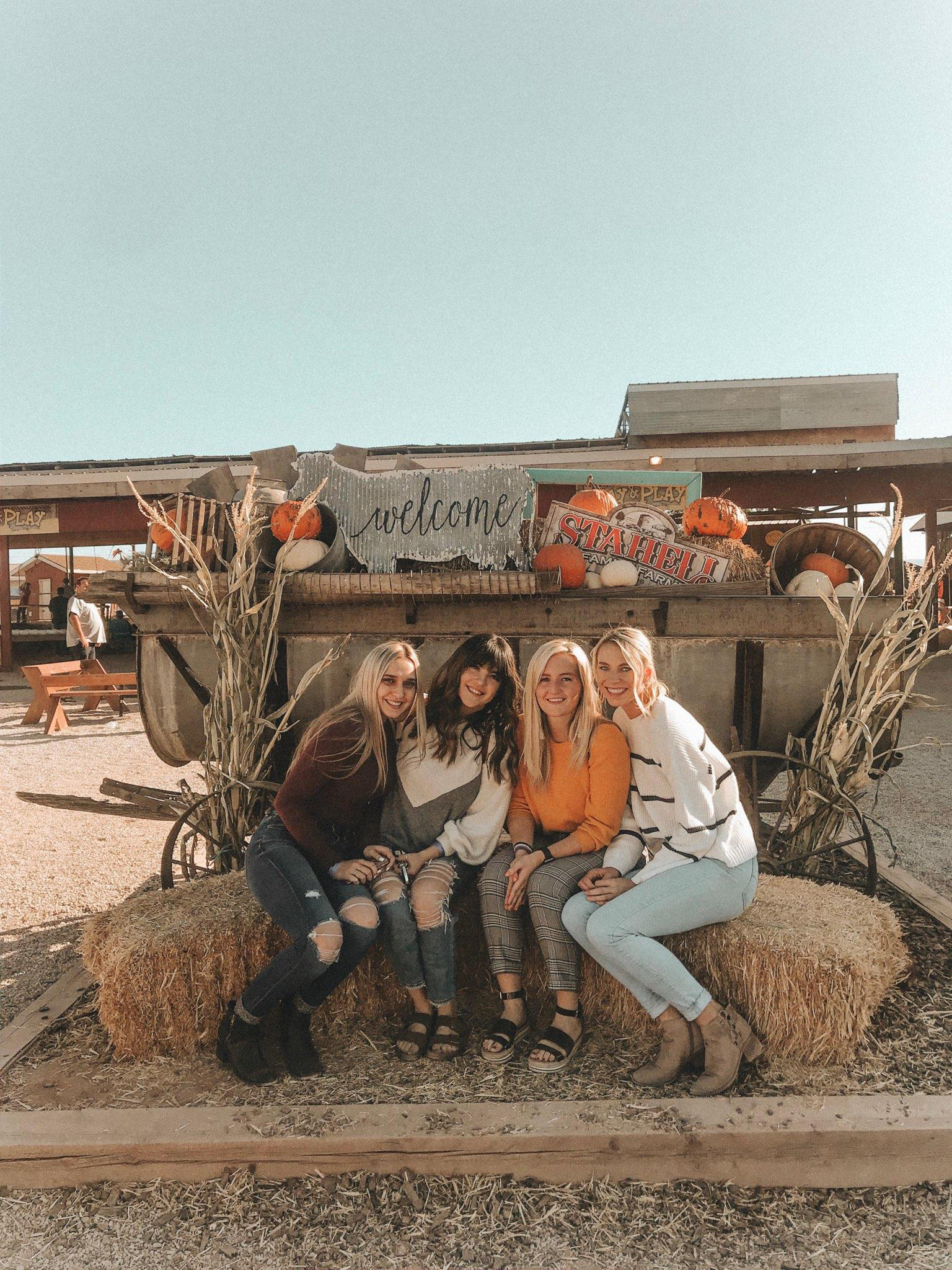 A group of friends gathered together enjoying their fall activities. As fall approaches, students begin to reminisce about fall memories and activities when social distancing and wearing a mask wasn't a necessity. Photo by Christina Block.
---
As the temperature begins to cool down and the leaves switch colors, St. George heads into fall.
Despite the global pandemic, your autumn memories can still become reality because most places are opening up, continuing their annual activities, and allowing DSU students to make this season just as memorable as the others.
Fiesta Fright
Arcade games, bowling games and go-karts at Fiesta Fun Center tend to be the reason why people of all ages visit throughout the year, but this fall it's bringing back Fiesta Fright.
Fiesta Fright opened on Sept. 25, giving students the chance to start their spooky season off with a haunting experience they won't forget. Visitors will walk through a two-story haunted house to get a frightful Halloween experience.
Elsie Wilkens, a freshman English major from Grand Junction, Colorado, said: "Fiesta Fun was a great way to get to know the area and it was so much fun. We have something similar in my hometown, but Fiesta Fun was even bigger and better."
To attend this event, there are specific rules and guidelines that must be followed, all of which are located at the bottom of the Fiesta Fright webpage.
"We sanitize each attraction after every use, and each lane after each use," Facility Director Britlyn Crockett said. "We also sanitize high touch areas. We want our employees and our guests to feel safe."
If you're not into haunted houses, the center includes activities such as a mini golf course and laser tag.
Fiesta Fun Center is located at 171 E. 1160 Street. For more information call (435) 628-1818 or visit the website.
Staheli Family Farm
Staheli Family Farm, open to children, teens and adults, is starting its fall activities soon.
Field of Screams opens on Oct. 1, and other activities such as its Zombie Rampage open Oct. 2 with over 202 dates by Halloween, meaning 202 different times people can enter.
These events are designed to bring in people who live in St. George since it is just up the road in Washington.
Colby Roberts, a senior accounting major from Spanish Fork, said: "Each fall, Staheli [Family] Farm hosts a corn maze and various activities. I love to spend time with my friends and grab some hot chocolate at TwentyFive Main after."
Staheli Family Farm is a place for people to go with friends and family to experience activities such as the corn maze, pumpkin patch, farmland and a spooky trick-or-treat trail created for every age group.
Cami Beckstrand, a sophomore medical radiography major from Fillmore, said, "I love the vibe there, and it's so fun to go with friends."
If you're interested in activities at Staheli Family Farm, it is located at 3400 S. Washington Fields Road and its phone number is (435) 673-4096.
Thriller
With an interactive and humorous cast, Thriller excites the people and lights up the Tuacahn Amphitheatre.
"It was really nice having a warm cup of cocoa while having the stars above you and watching the show," Dixie Tech student Micaiah Joy said.
Tuachan presents the show Thriller in an outdoor amphitheater that will be presented between Oct. 27-31. Tickets are selling at $21 and guidelines pertaining to COVID-19 will be in place as well.
Every employee and attendee must wear a mask at all times and social distancing markers will be placed on the ground as reminders to distance. Stations with hand sanitizer and procedures will be located around the amphitheater, and there will be multiple exits and entrances to avoid gathering.
For more information or to buy a ticket, call 800-746-9882 or visit its website.
Dixie Rock
"I think my favorite thing to do around town during fall is going to Dixie Rock," Beckstrand said.
As fall starts and the weather cools down, students love to visit Dixie Rock to unwind and look at the view of St. George.
Dixie Rock is located on Red Hills Parkway overlooking the city and university. It brings back the peaceful and fun memories of autumn.
The top of the rock is perfect to set up a picnic and enjoy watching the sun set below the mountain while friends gather around to watch beautiful downtown St. George. People can also bring their treats like the pumpkin cookies and hot drinks while snuggling under warm blankets.
Surrounding the rock are trails people can explore as well.
Extra activities
Students have several other options to celebrate fall on their own time.
Kate Christensen, a psychology major from Richfield, said she enjoys going on walks with her dog and exploring trails during the fall.
Watching scary Halloween movies and social activities such as hosting a themed Halloween dinner or carving and decorating pumpkins are other options that allow people to stay indoors or at home.
Emilee Lunt, a junior radiology major from Thatcher, Arizona, said, "My favorite fall memory is going to the football games."
Sadly, football remains on pause but will be continuing in the spring.
Want to read more? Follow us on Twitter and Facebook for daily articles and updates!