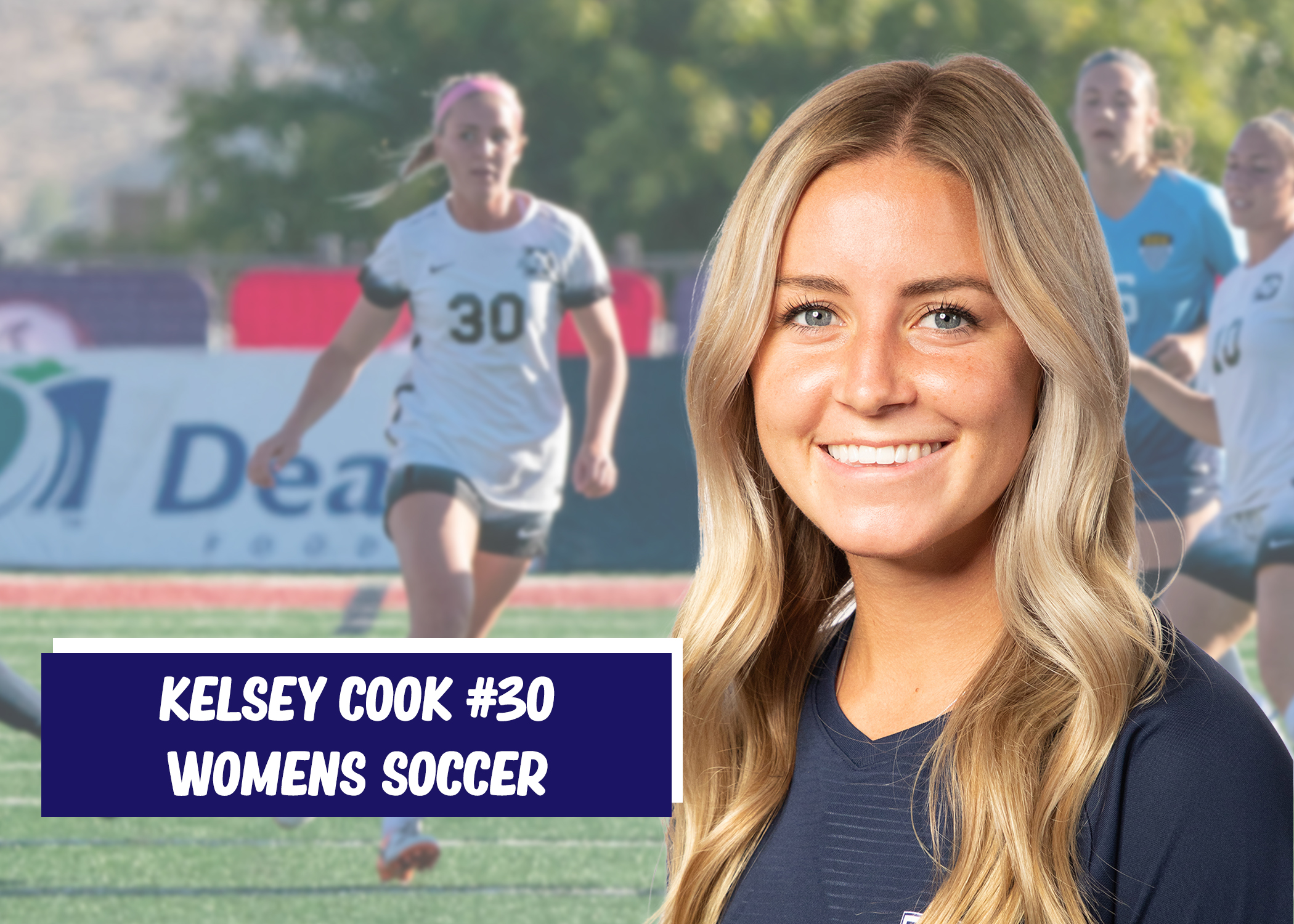 Midfielder Kelsey Cook, a senior business administrations major from American Fork, found her passion for soccer in college and carried that into her time at DSU. Her teammates and coach say she emulates attributes of a good leader by being able to connect with her teammates on and off the field. Photo courtesy of Stan Plewe.
---
It didn't take long for head coach Molly Rouse of the Dixie State University women's soccer team to realize the special talent senior midfielder Kelsey Cook has.
As Rouse is looking to make her coaching debut for the Trailblazers in 2020, she needed someone to look to.
"Kelsey was a huge part in giving me an understanding of where the team is at culture wise," Rouse said. "She's able to relate to pretty much everybody on the team in some capacity, making her very approachable as a leader."
Cook, who is a senior business administration major from American Fork, led the Trailblazers to eight goals while tallying on an additional nine assists in the 2019 season.
Her desire to play for the Trailblazers first developed in high school. "My high school team came to a Dixie State [University] summer camp, and that's where the [coaches] first saw me," Cook said.
Not only did this give the coaches an opportunity to see Cook play, but it was also a big opportunity for Cook to see DSU.
"The whole environment and the campus made me pretty interested right away," Cook said.
As Cook continued to stand out throughout high school, the midfielder gained interest from other universities, including well known in-state rival Snow College, as well as Pacific University in Oregon.
After a lot of thought on where to further her soccer career, Cook said she decided DSU was the right place for her.
"I liked that it was in Utah, but it was also far enough that I was getting away from home," Cook said.
Once she arrived at DSU, Cook said she knew she'd have to work hard for her a position and role on the team. Cook stands 5-foot-5 and said she knew this would be something she'd have to work past.
"My struggle is always my size," Cook said. "I got a lot [of feedback] from coaches saying I wasn't big enough, so I have to do other things to make up for that."
Those other things have included stepping into leadership roles and really learning the game of soccer.
"You can tell she is somebody who has a really good understanding of the game," Rouse said. "She's had a really good impact on the fluidity of the sessions and practices that we've had."
Rouse said she attributes Cook's leadership to her ability to connect with her teammates on and off the field.
"[Cook] has a very calming presence on the people around to help them problem solve within challenging moments," Rouse said. "She has a willingness to get in and do the work that needs to get done while being able to push the team in the right direction."
Not only do Rouse and the rest of the coaching staff have high praises toward Cook, her teammates do as well.
"I like that Kelsey made an effort to get to know me and the rest of our team on a personal level," said Kenna Sparks, a freshman general studies major from Vineyard. "I felt really welcomed by her, and instantly had respect for her after I had met her."
Cook tore her ACL during a November practice and has been recovering ever since; however, this hasn't been a hurdle too large for her to handle.
"This [injury] helps me have the motivation for when we do play; I'm ready to go, and I'm taking full advantage of that," Cook said. "It's been a while for me since I've played a soccer game, so with that, I've realized I can't take any practice or game for granted anymore."
Cook said she couldn't only attribute her success and recovery at DSU to herself; she also gave praises to her teammates for supporting her.
"We've had to rely on each other getting through what we have together, and we are still close friends, [which] makes this pretty amazing," Cook said. "I wouldn't be where I am without the group we have here."
The Trailblazers said they are hopeful to take the field in the spring, and Cook said she is also determined to have success on the field once she has graduated.
"I'd like to do some coaching," Cook said. "I coach two club teams right now."
Off the field, Cook would also like to pursue the business side of her life by starting her own graphic design business.
Want to read more? Follow us on Twitter and Facebook for daily articles and updates!