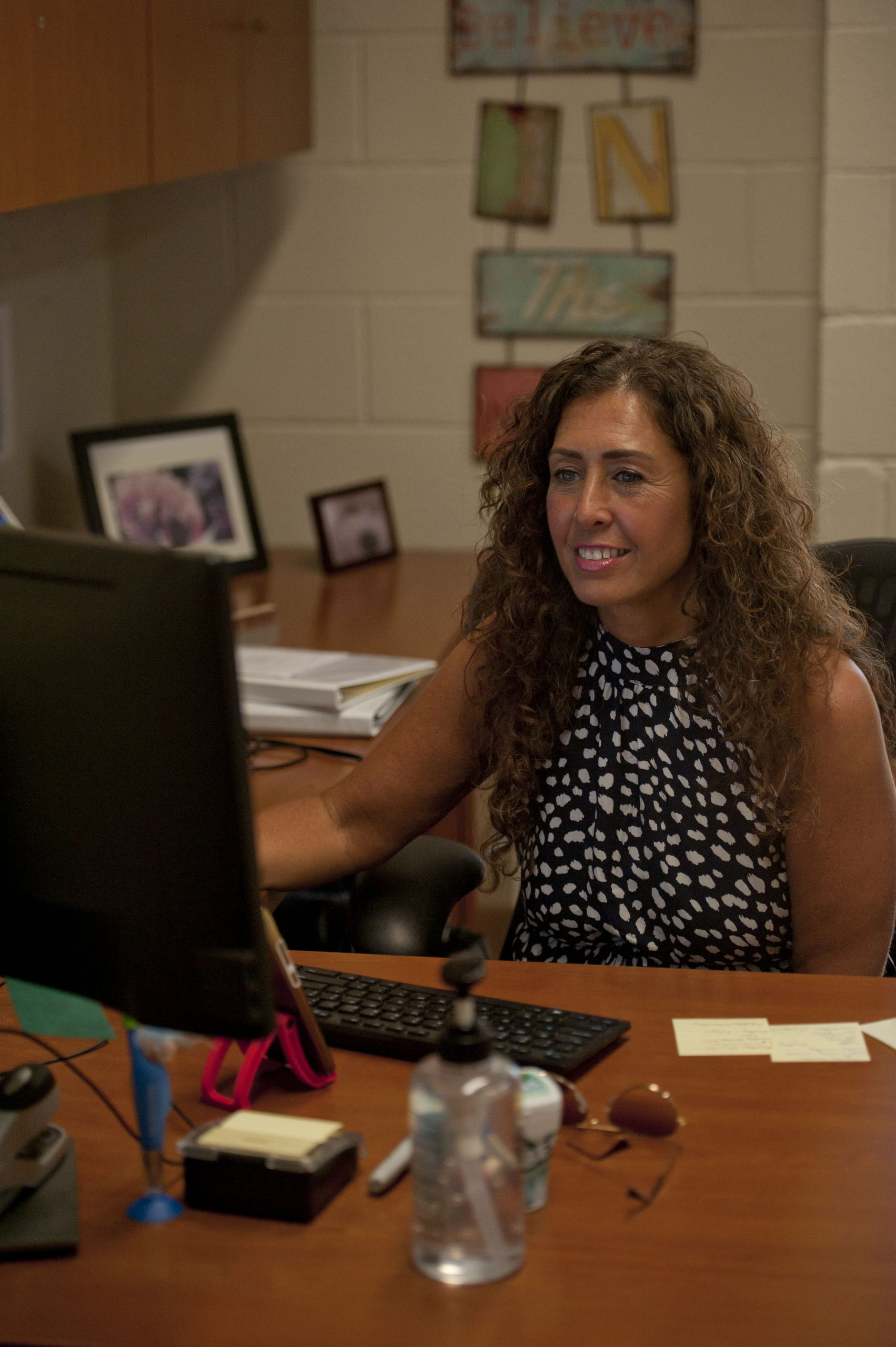 Sarah Vandermark, associate provost for academic success, helps oversee the academic advisers as they work towards creating a friendly environment for students at the Advising and Career Engagement Center. The ACE center is a helpful resource for students who need help and guidance for their future. Photo by Tianna Major.
---
Students now have easier access to the Advising and Career Engagement Center with a more welcoming environment.
Katie Armstrong, director of college advisement said, "It's really like a one-stop kind of shop right there with academic advising and career advising as well."
The ACE Center, which is located on the first floor of the Udvar-hazy College of Business, consists of two academic advisers and one career adviser available for students who need help finding internships, achieving their goals to graduate, or any information regarding their future plans.
"The goal of the ACE center is to create a supportive environment for students to keep them on track to graduate within their majors, as well as guide them in their career exploration through co-op/internship opportunities and learning about their interests beyond the classroom," said Sarah Vandermark, associate provost for academic success.
Daniela Gutierrez, an adviser for the College of Business, said the move from the third to the first floor created a welcoming environment and gave students easy access.
Latest In News:
"I was a student here and I didn't know there were offices on the third floor… it's easier for students to get a hold of us." said Gutierrez.
Interview rooms have been added and are available for students to practice and prepare for work or internship interviews. When these rooms are empty students may may also use it as a quiet study room.
Additionally this center is able to relate to the university's moto, "active learning, active life."
"We want students to actively learn and apply this knowledge throughout their lives," Vandermark said. "We also want students to always take an active role in their learning through the opportunities offered by career services as well as have an active lifestyle, which creates health and an abundance of opportunities."
Now students can receive easy access and get help from advisers who are willing to point them in the right direction, so that they can accomplish their goals.
Academic Adviser Hannah Thompson said while the building was being worked on, she and her coworker planned out their vision for what it would look like, which included creating a comfortable working environment for students and staff.
It is open Monday – Thursday 8 a.m. – 5 p.m. and advisers are willing to extend the time when students make appointments. An appointment can be made by calling, emailing, through the Navigate Student app or dropping in. Drop-ins are open from 1 p.m. – 4 p.m. on Wednesdays and 1 p.m. – 2 p.m. other week days.
A private donation was given from alumnus of the College of Business to help create the center. More information regarding the donation will be announced next month.
Want to read more? Follow us on Twitter and Facebook for daily articles and updates!