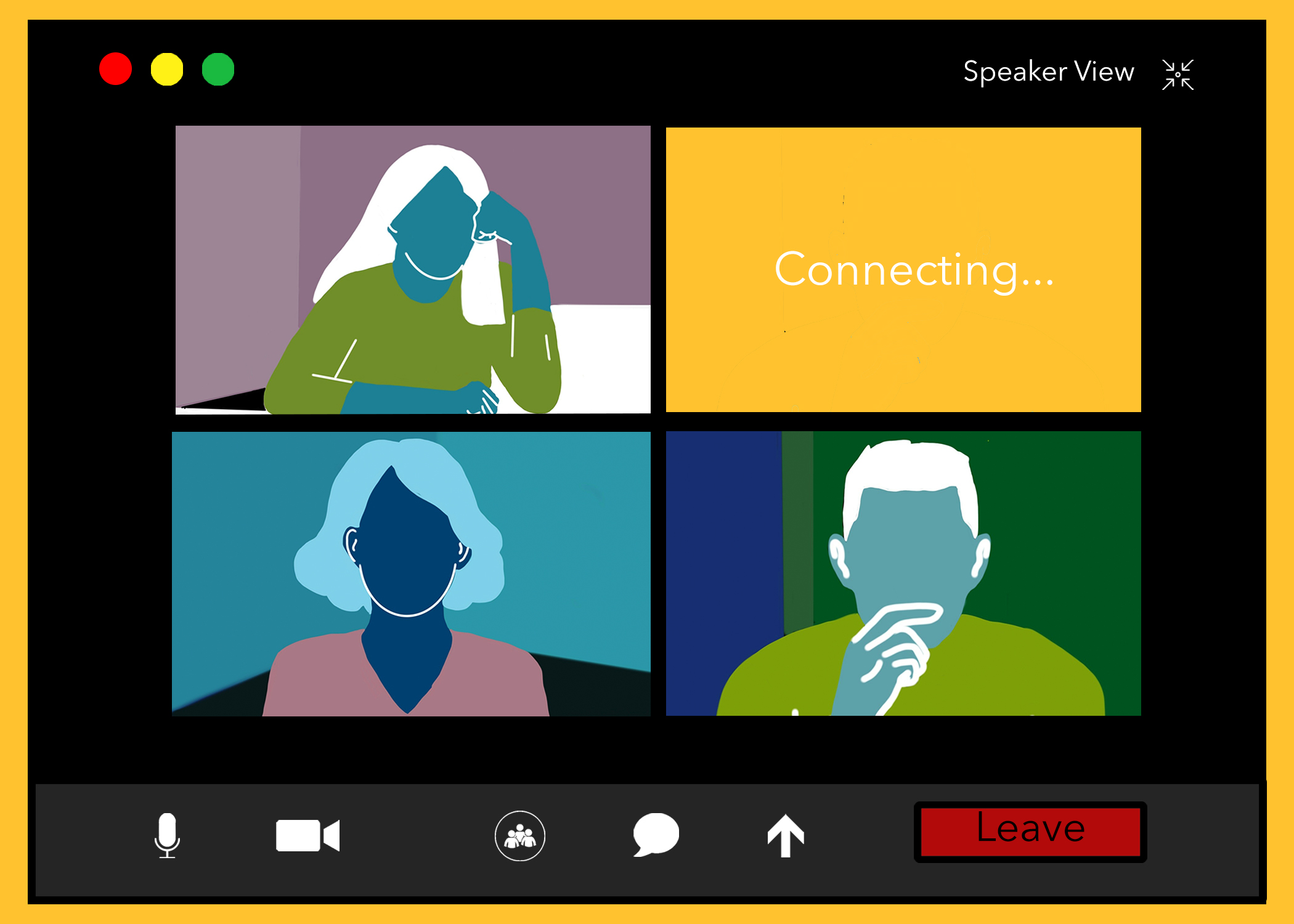 Students are becoming accustomed to Zoom learning, but it's a different experience for everyone. TJ Tutasi, a sophomore criminal justice major from Salt Lake City, has experienced heightened anxiety through Zoom learning. Graphic by Breanna Biorato.
---
You know that feeling when your heart starts to race, your palms feel sweaty, you can barely catch your breath, your mind is racing at a million miles per minute and you can't seem to clear it? This is what anxiety can feel like, and Zoom learning is something that has heightened this feeling for students.
TJ Tutasi, a sophomore criminal justice major from Salt Lake City, has had a rocky start to the semester as the university implements Zoom classes.
As he sets up his computer for his Zoom class, the Wi-Fi buffers. The seconds tick by, closer and closer to the start time. He starts to get nervous that it won't be up in time. Then the internet finally works his way, and he enters his Zoom class.
Now Tutasi can see his face onscreen next to his classmates while also seeing the other half of the students sitting in the classroom. He starts feeling anxious and uncomfortable knowing everyone can see his face on the big screen.
He decides to block his face from the screen by setting up a professional photo that everyone can see instead. But now he's struggling with the actual learning part of the class. It's difficult for him to adequately learn the information he is retaining because he is not getting the genuine experience like he would in a normal in-person classroom setting.
"I want to be in the classroom; I want to be there; I like to have those face-to-face interactions," Tutasi said.
Researchers at Dartmouth College conducted a study to monitor students' behavior in response to the global pandemic. The researchers found the pandemic "spurred higher-than-normal stress levels" for college students, and Zoom learning is not helping the situation.
According to The Washington Post, Jeremy Huckins, a lecturer on psychological and brain sciences, said, "Self-reported symptoms of anxiety and depression spiked in March, when students were asked to leave campuses and finish their courses online."
Online classes are not just a learning curve for students, but for professors as well. Tutasi said while for the most part he feels his professors are doing a good job at teaching as close to normal as they would in person, he can tell they struggle as well.
Professors run into technological difficulties while connecting Zoom to the classroom projector, getting the audio to function correctly, sharing their screen with those who are on Zoom, and still trying to teach students face-to-face while keeping the students on Zoom included and engaged with the lesson.
Tutasi said he has noticed his professors may not always hear a Zoom student's questions and can't always see them raising their hands.
Spending extra time setting up Zoom and doing the extra steps on the computer to keep the Zoom students included also cuts out precious learning and teaching time.
With Zoom classes there are more distractions for students as well, which leads to students being less willing to participate in class.
"I'm not going to lie, whenever I have a Zoom class… I've been very tempted and have indulged in playing video games while 'listening,'" Tutasi said.
Beverly Clark, Disability Resource Center coordinator, said since Zoom is a new form of learning, it unfortunately is not a recognized disability, so the DRC cannot give students accommodations specifically for Zoom anxiety.
However, Zoom anxiety may come from an underlying problem that is recognized, like generalized anxiety, Clark said. Zoom anxiety may be heightened from the already existing disability.
"It is very real," she said. "[We need] faculty and staff… to just listen and to validate that they're feeling this way."
Tutasi said he is fortunate to have understanding professors who have been accommodating in regard to his Zoom learning difficulties. One of his professors allowed him to continue in-person classes for now, as long as the class doesn't get too full. He said he appreciates what they have done to give him an effective learning experience.
"The university has honestly done what they can with trying to stay within the state regulations," Tutasi said.
If the student does have documentation of anxiety from a licensed professional, then the center can give accommodations regarding that specific procedure, which can be found on the website.
The Booth Wellness staff was unavailable for a comment regarding how this anxiety is forming for students and what students can do to manage it.
If students are experiencing anxious behaviors, whether they regard online learning or not, they can visit with a counselor at the Booth Wellness Center. To learn more about the Disability Resource Center, or to receive accommodations, visit its website.
Want to read more? Follow us on Twitter and Facebook for daily articles and updates!