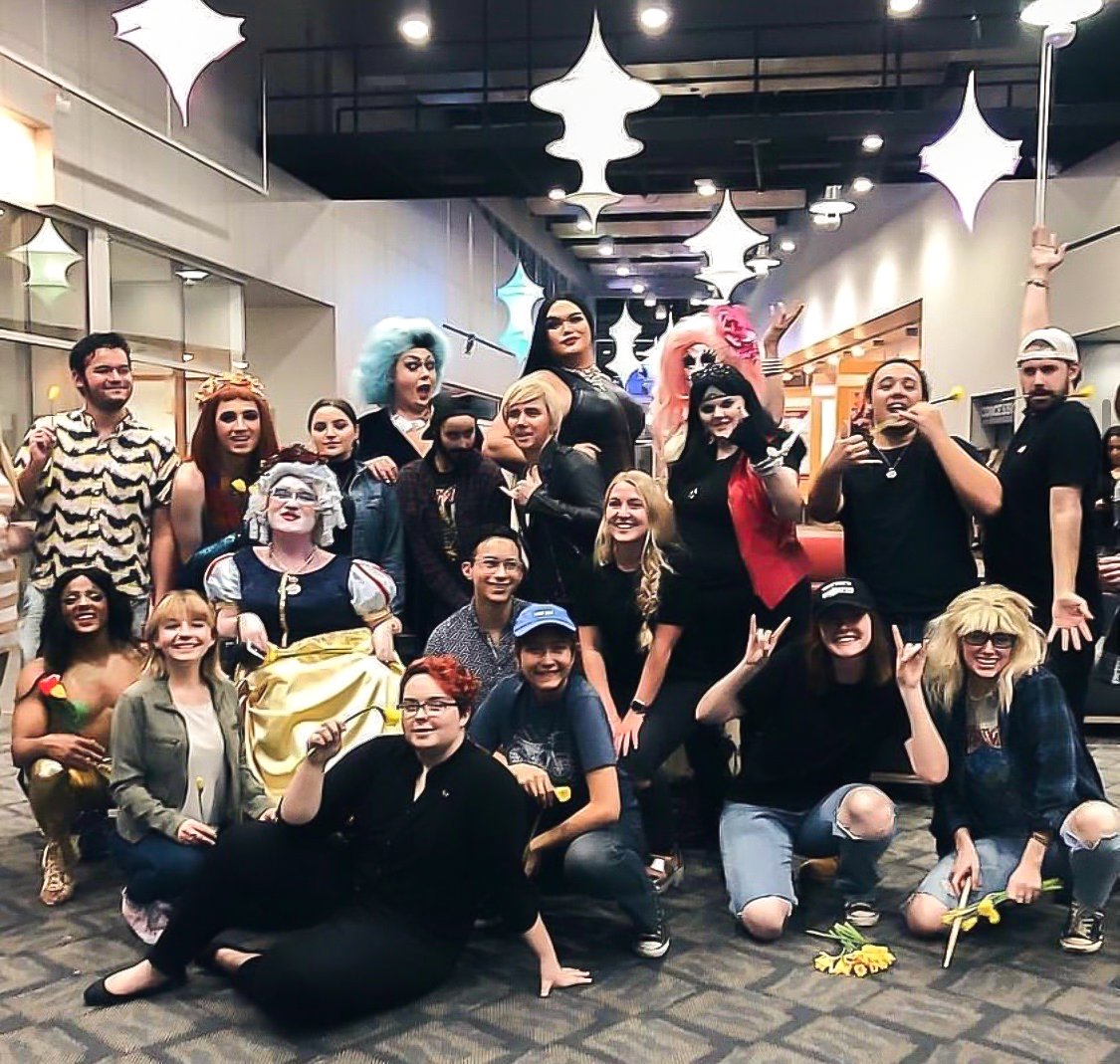 The LGBTQ+ club is getting ready for its 2019 annual drag show. The club members say the show means more than being royalty, it's their safe place. Photo courtesy of DSU Alumnus Tanner Gilman.
---
Participants anxiously wait as judges banter behind a long table draped in red velvet. In a few minutes, the contestants will be asked to stand in the center of the room and audition for Dixie State University's 2020 annual Drag Show.
The drag show at DSU is one night of glitz, glam, ginormous hair, vibrant makeup and sparkling costumes… right?
Members of the DSU LGBTQ+ Student Association disagree, saying the event means so much more than just becoming drag royalty.
"I grew up in a small town where there was no community or place to go for people who weren't straight," said Aubrey Spendlove, a freshman criminal justice major from Circleville. "I was really touched when I came here because there was a safe place for people like me to go, somewhere where I wouldn't be judged because I was different. That's what made me want to audition to be in the show."
Spendlove said the DSU drag show is important, not only for members of the LGBTQ+ Student Association, but for everyone at DSU because it allows you to express yourself and truly represent who you are.
The show is not limited to students who identify as transgender; anyone can participate.
"This show could close the gap between the queer community and heterosexual community because not all performers who engage in drag shows are LGBTQ+," said December Thomas, a junior applied sociology major from Detroit. "So many people in our community are simply hiding who they are to satisfy the people around them. This show will encourage everyone in the St. George community to live happily, and to be proud of their lifestyle whether they are queer or straight."
Thomas, who is also the president of the LGBTQ+ Student Association, said the drag show will consist of participants performing talents such as dancing, lip syncing and singing center stage. This year, Kourtney La'Roux, a professional drag performer from Las Vegas, will be showcasing her talents at the show as well.
In the 2019 DSU Drag Show, performers dazzled on stage with shiny gold leggings, Disney princess themed costumes, red platform latex boots and more.
Brixalee Patino, a freshman art animation major from Beaver, said her edgy costume and makeup for the drag show is what she is most excited about.
Patino said: "You can expect to see me in lots of leather. All black, really edgy, with makeup. I plan to make myself look like a mysterious man, giving everyone detective vibes. Lots of stubble going on, bushy eyebrows and possibly a colorful mask covering half my face."
Spendlove said although it is important to drag royalty to create the perfect costume and apply really dramatic makeup, he wants to focus on perfecting his acting on stage and encouraging the crowd to have an amazing time.
"I'm hoping this will be something fun and exciting for everyone on campus to look forward to because we've all had a tough year so far," said Elizabeth Aguirre, LGBTQ+ Resource Center coordinator. "This is definitely something different that people from St. George are not accustomed to, and I believe that it is a beautiful thing to have change and appreciation of differences."
St. George and DSU itself has a vibrant, colorful community of LGBTQ individuals that deserve to not be afraid of who they are, especially while they are on stage, Aguirre said. A lot of DSU students who are part of this community come from backgrounds where many people did not support them or shunned them for their differences.
"For a long time, I just thought I was broken because growing up here in St. George I truly felt like I never understood who I was," said Krysthania Worthington, a sophomore history major from St. George. "So knowing that we have this drag show, where people like me can come out and proudly be who we are without feeling weird about it, is fulfilling."
Aguirre said students, faculty and staff have shown tremendous support for the LGBTQ+ Student Association, which is a huge step in the right direction for the St. George community as a whole. Aguirre hopes the support will continue and many people will attend the show to have a good time and show their love for the drag queens and kings.
"I just hope people aren't afraid to come see the show, even if it's not really their thing or they are really out of their comfort zone," Spendlove said. "This is their opportunity to see what we are about; it's more than just glitz and glam. Everyone may think we're bold for performing, but it takes someone just as bold to come watch."
Aguirre said the drag show was originally planned for March, but was postponed to Oct. 1 due to the mayhem of COVID-19.
For more information, follow the DSU LGBTQ+ Student Association Instagram account @dsulgbt, and be on the look out for updates about the event.
Want to read more? Follow us on Twitter and Facebook for daily articles and updates!