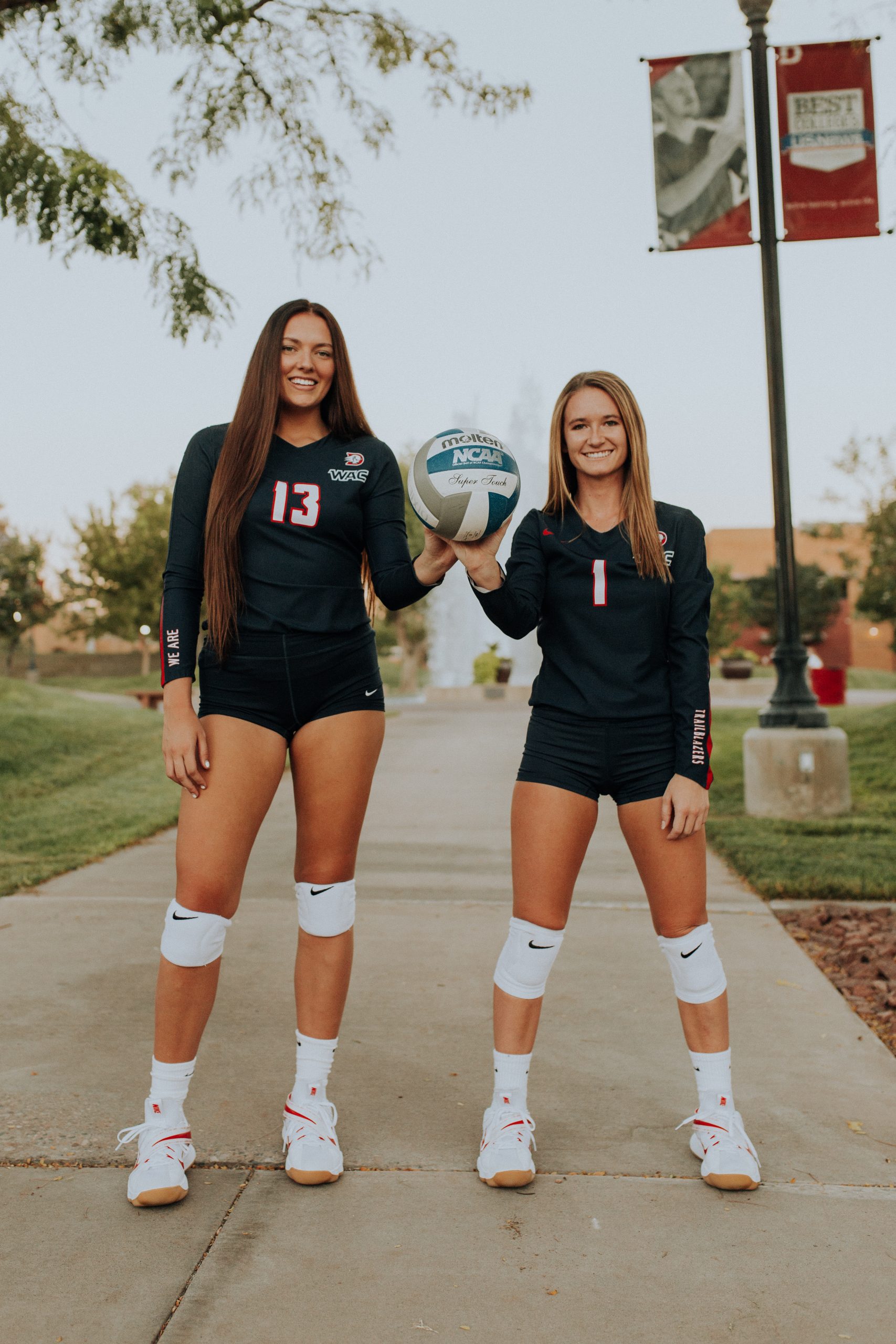 Megan Treanor, a senior communication studies major from Salem, and Jordyn Nelson, a senior medical laboratory science major from Phoenix, are beginning their final seasons as trailblazers with uncertainty. Photo by Emily Wight.
---
In a year filled with uncertainty, Dixie State University volleyball is taking it in stride as it prepares for a new division, conference and even stadium to play in.
The jump to Division I has been big for the Trailblazers as they look to add more in-state games they were eager to compete against.
"We were scheduled to play SUU, Weber and Utah State, so we had some in-state rivals we were looking forward to," head coach Robyn Felder said. "We are waiting to see what the NCAA will let us do, and then we are going to get after it."
The upcoming collegiate volleyball season across the nation is still experiencing unknowns, but this hasn't stopped the Trailblazers from prepping for its first DI game.
Sydney Johnson, a senior business administration major from Spokane, Washington, said, "We don't want to just creep into the WAC, we want to come in, play a full season and establish our university and team in the conference."
Along with the change from DII to DI, the volleyball program now has different scholarship regulations as well.
Latest in Sports:
"As a DII [program] we could scholarship as many kids as we want." Felder said. "Everything can be partial…I could give one kid half [scholarship], housing [paid for], where at the DI level if I give one player a dollar it counts as a full ride, and I only get 12 [scholarships]."
This could potentially affect the Trailblazers and the way they recruit. Previously almost all players on the roster could have areas of their college paid for, where now they are only permitted 12. The jump to DI also affects recruiting because players have dreamed of playing DI ball their whole playing career.
The jump for the DSU volleyball team has been an unforgettable one.
"I'm just excited to finally be DI," said Megan Treanor, a senior communication studies major from Salem. "As of now, we are supposed to have a preseason and tournaments before our WAC games begin."
The NCAA has yet to announce any further action regarding scheduling for the spring season, which has left the Trailblazers with a handful of unknowns.
"It's frustrating because we have no control over it, and neither do our coaches," Treanor said. "It was hard just waiting week by week to see if we were even going to have a season."
Once the NCAA announced that the season will be played in the spring of 2021, there weren't many other details to follow.
"They haven't set the parameters of how long our season is going to be, or if they are going to give us a pre season," Felder said.
The Trailblazers do, however, know one for sure change, and that is their games will now be held in the M. Anthony Burns Arena, which has a capacity of 5,000.
"The Burns [arena] is bigger, it feels different, the ceilings are high, you've got the jumbotrons, it just feels like a bigger setting, and that's going to be huge for us," Felder said.
The Trailblazers had games scheduled against well known Division I colleges including the University of Gonzaga, located in Spokane, Washington. This game was going to mean a lot to the Tailblazers, but particularly for Johnson because she is from Spokane.
"I went home last spring once classes went online, and I played sand volleyball against some of the girls that play there [Gonzaga]," Johnson said.
The outside hitter for the Trailblazer recorded 54 kills with 10 aces last season.
"Even though it would have been nice to play in the fall, more than anything we want a full season," Johnson said. "If that means we don't play in the fall, but we play in the spring so we can play more games, that's where we stand."
For now, DSU is pushing themsevles and trying to focus on areas they can control, opposed to worrying about outside factors.
"As a team, something we wanted to focus on this fall was being mentally tough, we are there physically and have the capability to compete physically with these DI players who have physical talent, but I think mentally is where we want to really get there," Treanor said. "The games are going to be tougher, the crowds are going to be meaner, things are going to be different, and the level is going to be a lot higher."
Want to read more? Follow us on Twitter and Facebook for daily articles and updates!