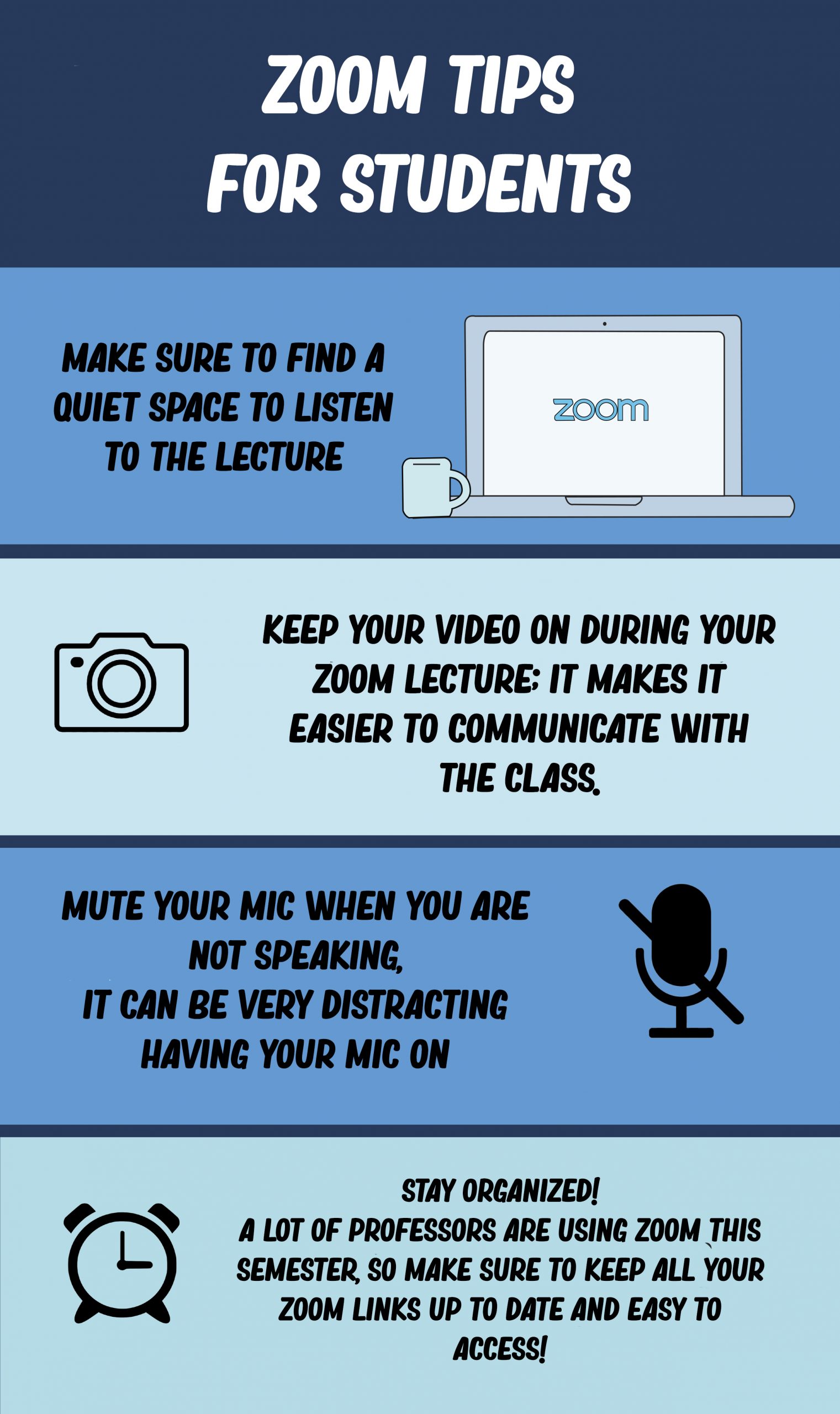 Schooling through Zoom is a difficult new "normal" to navigate, so here are a few tips on how students can do it the right way. Graphic by Misha Mosiichuk.
---
Dogs bark in the background from one student, while another student breathes too loudly into the microphone and yet another student appears to be lounging at the beach instead of taking notes. While all of this is going on, you are trying to learn a new subject at Dixie State University.
Growing up we've learned proper etiquette in classes and ways to behave in social settings. In elementary school we learned simple things like raising our hands if we have a question, remaining focused throughout class and being nice to others around us. How can we have proper classroom etiquette if we aren't attending class in person right now?
Here are some tips to ensure you zoom your way to classroom success this semester:
Screen Time
"If you feel comfortable doing so, turn on your camera," said Kisa Smith, humanities and social sciences professor, "Classes are much more fun when you can see each other's faces, and instructors love seeing you instead of just a screen of black squares."
Professors would love to see your intrigued face throughout the lecture, but maybe just not on a rollercoaster or in a spacesuit on the moon. Keep your screen professional and respectful to those in your classes who are trying their best to learn with as few distractions as possible.
Harrison Labrum, a senior exercise science major from St. George, said, "Having a beach background or other screen background gives us as students another thing to distract our attention from the class."
Dressing for success is also a way to remain professional instead of letting others see your favorite PJs or blanket since third grade.
Create a Study Space
Student housing can be a tricky place to find somewhere quiet to study or zoom into classes; however, as you limit the distractions you surround yourself with, you'll be able to better focus on what the lecture is covering.
Nick Jensen, a senior exercise science major from St. George, said, "My best advice to those who are new to the Zoom meetings is to have a note pad available to take notes and to try and set their phone aside during the lecture because it can be very distracting during class."
To Mute or Not to Mute?
None of us want to be "that student" where we hear all the background conversations occurring or the heavy breathing into the mic.
"If students have their mics on then there is a lot of background noise and [that] makes it very hard to concentrate on what the teacher is saying," Labrum said.
Zoom has a simple feature that allows users to mute and unmute themselves at any given point. By doing this, it allows for all audio to be focused on one individual at a time or the one speaking.
Jensen said, "Keep [students'] mics muted because of the background noise and how much it can distract the rest of the class."
Organize Zoom Invitations
When your professor invites you to a Zoom meeting, you get a notification on Canvas. With all of the different classes students are taking throughout the semester, this can be extremely confusing and hard to keep track of. To stay organized and make your life somewhat easier, get a planner, an app or another way to stay on top of class periods and zoom meeting times. Apps like Time Planner allow you to add your class schedule and homework assignments to help you stay on top of your semester.
A user can actually turn on a reminder for meeting times within the Zoom app itself. This is another way to help you keep track of your Zoom lectures.
Listening to the full lecture is also a way to stay organized as assignments and quizzes are also brought up at the end of class periods. This will help you stay prepared and organized for the classes you are taking.
Tips and Tricks
With this app taking off during the pandemic, there are hundreds of user friendly tips and tricks that can be done.
The screen can be moved around to best fit your desktop and notes, the size of the screen can be adjusted and a participant's screen can be pinned so you stay watching their screen the whole time.
"No matter how students show up to the call and what their background looks like, we instructors are just so happy to have them join us," Smith said. "I am always happy to see my students, even if they're Zooming in from a messy room!"
Want to read more? Follow us on Twitter and Facebook for daily articles and updates!