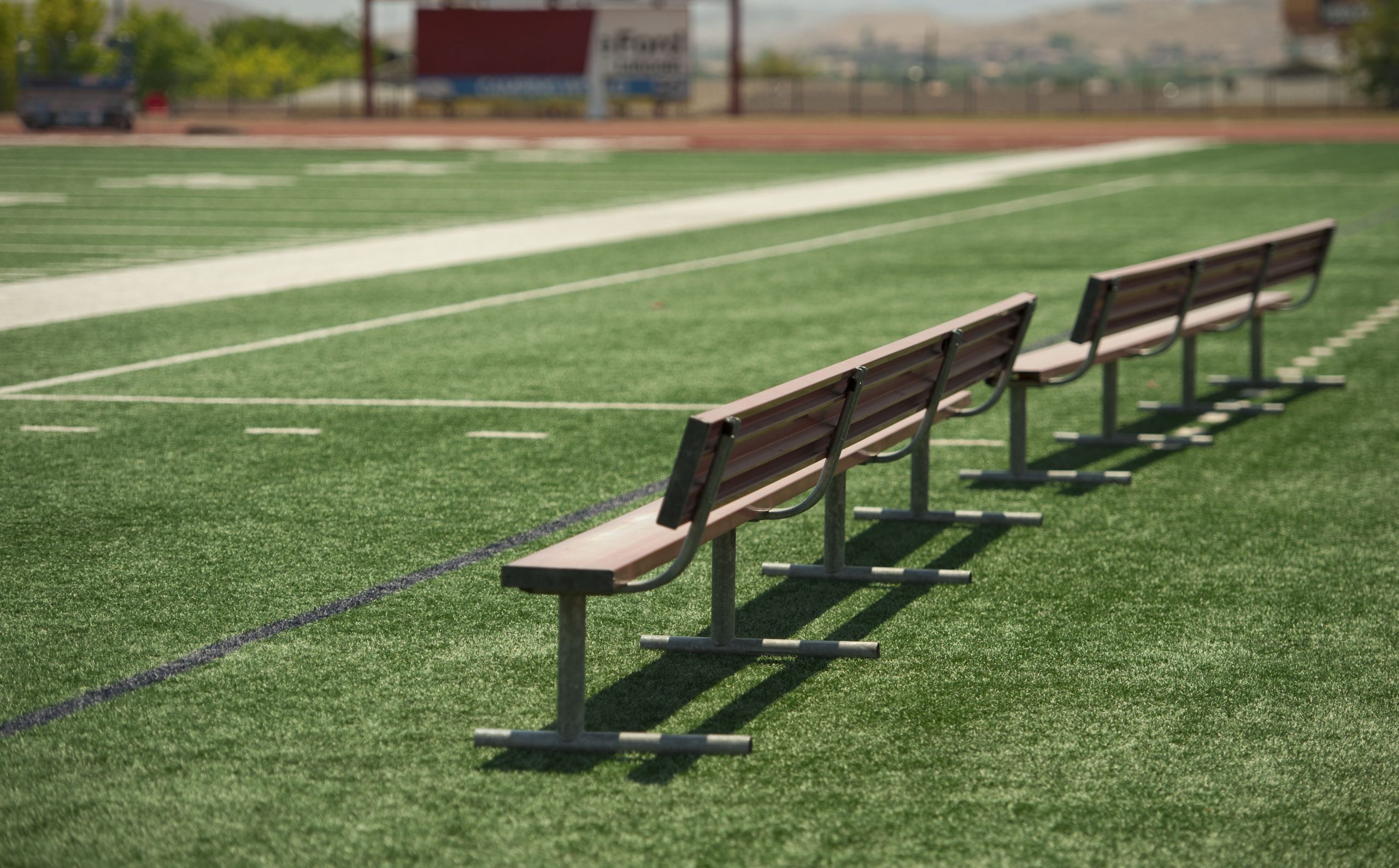 The bench is staying empty this season after all fall sports were postponed until at least the spring semester. This may give teams extra time to hone their skills. Photo by Tianna Major.
---
Dixie State University fans will have to wait at least another few months for the Trailblazers to return to competition as all fall sports are postponed due to COVID-19.
DSU announced the suspension of fall sports on Aug. 12, following the canceled conferences of other in-state schools such as the University of Utah, Weber State University and Southern Utah University. DSU Athletic Director Jason Boothe said he is planning on playing the season in the spring.
"Everyone was pretty disappointed when the postponement was announced, but we understand it's something we don't have any control over," said football player Ty Murphy, a senior business administration major from Colorado Springs, Arizona. "As each day passed, another team [or] conference postponed their season, and it felt like it was only a matter of time before our [season] was postponed as well."
DSU football is an FCS Independent team, while the rest of the sports are part of the Western Athletic Conference. The WAC has suspended all 2020 fall sports, which had some effect on the process for the Trailblazers football team to follow suit. As DSU's scheduled opponents started canceling their games, DSU athletics was inclined to do the same thing.
Not only is this news detrimental for DSU fans, but players and coaches must deal with the inability to perform and play this fall too.
The Trailblazer football team was set to make its Division I debut against in-state opponent Southern Utah University on Sept. 5.
With the major impacts the cancellation has on scheduling, this also has an effect on DSU financially.
"While we won't have as many of the expenses that we normally would have playing, there will be a lot of revenues that we won't see," Boothe said. "Any money that we do receive will go towards covering expenses that we will have, whether we play or not."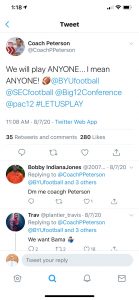 There is nothing set as of now for a spring schedule because of the uncertainty surrounding the pandemic. Conferences that have canceled their seasons have turned to possibly playing solely in-conference games of nine to 10 games, forcing a condensed number of games compared to any regular season that normally holds between 11 and 12.
"We will play ANYONE… I mean ANYONE," Peterson said in a tweet on Aug. 7 while tagging the Twitter accounts of Brigham Young University football, Division I powerhouse Southeastern Conference, BIG 12 Conference, and the Pac-12 Conference, as DSU struggled to find opponents to play this fall.
While we await the debut of the Division I Trailblazer football team, the players and coaches are using this time to gear up for when they can take the field once again.
"This gives us more time to develop our players in the weight room, improve our academics and find ways to give back to the community," said Paul Peterson, head coach of the DSU football team. "[We're] super excited, [and] we just have to wait a little longer."
There are still questions regarding when and how the fall sports will be back in action, but sports fans can be hopeful for further action in the future. For now, the players will have to settle for practices and other ways to improve themselves for future competitions.
"Right now, we are able to work out in smaller groups, and our coaches have set up some community service and team bonding-type activities," Murphy said. "It's something that is new to everybody, but we are just doing what we can to get better every day."
Want to read more? Follow us on Twitter and Facebook for daily articles and updates!