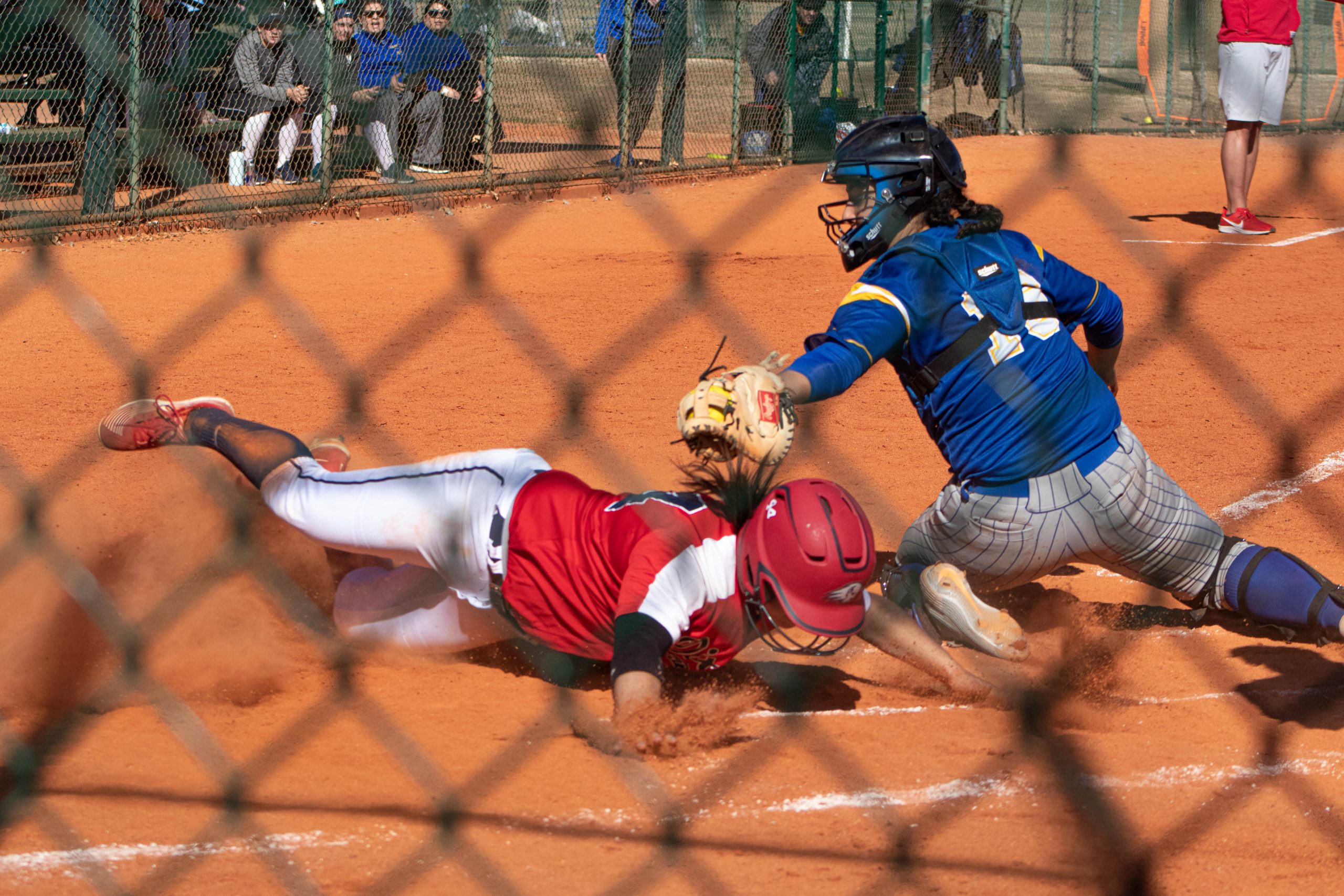 Riley Tyteca, a senior exercise science major from Farmington, plays on Feb. 8 at the Dixie State Courtyard Classic, running from third base and sliding under the tag to score for the Trailblazers. Photo by Breanna Biorato.
---
Dixie State University softball player Riley Tyteca, a senior exercise science major from Farmington, first picked up a bat at just four years old and has since become the Trailblazers' fastest baserunner and outfielder.
Head coach Randy Simkins said: "[Tyteca] brings top-level speed and power to our team. [She is] a player who has shown tremendous power during her career here at [DSU]. Some of her home runs in practices and games have been legendary."
The love for softball runs in the family, Tyteca said, as she is one of four sisters who played softball. Bailee, Shasta and Shelbi Tyteca all played for Utah State University.
Tyteca said: "They always encouraged me to become the best player I could be on the field and off of the field. My family always taught me to work hard at what I do."
Outside of softball, Tyteca said she loves horseback riding, hunting and camping.
"When I go and do these things it includes my family [who] I'm very close [to], and for that split second, being in the mountains or just the fact of riding my horse, gets me away from society for a little bit to be able to relax and enjoy being in the moment instead of worry about what is next on things to do," Tyteca said.
Simkins said she is a one-of-a-kind country girl personality who instantly gained the respect of others in the DSU softball program because she is so genuine and friendly to everyone.
From 2017 to the half-played 2020 season, Tyteca has put up 64 hits, 55 RBI, 11 home runs, 11 doubles and 39 stolen bases for the Trailblazers.
Assistant coach Dean Willingham said: "[Tyteca] worked hard on the field, off the field, in the classroom and in the weight room. She always had a smile on her face and was wearing her cowboy boots when she could –– even on the beach in Hawaii."
Despite being initially upset about the inevitable way her final softball season ended, Tyteca said things happen for a reason.
Tyteca said: "Would I love to have another game day? You better believe it, but that isn't an option for me anymore, so I'm going to take this opportunity and start finding that job, work hard on my schooling and start becoming the next best version of myself."
She said her career aspiration is to become a physical therapist assistant and her advice to seniors who are in the same position as her is to start creating a new chapter in their lives and figure out how they can improve themselves and accomplish new things.
"We all know being a student-athlete is hard when juggling classes, our sport and a social life," Tyteca said. "Just think: you have made it this far and you can continue doing hard things in a different kind of way."
Want to read more? Follow us on Twitter and Facebook for daily articles and updates!