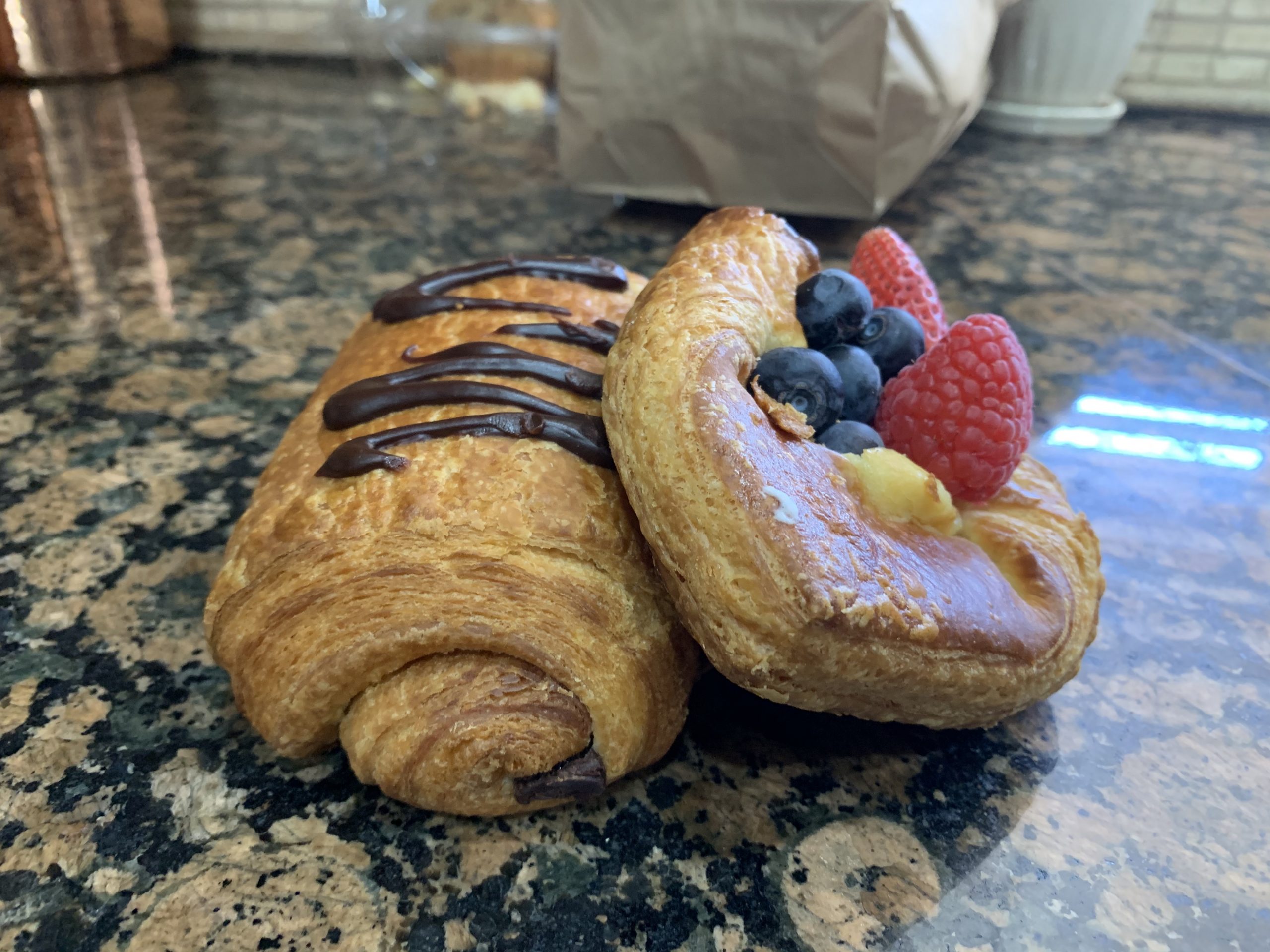 A chocolate croissant (left) and a triple berry danish (right) are just a few of the sweet and savory options of The French Bakery. Arielle Cabrera says the one thing the restaurant could improve on is limiting single-use plastics. Photo by Arielle Cabrera.
---
St. George is quickly becoming a booming bakery town, but none of the most popular places are French or nearly as welcoming as its latest addition.
The French Bakery made its debut three weeks ago in a quaint little shopping center, located behind Texas Roadhouse and next to Deseret Industries.
The location:

Its bright yellow sign above the door is attention grabbing and the signs are newly printed in way that indicates a new business. Despite its quiet opening, The French Bakery is a hot spot for Instagrammers and the older generation already because of its small business feel. During the weekdays, from 11-1, there is a bustle of older folks coming in to see what the new location offers, and whispers of the pastry's decadence can be heard when sitting near the front counter. Its rarely quiet.
A clear glass panel surrounds the counters, making the entire cooking area open and inviting. A small Vietnamese woman works the front counter along with her husband, both answering questions and taking orders in a chipper manner. Mitchell and Lan Sampson just recently opened the bakery 3 weeks ago. Mitchell lived in Vietnam for 6 years where he met and married his wife Lan, and 1 year in France, where he learned the French style of baking. Mitchell has been in the food buisness since he was 16. Now, several decades later, he is using his years of knowledge to serve traditional French style pasteries.
The food is brought out within 5-10 minutes depending on the complexity of the order. I felt a calm wash over me at the idea that I can see how my food is prepared and it was intriguing to see them at their work. It also made the time between waiting for my food go quickly.
The Sweet:
The French Bakery offers a variety of danishes and croissants. Before any pastry is served it's heated and placed on a paper plate and brought to the table which is only done at the best bakeries.
The triple berry Danish consists of blueberries, strawberries and raspberries atop a sweet-smelling cream cheese mixture placed in the center of the flaky dough.
The Savory:
To offset the sweetness, a Green Thai Tea is the best choice, though a stronger tea is offered, the Red Thai Tea. These are both mild without the bitterness of coffee. It does a good job of clearing the palate between bites while offering a cool alternative to iced coffee or soda. The tea itself is a bit chalky with powder on top and takes a few sips to adjust to its uniquley matcha like flavor.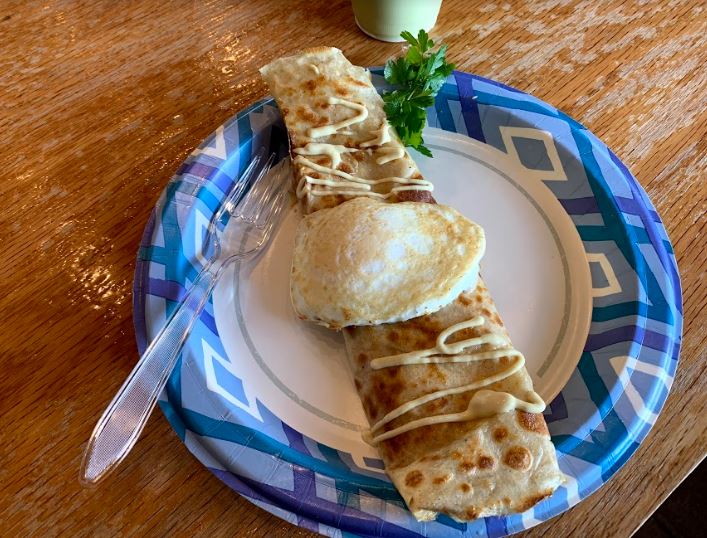 For a meal, the savory or sweet crepes are well portioned without being too much for one person. However, sharing will leave two people less than full so make sure to order something beside a crepe if you do share.
The egg, ham and swiss crepe with Dijon mustard was unlike any crepe I had eaten. I would be getting my crepe "French Style" with a fried egg on top, which he said is the true way to serve eggs with crepes. It brought the perfect break between the saltiness of the ham and Swiss cheese. The Dijon atop the crepe underneath the egg added a tart kick that rounded out the whole crepe.
Final Thoughts:

Its quaint location and cafe vibe make it inviting and comfortable to remain in even after the meal is finished . Its prices range in the special treat range for the individual but is very affordable when shared or split between 2 people or more. Each pasterie ranges from $3.25 to $5. The crepes range anywhere from $6 to $11. It could be the perfect spot to study or take a break from work with a warm and wonderful feeling environment. One drawback lies in its heavy use of non-environmentally conscious items such as their plastic utensils and paper plates. There are also only two individuals working there currently so it makes rushes much longer waits.
As the business grows, hopefully environmental consciousness will be a higher priority but for now, I'll be enjoying their Danishes at least once a week from now on.
Want to read more? Follow us on Twitter and Facebook for daily articles and updates!