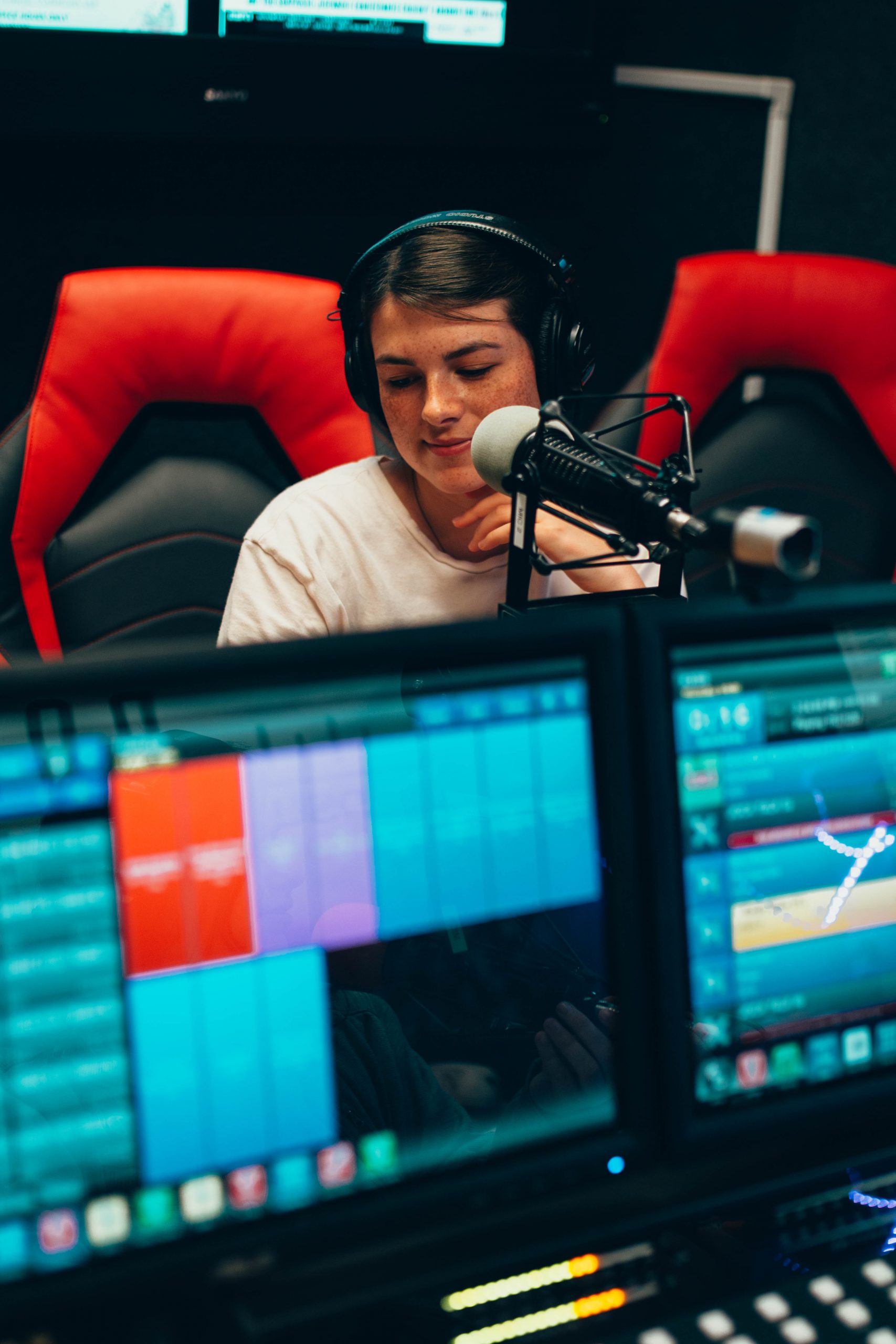 Marie Sewell, a sophomore psychology major from Hurricane, is live on air during a Radio Dixie show assisting Kimberly Butterfield, a senior theater major from St. George and the club president of Radio Dixie. Photo by Nickelle Blanton.
---
The trouble with love is…
Finding out how to handle relationships and the questions that may arise with them is something most college students relate to. A new relationship podcast airing on Radio Dixie, channel 91.3, is aimed at everything relationships and is aiming to gain popularity among students.
While you can listen to some rocking jams with Radio Dixie, you will also be able to listen to a relationship advice podcast that is making its way to campus in the fall.
James Stein, assistant professor of communication, is currently in the midst of trying to bring a relationship advice podcast to Radio Dixie.
The podcast would start next fall and would go over numerous topics pertaining to relationships from long-distance relationships, and how to recognize a toxic relationship, to safe sex practices.
"There are stigmas that go around, especially in college campuses, about what things are supposed to be like [in relationships]," said Stein, "The podcast is something students can turn to if they're struggling."
Stein said he wanted to do a podcast, because a podcast would be easier to fit into his schedule and it gave him more time to sit down and record multiple episodes. If the podcast gained popularity, then he would look into doing some sort of live show.
Lilian Chollet, a sophomore criminology major from West Covina, California, said podcasts are hard for her to get into. She mostly listens to crime podcasts and wasn't sure if a podcast about relationships would pique her interest.
"It would have to be something that is keeping me on the edge of my seat," Chollet said, "It'd have to be something intriguing and something I haven't heard about before."
Chollet said she wanted to hear from more than just one person on the podcast so she could gain more insight and information on the topics of relationships.
Stein said he already had a couple of friends in mind who he'd sit down with for the podcast.
Maire McDonough, a senior communications major from Tooele, said a relationship advice podcast is something she'd absolutely be interested in.
McDonough said, "A podcast about relationships would definitely be interesting, especially about relationships in this day and age."
While it's still in the works, Stein wants the podcast to be able to be an open zone for students where anyone is able to find support from the podcast and be able to have questions regarding relationships answered.
If you have any relationship topics you would like to have covered reach out to Stein at James.Stein@dixie.edu
Want to read more? Follow us on Twitter and Facebook for daily articles and updates!