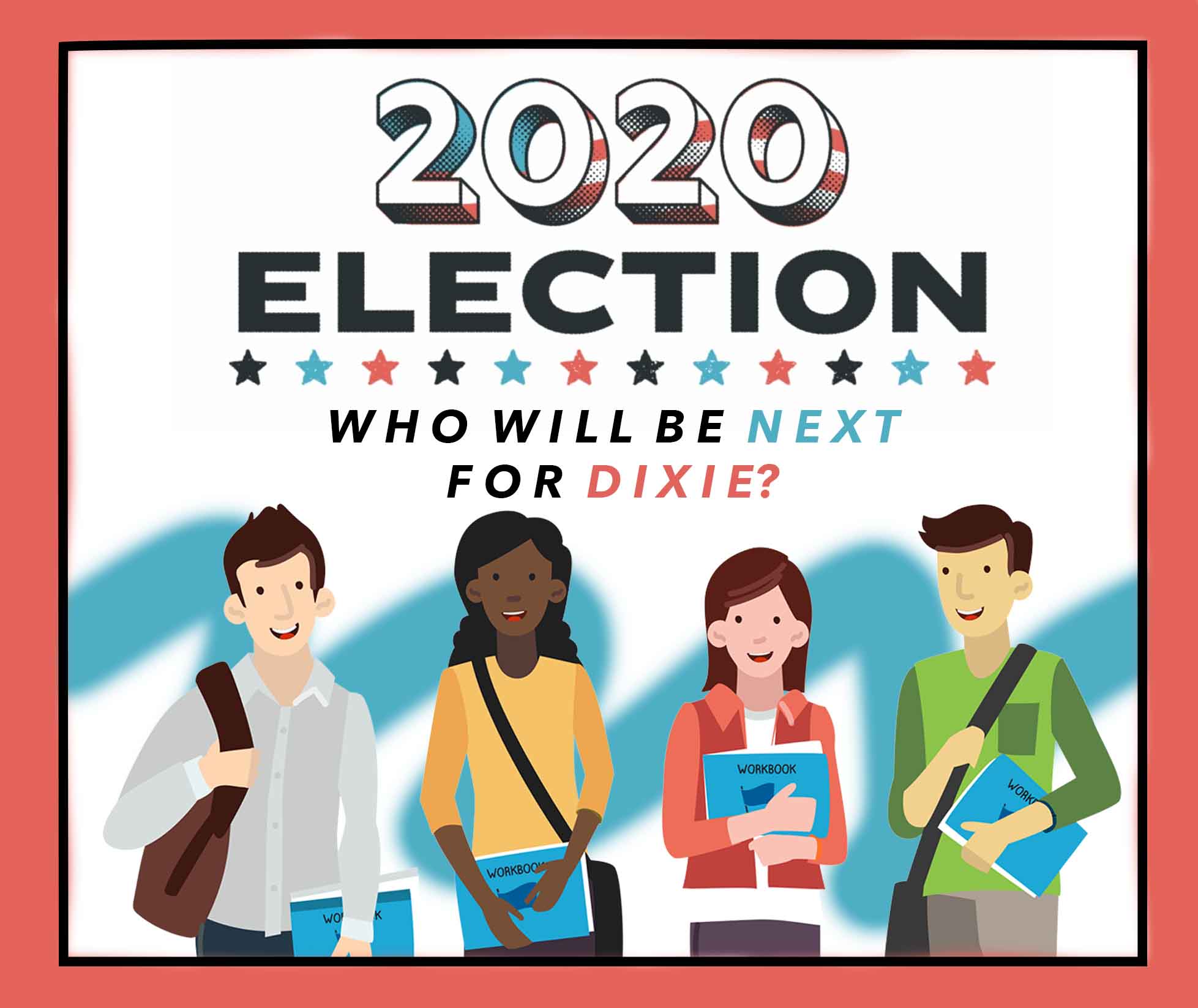 DSU is getting ready to start their 2020-2021 presidential election. The running candidates share their plans for the future. Graphic by Breanna Biorato.
---
The race for student body president is approaching and the candidates have announced what their goals would be if they were elected.
Ava Chollet, a junior biology major from West Covina, California, and Ryan Miggin, a junior accounting major from Syracuse, are two candidates running for student body president. They both share similar goals of wanting all to feel included at DSU.
"My number one goal is to be a voice for all students," said Miggin. "Not just a [voice for a] couple [of students] that are actively involved now, but for all of the students on campus."
The student body president represents all of the students on campus: it is crucial for the president to be involved in all that goes on around the school grounds including events, committees, clubs and games.
Miggin said he aspires for his shot to give back to his community and campus.
"As the student body president, I hope to take to meetings what the students want," Miggin said. "I have a couple of things that I want [to change], but those things don't matter. It's all about what the students want."
Chollet also wishes for the opportunity to achieve her goals.
"I hope to increase the resources that help students succeed both in academics and extracurricular activities, " Chollet said. "I plan to enhance students' experience by making sure to listen and act on campus."
By listening to the needs and opinions of different organizations and clubs, Chollet said she understands how important this is to listen and understand to cause necessary change.
"Because I have had the opportunity this past year to work with students who are involved with clubs on a daily basis, and I know the value of listening to the concerns or questions of each student," Chollet said. "The power if listening inevitably promotes action."
Penny Mills, a junior communication studies major from Orem, is also running for student body president, but was unavailable for a comment.
Taylor Godfrey, a senior nursing major from Buckeye, Arizona, is the current student body president for the Trailblazers, and will be doing what she can to help the next one to fill her position.
"Take advantage of every opportunity you have to aid the tremendous growth our university is experiencing and foster the continuation of that growth," Godfrey said. "The people of this university is what makes DSU so special and is what keeps the [DSU] spirit alive."
Godfrey said her position as student body president is an experience that she will never forget.
Primary voting for the election begins March 4 at 8 a.m. and closes at 3 p.m. on March 5. After this time period, the two finalists with the most votes will be in a final voting race from March 10 – 12, which will end at 1 p.m.
Last year, students were able to vote on the Canvas homepage, but it has not yet been announced how students will be able to vote this year.