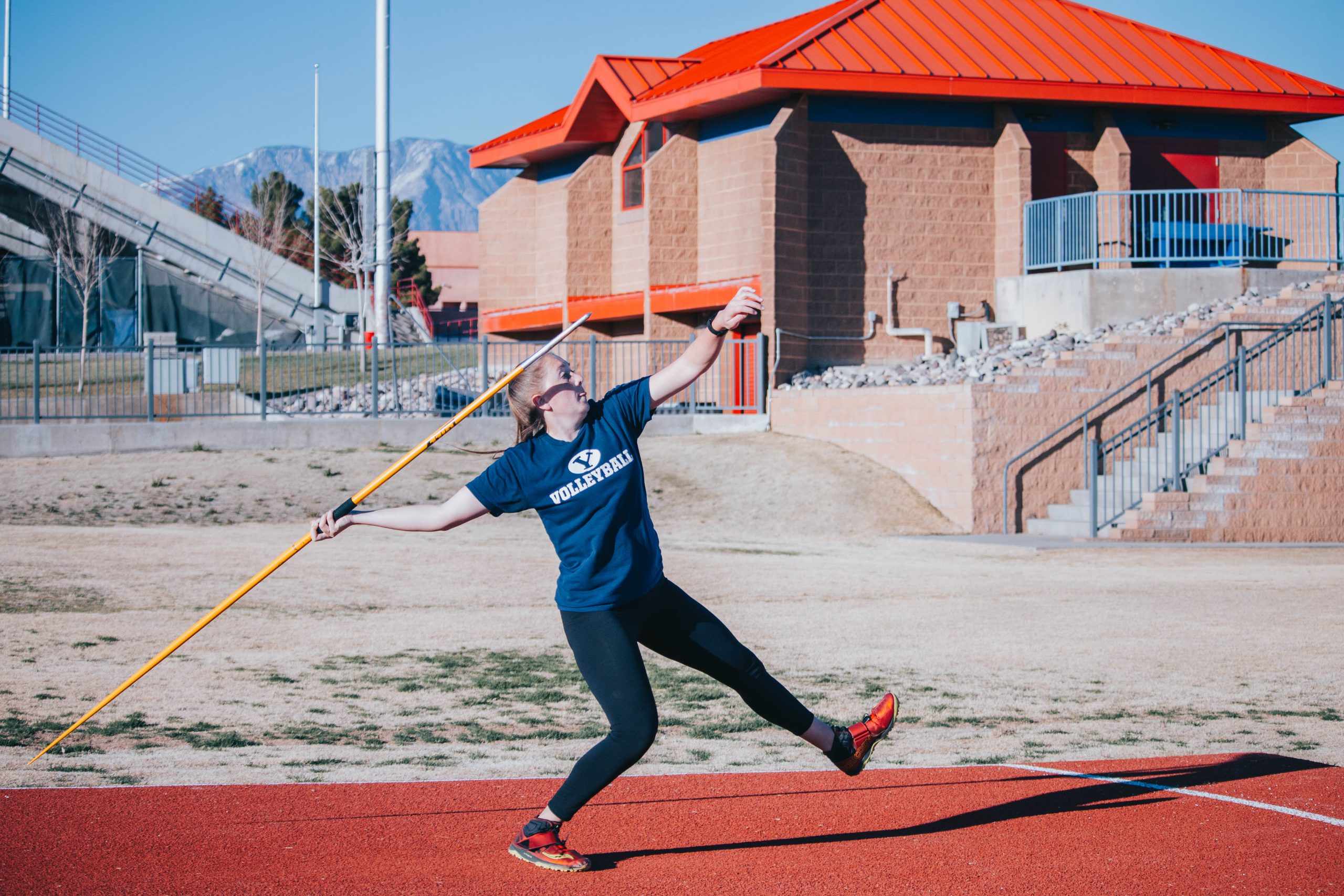 Morgan Reeder, a freshman radiologist major from Brigham City Utah out on the field practicing for javelin throw. Women's track and field will be competing in an invitational against University of Nevada, Las Vegas, on March 21. Photo by Nickelle Blanton.
---
Dixie State University's women's track and field team is running circles around its competitors.
The team competed at the Rossi Relay hosted by Claremont Mudd Scripps in Claremont, California. The Trailblazers competed in 13 events where they came away with breaking or tying eight school records.
Billie Hatch, a junior majoring in criminal justice from Preston, Idaho, broke her personal record in the 3000 meter run and also set a new record in the distance medley team with three other teammates.
Members of the field events portion including Kiera Lamoreaux, a freshman biology major from Red Rock, Arizona set new records alongside Hatch.
DSU competed in five field events, which marked an all-time high for field events in the program's history.
While the team is making and breaking records, they are mostly comprised of freshmen and sophomores.
"Despite being young, we have a lot of great athletes," said head coach, Justin Decker. "A lot of that is because we have new events that we're doing."
Decker said the upperclassmen on the team act as leaders for the younger athletes.
Decker said the additional coaching staff, field equipment, and practice areas have given the team an opportunity to grow.
Hatch said with the addition of the field events, the team has been able to set records they can be proud of and have now been able to compete in all the events instead of just distance.
Lamoreaux beat her personal record in the last meet. Lamoreaux is also on the swim team, but said she has enjoyed being a part of such a young track and field team.
"I love seeing how you lay the foundation for a team and how you build a good team culture before," Lamoreaux said. "The greatness can come after."
Lamoreaux said she hasn't had the opportunity to be with such a new team so seeing everyone grow together is really special to her.
Women's track and field will be competing in an invitational against University of Nevada, Las Vegas, on March 21.
Decker said the heat at UNLV might pose a potential problem to the team members, but he hopes it is not too detrimental.
Lamoreaux said, "I'm going to try and not psych myself out because it's a much bigger meet than the one we were just at."
When it comes to the meet itself, Lamoreaux said she didn't want to focus on what others will be doing, but rather focus on herself.
"This is my last season here," Hatch said. "I really want to have a good season, but I want my team to have an even better season."