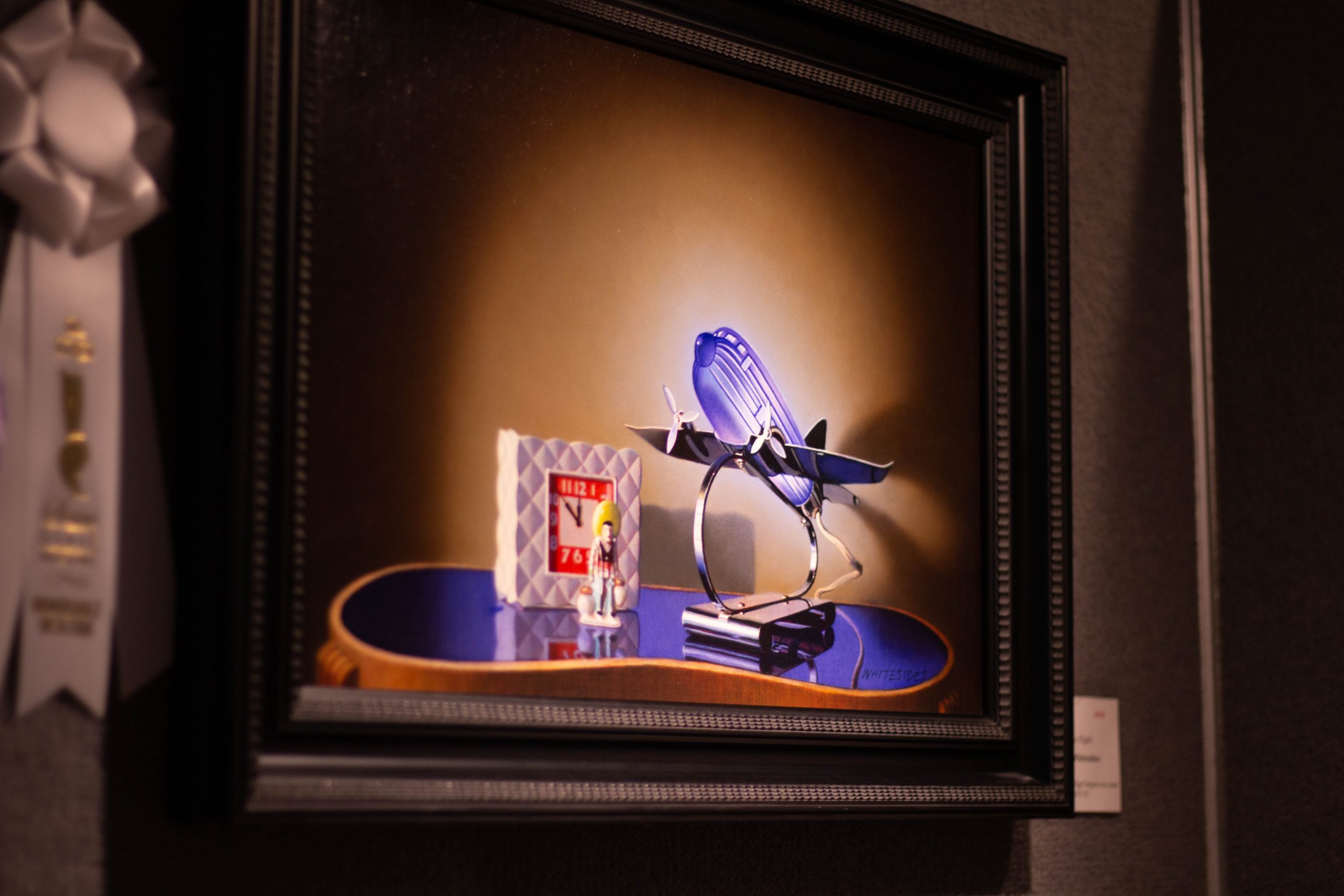 Nite Flight by Kim Whitesides is a iols glazed over egg tempera on linen piece feature at the Sears Art museum located in the eccles building. See this piece of art and many more by visiting the eccles. Photo by Nickelle Blanton
---
Dixie State University is holding its 33rd annual Dixie Sears Invitational filled with a variety of artwork for the enjoyment of DSU students and the community.
The Sears Art Museum opened its doors on Feb. 14 and will be open until the end of March.
Artists from around the area were able to submit their works to the gallery and have the opportunity for their art to be sold during the art show pre-sale held on the day of the opening.
Artists such as Rebecca Hartvigsen were shown in this year's show.
Hartvigsen has lived most of her life around Salt Lake City but has traveled through Europe and found that the museums and artwork were a great teaching experience for her, Hartvigsen said.
Hartvigsen has a piece in the Sears Art Museum called "Night Flight;" it is a watercolor piece depicting colorful hot air balloons surrounded by people.
Hartvigsen said her inspiration for the piece was a photo taken at the Albuquerque Balloon Fiesta.
"I have always loved hot air balloons," Hartvigsen said. "I saw one as a child and fell in love. They are just so beautiful floating in the sky not making a sound. I am fascinated with designs they come up with."
Hartvigsen's piece went on to win the best of the show in the Utah Watercolor Society's Signature Members show and went to Tucson for the Western Federation of Watercolor Society's show before coming to DSU Sears Art Gallery and being sold during the pre-sale. Hartvigsen said she will really miss it but is happy people got to see it.
Other artists include a family who were both in this year's show, Douglas and Dianne Adams.
Douglas and Dianne Adams have been artists for a long time and they have now passed that trait on to their 16-year-old son. He is a painter like his mother and a welder like his father.
The Adams are planning to be at the St. George Art Festival and they will each have their own stands showing their work.
Douglas Adams has a sculpture and a table in the show; Dianne Adams has a painting.
The sculpture by Douglas Adams was a piece made of steel and glass and has a bell that can be rung. The name of the piece was "Wisp;" it has sold. The table by Douglas Adams was called "Pinon" and was made of pinon pine, steel, stone and glass. The table has also sold.
Dianne Adams said she and her husband each have their own studios where they can focus solely on their work.
Dianne has a piece called "Sinclar", a watercolor piece that is being sold at $3,080 at the Sears Art Museum. The piece shows an old fashion Sinclair gasoline pump that has been rusted.
Another artist in this year's show was Kim Whitesides. Whitesides had detailed pieces in the gallery, one being "Coral Dunes," an oil piece on linen that shows a scenic view on cliffs during a sunset.
Whitesides also has another oil piece called "Nite Flight," which shows a model airplane resting on a table next to a clock and a cowboy figurine. The piece has been sold and won the 2020 purchase prize award.
Whitesides said he drew inspiration for his painting technique from the European Renaissance masters' methods of "light from within."
These are only a few of the pieces at the Sears Art Museum. The money from each sale is what helps fund the museum and keep running to bring a quality art exhibit to the community of St. George. The museum is open Monday through Friday, from 9 a.m.-5 p.m. and is closed on weekends and school holidays.