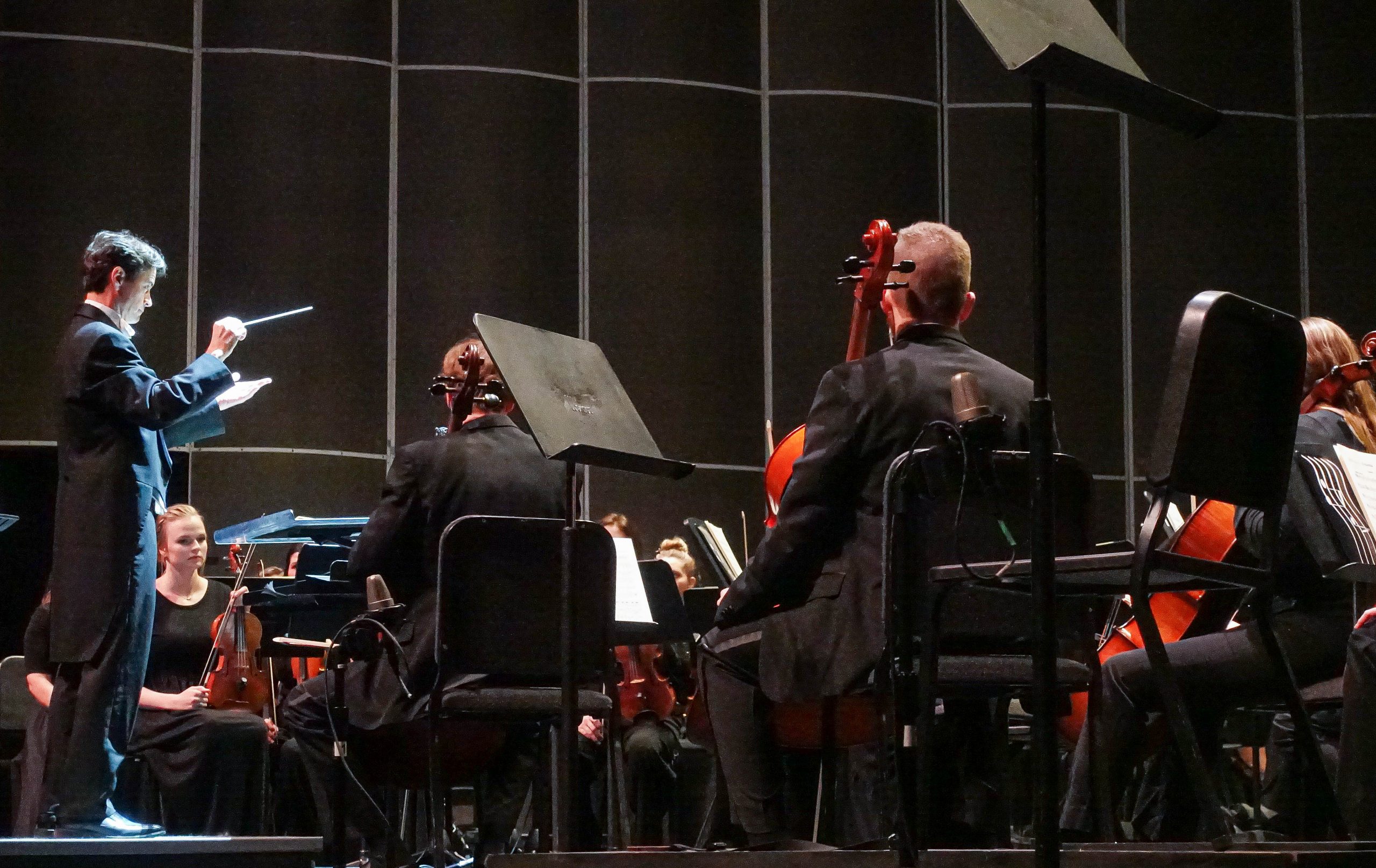 The Dixie State University symphony orchestra performed alongside four faculty members in the Cox Auditorium on Feb. 22. Students, faculty and community members gathered to celebrate the 100th anniversary of the establishment of Zion National Park. Photo by Abby Doman.
---
The Dixie State University Symphony Orchestra students are celebrating the 100th anniversary of Zion National Park and the 250th anniversary of Beethoven.
A three-piece concert featuring the never before heard Re (Creating) Zion was held Feb. 22 was held in the Cox Auditorium. Re (Creating) Zion was composed by Steven Ricks and featured faculty soloists Glenn Webb, Robert Matheson, Linda Chidossi and Ka-Wai Yu.
Not only was it a chance for the students to show off their six-hours per week combined practice plus the two three-hours of individual practice at home, but it gave faculty a chance to play as well.
Despite the long practices, synchronization and unity is difficult to achieve, said Justyn Hillhand, a sophomore music education major from Las Vegas and a bassoon player.
"The parts themselves aren't very difficult as individuals, but when you bring everyone together in the same room, it's easy to get off from each other," Hillhand said.
The students had only heard the newest piece through an electronic recording prior to learning it. Re (Creating) Zion was also being tweaked by Ricks while the students were learning it, said Ethan Allen, a freshman math education major from Hurricane and the double bass player.
The DSU Symphony Orchestra plays five concerts per year but does not compete because there is not enough students to have a full symphony.
The DSU Symphony Orchestra's first concert of the year is on Sept. 25 in St. George Town Square. The town is invited to come and watch the students and faculty show off their hours of practice.
Orchestra Director Paul Abegg, said that students should go to concerts to "support their fellow students and to hear great music."
The concerts are $5 to the general public and $1 for DSU students.
"I'm a performance major, but music education something that's important to me still. Letting people know that there are lots of kinds of music and if you just give it a try, you might find something new that you like," sophomore music performance major from St. George, Isaac Erickson said.