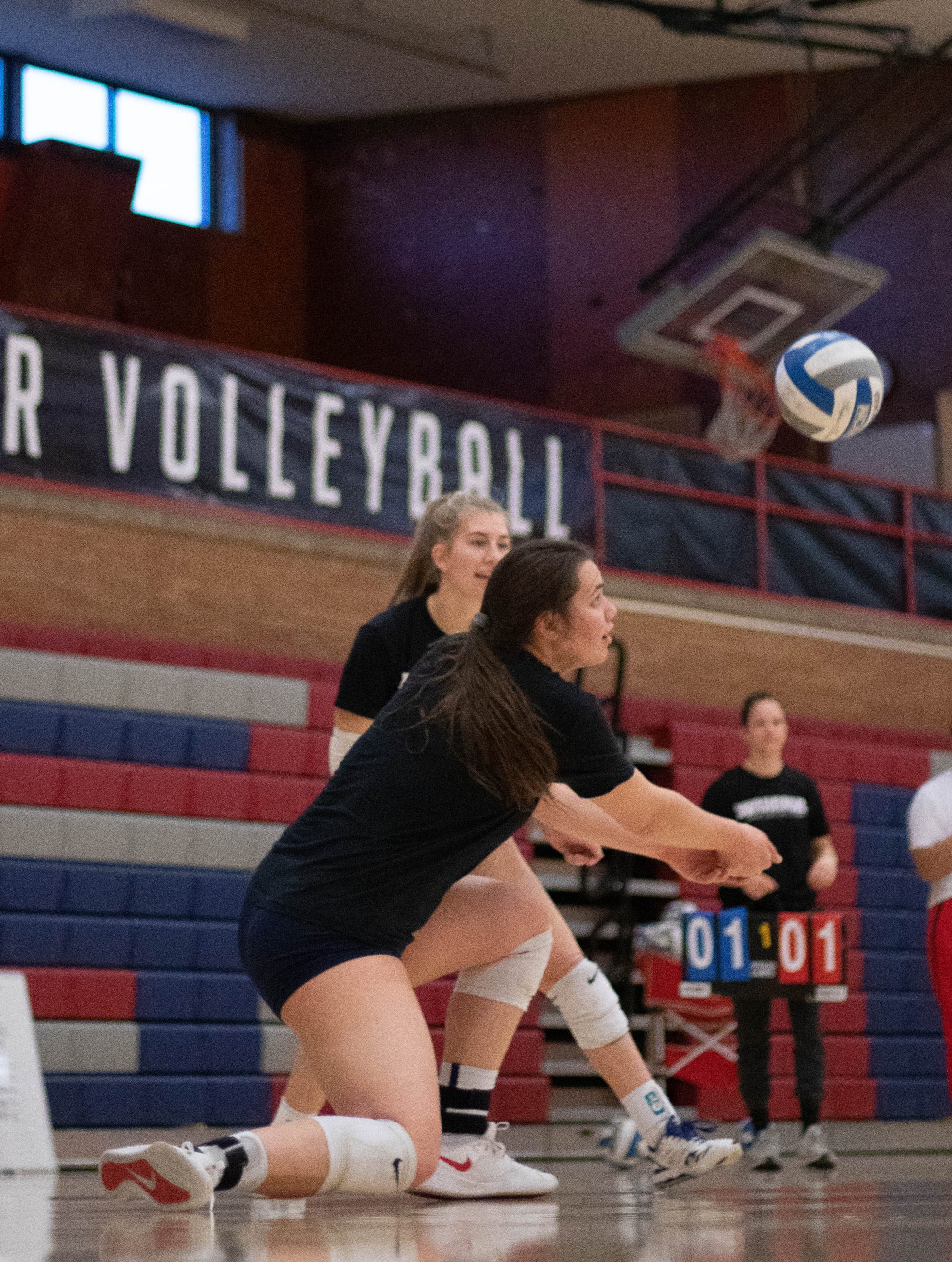 Whittnee Nihipali, a sophomore psychology major from Las Vegas transfers to DSU to get ready for next years Division I move. Whittnee trains and works out with the team getting ready for next seasons games. Photo by Breanna Biorato.
---
Whittnee Nihipali, a sophomore psychology major from Las Vegas, is a new addition to the Dixie State University volleyball team roster.
Nihipali arrived to St. George the day before the spring 2020 semester began.
"It was hard, but it was definitely worth it to be able to come here," Nihipali said.
As DSU transitions into Division I, Nihipali will be key as she already has experience playing at that level as a former PAC-12 Conference athlete at the University of Arizona. In her sophomore season as a Wildcat, Nihipali played in 12 matches with four starts. She had a career-high of 12 kills against Sacramento State University and 9 digs against the University of Southern California.
"We knew we would need [Nihipali] to come right in and contribute," head coach Robyn Felder said. "She's going to be a junior, she has DI experience, and that was our conversation with her: 'You're going to come in and you're going to lead the way for us. We've never done this before and you've been there, done that,' and that's just what she did from the minute she stepped in the gym."
Felder first recruited Nihipali when she was in high school and contacted her as soon as she saw she was on the transfer portal.
"She just kind of has a presence about her that is demanding and commanding," Felder said. "She is powerful, she's strong inside the classroom, out of the classroom, in the weight room; she's just an awesome example of a DI athlete, which is where we're headed."
Nihipali said the biggest reason she came to DSU was because of her friendship with her former teammate and DSU volleyball setter Siara Roberts, a sophomore nursing major from Las Vegas.
Their friendship began when the two played against each other as rivals in high school. Roberts played at Centennial High School and Nihipali played at Shadow Ridge High School in Las Vegas. The two ended up playing club volleyball together.
"It was so much fun," Roberts said. "We just clicked right away. I was setting that year and she was playing outside, so we instantly had a connection. We were really good friends on and off the court."
Roberts said since she found out about DSU's move to DI, she thought Nihipali would fit well with the coaches, team and how the program is run.
"[Nihipali] has only been here for a little bit, but she's already brought so much to our team," Roberts said. "She's a big powerhouse on the outside and can kill balls, which is awesome because we just lost our senior outside To'a [Faleo], who really put balls away for us last year."
Nihipali said she is thankful for the different opportunities DSU has given her.
As for why she transferred from U of A, she said she just wasn't happy there for different reasons and felt like she needed a change in her life.
Nihipali said: "I feel like here it's not like volleyball is life and that is the only thing that dictates my life. I feel like it helps me grow better as a person overall; where at U of A, it was only volleyball 24/7 – eat, breathe move – and it just kind of consumed my life. [DSU] gave me the opportunity to grow in different aspects of my life."
One of the aspects she said she wants growth in is academics. Nihipali originally majored in speech and hearing sciences at U of A, but has since switched to psychology because she wants to work as a sports psychologist.
"I want to help athletes that are struggling mentally and hopefully use my experiences to help others fix that," she said.
The team has officially begun spring practices since ending its last season with a straight-set loss to Metropolitan State University-Denver on Nov. 22. Nihipali said her goal going into her first year as a Trailblazer is to just do the best she can in volleyball and in school.
"It's a new conference – it's DI," Nihipali said. "We have nothing to lose, just everything to prove."

Want to read more? Follow us on Twitter and Facebook for daily articles and updates!