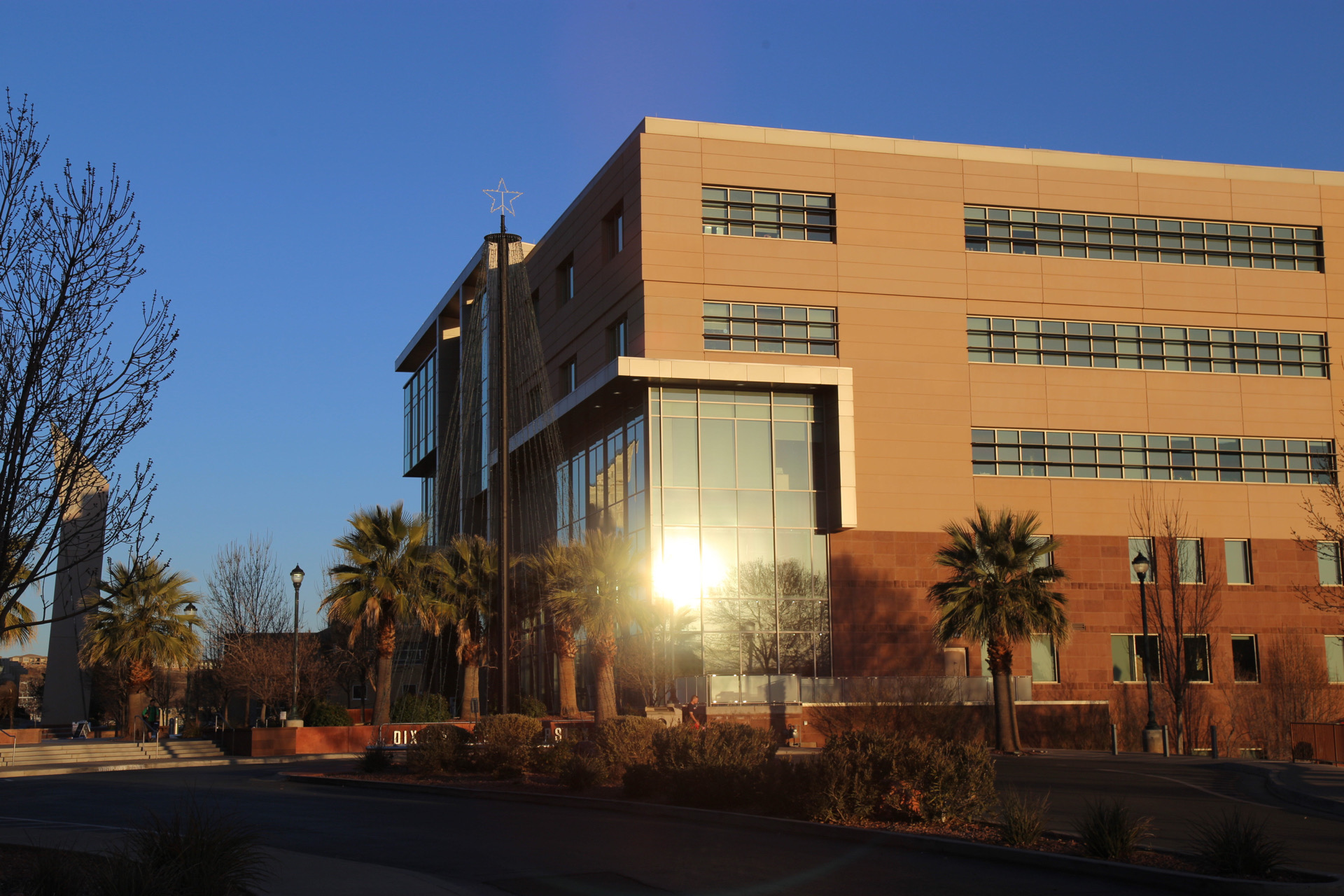 DSU offers a small campus with professors and staff that are willing to commit to helping you succeed in academics. The differences in a smaller college and the opportunities offered because of it can be life altering and something to consider if you are determined to continue your academic career. Photo by Jessica Johnson.
---
Small campuses create an atmosphere that cannot be matched.
Dixie State University has a total undergraduate enrollment of 11,193 students. This, is considered to be a small school.
High school students that are preparing to go to college have to make a decision on whether or not they want to attend a big or small university. There are definitely pros and cons to both, but ultimately it is personal preference on what would be the best learning environment for you.
A small campus will naturally create more opportunities in all aspects. For athletes, choosing to attend a small campus may mean more playing time and a better chance of standing out and getting noticed by recruiters.
For academics, a smaller campus also creates a much closer bond between professors and students. The class sizes are small enough that most professors know you by name and have been able to communicate with you throughout the semester. This allows students to really get hands-on help and utilize the professor's knowledge easily when needed.
Having a smaller campus means less of a walk from class to class; everything is close by and people you meet become familiar quickly. Activities on campus vary, but because of the smaller amounts of people, participating in activities can be a lot easier because there is more room for students to join.
Arguments that a smaller campus is less exciting are valid because being in a smaller town means there is less to do. Another argument is that there are fewer majors offered which is also a valid concern. however, you should prioritize your academic career path if you have one.These things are all situational dependening on what is most important to you and your college experience.
Nico DeTorres, a senior criminal justice major from Sonoma California, decided to come to DSU because he wanted to have a small school experience. He is involved in student government and has been able to get to know different people, be involved in activities throughout the year, plan activities and really gain a passion for DSU.
DeTorres stated, "I have never worried about my classes because professors here are always willing to help me out and make sure I understand it; coming here was the best choice for me."
I personally decided to go to DSU because I knew academically I needed to be able to get extra help and I liked the idea of being somewhere that I wasn't just a number on the roll; I was really able to get involved in my school experience.
DSU has been such an amazing school for me for these reasons. I have been able to do things like, write in the newspaper, take photos of students all around campus and become familiar with such a large variety of people. I have been able to gain experience in journalism that I may not have been able to obtain if I was at a larger school.
I have equipment and mentors available at my fingertips and have gained so many skills I can put under my belt when I graduate. I have had so many experiences similar to this where my professors were able to help me beyond my professor paid office hours some even willing to give me their personal number and call to go over the material and give me that extra help I needed to pass.
The professors I have had genuinely cared about me and my education and their attentiveness has transformed my learning experience and really allowed me to grow.
I am so glad that I attended college here; having the experiences I have had makes me want to advocate for smaller campuses to everyone who is trying to decide. I know that if I would have been thrown into a big school I would have gotten lost and fell behind very quickly.
If you want to get involved, develop strong professional connections and relationships and have opportunities to gain experience in your desired field, consider attending a small university.