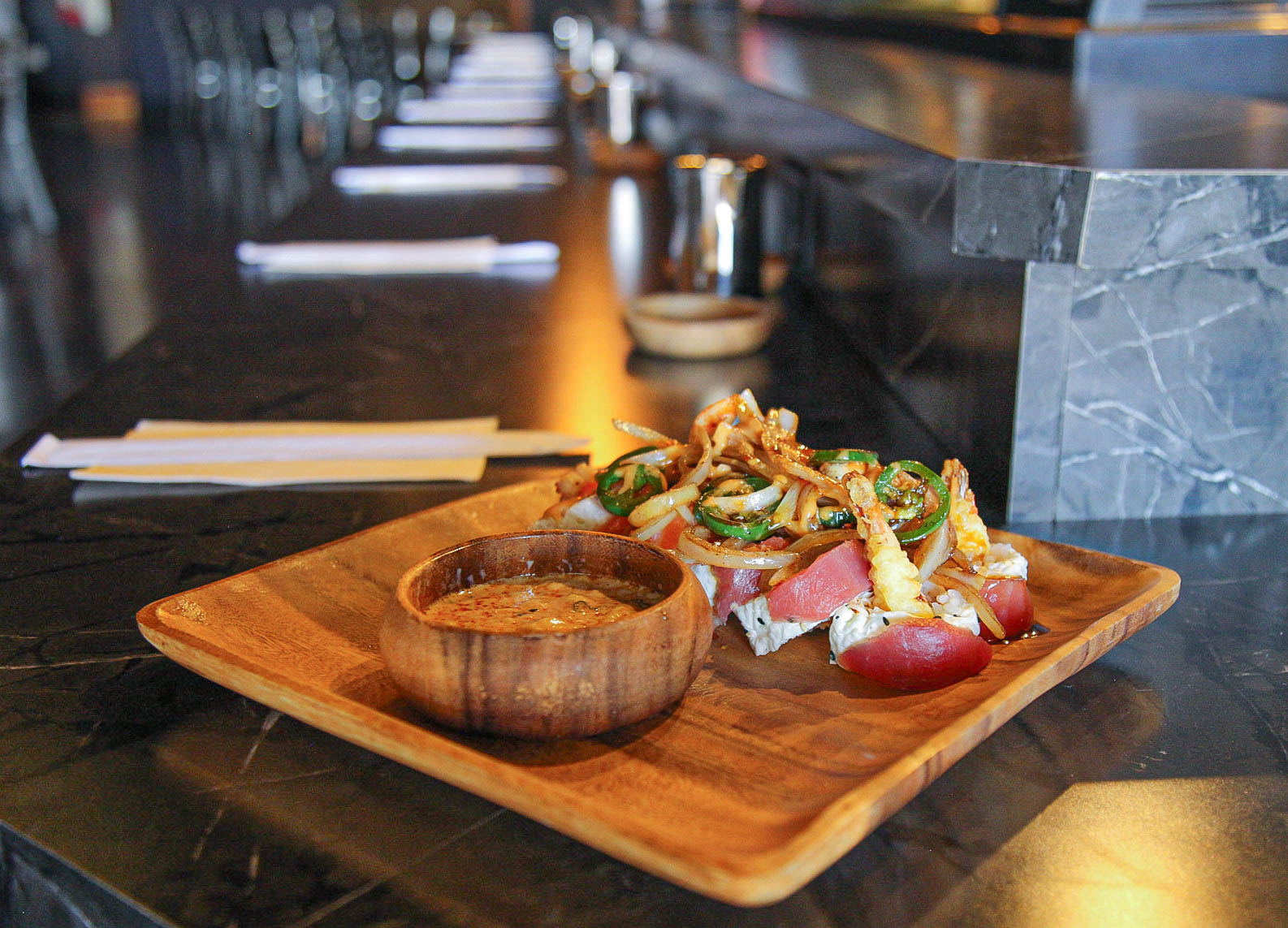 Kabuto Sushi is one of the three Asian cuisine spots located in St George. There are traditional dishes served, while each chef there was specially trained in Las Vegas and has at least 10 years of experience. Photo by Jessica Johnson.
---
St. George is now home to three Asian cuisine restaurants: Benja's Sushi, Sakura Sushi and now Kabuto Sushi.
Kabuto Sushi is connected to Sushi Loca, a thriving sushi restaurant in Las Vegas that has been around for 15 years. Kay Lee, the owner of both sushi restaurants, said Kabuto Sushi has a sushi bar and offers 50 sushi rolls that are either baked, raw or a combination of both. The rolls range anywhere from $9 a roll to $15 a roll.
Kabuto also offers traditional Asian dishes such as sashimi, tonkatsu and udon noodles. Lee also owns the ramen shop called Slirpin' Ramen that's next door. The two restaurants share a kitchen, but ramen is not offered at Kabuto Sushi and vice versa.
Each chef at Kabuto was specially trained in Las Vegas and has at least 10 years of experience making sushi and traditional Asian dishes Lee said.
"The staff favorites are the 'Jackpot' and the 'Oh My God' rolls," server Melissa Mattson said. "These rolls are also the most popular rolls at Sushi Loca in Las Vegas."
Lee is focusing on the specialization of each roll. He can often be found working in the kitchen alongside his chefs directing and giving tips from his experienced years traveling through Asian countries such as Japan and Vietnam.
Sam Park, the manager of Kabuto Sushi, has been working with Lee for 15 years and decided to move here from Oregon when Lee called up and asked him to manage their new restaurant.
"One thing the boss [Lee] has always been sensitive about, ever since I worked for him, is the quality of the fish and the food we bring out to the customers," Park said. "It's not just about the food and the service, it's a whole experience."
As the manager, Park is often also a server, so he sees everything and experiences each position himself.
Kabuto is meant to be a family dining environment while Slirpin' Ramen is meant for the college-aged kids in town; however, all are welcome, Lee said. He has a specific demographic meant for each place of business and hopes to get more business because there is less competition in St. George for Asian cuisine.

Kabuto Sushi hours are Monday-Saturday 11a.m. to 10 p.m. and 4 p.m. to 9 p.m. on Sunday.
Want to read more? Follow us on Twitter and Facebook for daily articles and updates!